Let me introduce you to the city where my partner and I decided to start our new digital nomad life. Riga it's a lovely, affordable and beautiful city at the heart of the Baltics.
The nice thing about being a micropreneur is that we are able to work anywhere in the world, as long as I have access to a good internet connection. Riga is a wonderful location to spend three months during the summer. Enjoy the soft, kind weather, visit the city and work at any of the beautiful cafes or co-working spaces.
Riga: A Destination For Digital Nomads
Riga is the capital and biggest city of Latvia. Latvia, alongside Estonia and Lithuania, is part of a group of countries called the Baltic States.
While completely different in terms of languages, people, and societies, they all share a somewhat common cultural inheritance and the pride of being completely different countries after their independence from the former USSR.
In Riga, you can certainly see this heritage, the collage of western and eastern influences.
The City
Riga is a very beautiful city. It's said to be the European city with the highest concentration of Art Nouveau architecture of the world.
Even though to be honest, most of the buildings could benefit from some renovation work, they all keep that old-Europe elegance and style.
It's a real pleasure going for a walk on the streets of Riga. Not just the buildings, but the open boulevards and avenues, the low traffic volume, the trams, the cafés… they all make you feel comfortable.
Additionally, everything in Riga is -mostly- within walking distance. That makes it really accessible and comfortable when compared to big cities such as London or Madrid.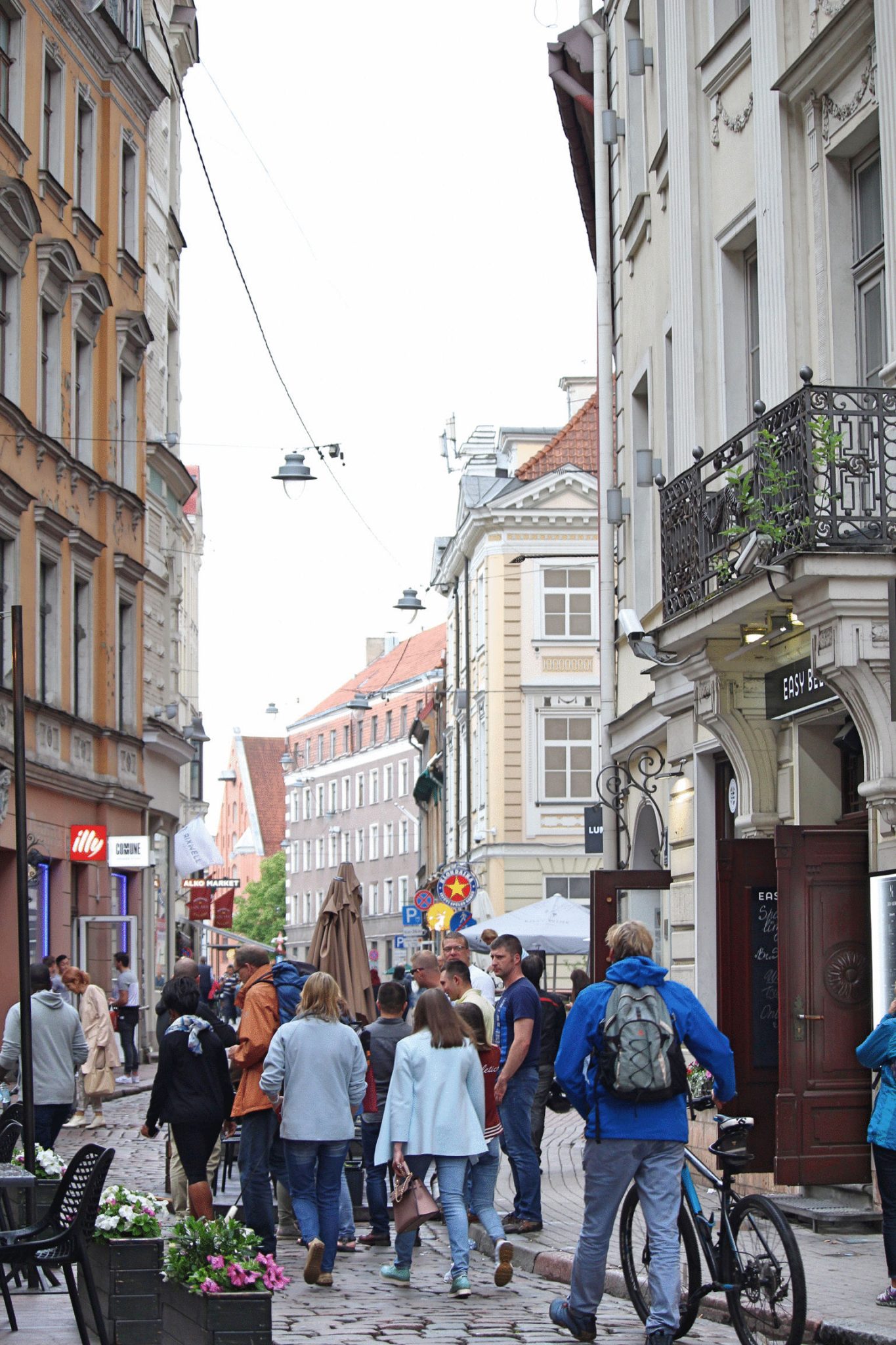 The city center is the most beautiful place, and probably the place where they have managed to keep the buildings in a better state.
Ringed by the river, the center of Riga is a very eclectic mix of old and new, of Baltic tradition and European modernism.
The Weather
The weather is probably the worst thing about Riga. Being from Spain, I am used to a lot of sunlight, especially in summer.
However, Riga is almost always covered by a gray cloud layer. It rains very often and, at the time of writing this, July the 3rd, it's 16 ºC outside.
Not that the weather bothers me. On the contrary. I'm from the south of Spain, concretely from Murcia. On average, we have about two days of rain a year there.
Probably because of that, I love rainy days. They get me moody and melancholic yes, but extremely creative, so I guess the weather in Riga is actually a big plus for me.
The Cost Of Living
Latvia is not an expensive country at all, and Riga is a very affordable place to live.
Being in the European Union, that's a big plus. If you are from Europe, and you are used to prices in euros, you will definitely notice this.
As an example, you can enjoy a lunch for 3-4€, a big latte for around 2,00€, or pick a cab from the airport to the city for 6-7€.
The average rent here is about 400€. It, of course, gets a little more expensive for short-term renting, but you can still get an amazing Airbnb apartment for less than 800€ a month.
The Food
I really like Latvian food. It's rich in veggies and usually includes pork meat.
Yes, it might be a little high in fat and butter, but it's also rich in vegetables, especially potatoes, broccoli, and cabbage.
Also, there's a lot of fish dishes to be found in Latvia. That's not surprising given its location. And, of course, they have this cold beet soup that's absolutely tasty.
Definitely not the lightest of foods, but I guess Latvian cuisine evolved to support workers during those cold winters, not micropreneurs working comfortably at a sofa in a coworking space.
Working In Riga
… and talking about work, in Riga you have of course access to modern, high-speed internet connections like any other place in Europe. I guess if you come from London or New York, you may argue that internet speeds here are not top-notch, but coming from Spain, I find them perfectly fine.
In fact, the whole city has free WiFi. While the signal can be weak in some places, there's always a park where you can just sit and work with your laptop.
While Riga is not Berlin or Amsterdam, there are several great co-working spaces and a small but promising startup scene.
Being a TechHub member, I have access to TechHub Riga, and I will be working there for the whole month. However, it's not hard to find a nice coworking space if you are close to the center.
The People
Latvians are not, generally speaking, happy, extrovert people. I could write something nicer, but that's the truth. Perhaps, being from Spain, my own cultural bias affects my perception, but every expat or foreigner I've meet here agrees. Actually, a Latvian I've met here lived in South America for some months, and he once described how he became depressed soon after returning to Riga.
If you see two people walking hand in hand on the streets of Riga, cheerfully talking and smiling to each other, most probably they are foreigners. Of course, this is a generalization and completely based on my experiences after living for 8 months here, so absolutely subjective.
Not that they are rude or impolite. On the contrary, they are really respectful people, but can easily be perceived as sullen. Maybe it's because of the weather, their Soviet past, or their history of occupations, but it seems to me that Latvian society has given them little room to develop their social skills. Unfortunately, I have a collection of anecdotes to back up this claim.
That said, there are these Latvians who are absolutely joyful, happy people. They shine like sunbeams through a stormy sky. If you meet one of these, make sure to befriend them, because they are a scarce resource. During my time in Riga, I've been lucky to meet some awesome people, Lelde, Davis, Ilze, Maris… So again, take my opinion with a grain of salt, as your experience may be different.
Do You Speak English?
While older people don't generally understand English, you will have no problem communicating with younger people. I would say that the overall level of English is pretty good, at least among the new generations.
When talking about Latvians, there's an important cultural factor to keep in mind. Latvia regained its independence barely 25 years ago. After years of Soviet occupation, Latvia still has a large part of the Russian population (around 40%).
This group of people speaks Russian, not Latvian -or English-, and they are not full citizens.
There's a tangible difference between "proper" Latvians and "Russian" Latvians, especially culturally. They don't speak the same language, dress similarly, go to the same places or even listen to the same music. That social breach is probably one of the most noticeable things when you spend some time in Riga.
While I admire Latvians for their firm commitment to forgiveness and letting go of the past, there's an understandable subtle concern between the population. They want to keep their independence, identity, and stay in Europe. Especially after Crimea's incident, with a Russia still emotionally attached to the nostalgia of the USSR, you can really tell they are wary of the influence from Moscow.
While Estonia, for example, opted for a one-language, one-society, one-citizenship approach, I feel like Latvia took a decision that might not be the best in the long-run. But that's just my uneducated view as a foreigner, of course.
In Summary
All in all, I really love Riga. Not needing a sunny, warm weather, I feel at home among its people, its art-nouveau buildings, parks, and avenues.
It's also a great, tranquil place to spend a month working, writing and enjoying some art, culture and awesome architecture. For us, it was a great place to start our new digital nomad life. Only, don't expect to do a lot of friends here. Latvians need time and trust to make deep connections or friendship relationships, perhaps more than digital nomads can afford to offer.