Recently I attended the premiere of the new Dune film. As a die-hard fan of the novel (I have read the whole saga twice, and I think only Foundation, by Isaac Asimov, can compare to it), and an admirer of the atmosphere of the 80's movie, I was skeptic, to say the least. All continuations, sequels, and remakes of cult films I've seen have ranged from ridiculous to plain hideous (yes, I am looking at you, George Lucas). I was glad to find out that this was probably the one and only exception. The movie is really fantastic, and I was not expecting it.
The only thing that hugely disappointed me was discovering that the movie was split in two parts. I would need to wait for at least another year to see the second part, that is not even filmed.
With the e-Residency Program of Lithuania, I experienced the same feeling of disappointment when I learned that I needed to visit the country twice to actually get my e-Residency card.
Why twice?
Well, applying online is just the first step. After that, the pick-up process is split into two parts. First, you need to visit Lithuania so that they can scan your fingerprints and take a picture of your face. Then, they will issue the card, and you will need to visit Lithuania again to pick it up.
But can't they send it to you?
Supposedly, in the future, there will be Business Providers that will be able to do that for you. It seems, however, that this future is still distant, so you have no choice as of now but to visit it twice. That's what you get for being an early adopter.
The card is issued in 5-7 days, so if you plan your trip beforehand, or are considering spending some time in the beautiful city of Vilnius, you may be ok with just one trip.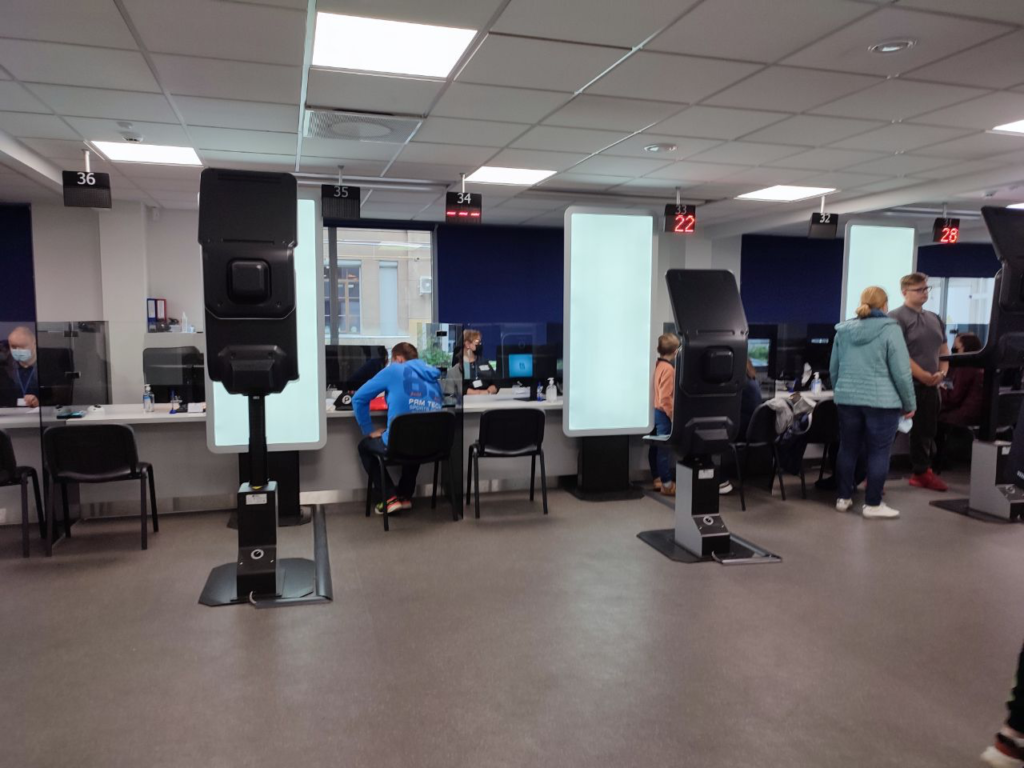 How is the process?
If you have gone through the Estonian e-Residency application process, where you apply online and then some weeks later go to the embassy to pick up your e-Residency pack, and even have the chance of having a short talk with the ambassador, this has nothing to do with that.
This looks more like going to the immigration office to get your papers after arriving illegally to the country. The main reason is that, well, you actually need to go to the immigration office :), a grey and busy building full of governmental employees who have no idea of what the e-Residency Program of Lithuania means.
In fact, the employee who was assigned to my case asked me, after having a look at my passport, "Do you want to get a temporary residence permit in Lithuania or a digital signature".
That was confusing for me because I didn't want any of those things, I wanted to become an e-Resident of Lithuania. The digital signature was close, but I wanted to be sure she won't sign me up for some kind of digital signature that had nothing to do with the e-Residency Program.
Smile!
So after I was moderately sure we were on the same page and she introduced a lot of information in the computer (the same information I had probably already filled in when I applied), it was time to scan my fingerprints and take my pictures. The process is simple and straightforward thanks to these modern machines that you can see in the picture above.
Some moments and many clickety-clacketies later, the government employee kindly told me that the application had been processed and that I should receive an email inviting me to come back to the immigration office to pick up my card.
So how does the whole experience feel?
Estonians have perfectly Apple-ified the e-Residency application process. From the online form and the packaging of the e-Residency pack, to the fact that you can probably pick it up comfortably in an embassy relatively close to you, it's a well-thought process. As an entrepreneur and IT guy, I can see how well they have designed every step of the process to make it look like a polished product.
The Lithuanian process seems completely off by comparison. Having to go to this governmental office full of people who are waiting to get their temporary residence permits makes you feel like an immigrant, not a businessman or businesswoman (and rightly so, as you are at the Immigration Office after all :).
The fact that you also have to visit Lithuania twice (as opposed to zero in the Estonian case) will also piss off a lot of people. While I love the city, I know I won't be rushing to take a plane again in five days to pick up my card.
This is something the Lithuanian government has to consider. They need to redesign the process to allure entrepreneurs, to make their e-Residency look like a sexy product, to turn it into a fancy movement everybody wants to be part of.
So far, they haven't managed to do so. My hope is that, in the future, business providers will be able to smooth the application process, but having to visit Lithuania just to scan your fingerprints and get your picture taken is an anachronism when even online banks are doing AML procedures online.
Conclusion
In a couple of minutes I'll order a Bolt ride to go to the airport and get back to Tallinn. It's been great to visit this lovely city, and I plan on spending here more time in the future. Still, the fact that I need to do so because two visits to Lithuania are required to get your e-Residency ID is a pain in the **s. The Lithuanian government really need to step up their game if they want to compete in the digital nation arena.
I will keep you posted when I get back to pick up my ID.