Blogging
Reduce The Bouncing Rate Of Your Blog By 8x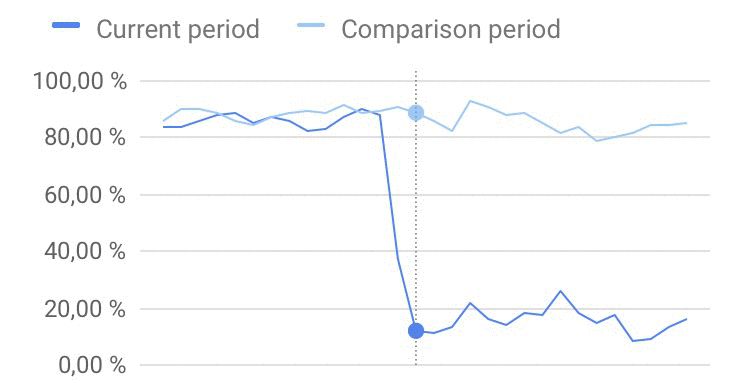 In this post, I describe how to reduce the bouncing rate of your blog. By applying just some simple techniques, you can reduce the bouncing rate of your blog by up to 8x.
Why Is This Important?
One of my main warhorses for the Digital Leaves blog was its bouncing rate. As I described previously, Digital Leaves is targeted at a very technical audience, and so my traffic comes primarily from organic searches on iOS and Swift programming topics by developers and engineers.
The bouncing rate measures how well your audience engages -or not- with your content. It gives you a percentage of users that "bounce" at your website.
A "bounce" means that a user searches for some content on Google, enters your page, and leaves without spending much time there. There might be several reasons for that:
Perhaps the content of your blog may not match what they were searching for
Maybe they had a quick look, got the information they were looking for, and left
Even worse, maybe they found your blog hard to read or poorly designed and left
Whatever the reason, a bounce has a series of negative consequences.
First and foremost, those users don't engage with your content. You spent probably a good amount of time and effort writing the best content for your website. Thus, you definitely want your visitors to enjoy your content, find it useful and engage with it.
Secondly, this bounce is noticed by Google and computed for the "bouncing rate" of your blog. A high bouncing rate is, for Google, an indication that your content is less "relevant" for some terms or topics.
Consequently, you will rank lower for those terms and topics.
In fact, your bouncing rate and your average session time -the time spent by your users at one of your pages- are two of the most important factors for Google when determining where to rank your website.
As a result, improving your bouncing rate will have a much positive impact on your website's traffic.
Techniques To Reduce The Bouncing Rate Of Your Blog
I have used these techniques successfully to dramatically reduce the bouncing rate of my blog, from more than 85% to around 12%. The general idea behind them all, however, is offering an incentive for your users to stay on your website.
State The Value Of Your Blog Right Away
First of all, you need to have a clear value proposition for your readers. You need to understand what's the main asset you are offering to your visitors.
Sometimes it's easy for us bloggers to forget that this is not about ourselves, it's about our readers. You need to identify the single most important idea you want to associate with your blog. Then, re-structure your blog to transmit and emphasize that idea.
For instance, Digital Leaves is all about helping people willing to become IOS developers. This core concept is very clear on the home page.
Use a short title that immediately tells your visitor what should they expect from your site. Then, organize your content to support that core concept and distribute it in a way that's easily consumable for your readers.
Guide Your Users Through Your Website
When designing the structure and sections of your blog, and especially the home page, ask yourself this question:
How do you want your users to interact with your blog?
What do you want them to focus their attention in first? Where do you want them to click first? And then?
You need to have a clear idea of the flow that your readers should follow when visiting your site. This flow should be optimized to offer your readers as much value as possible. Offer them your best, more relevant content, and structure your site to easily guide your users through the right path.
Add A Start Here Page
A "Start Here" page is a must for every website, and especially for a blog.
Before designing this page, think about a new reader that's visiting your blog for the first time. Perhaps this visitor has an extensive knowledge of the topics you cover in your blog. However, think of this user as a person with little to no knowledge of your blog's subject.
With this perspective in mind, choose the topics that would better help this person get started on the themes of your blog, and structure them from more simple to more complex.
Then, fill that structure using your current posts and pages, in a way that makes it natural and easy for someone to consume that content. The goal is not adding all your content there, but the most relevant for someone that's just landed on your page.
Offer Related Content. Always.
Your blog posts should always try to invite the user to continue reading your content. As a rule of thumb, always include a summary section at the bottom of each post. In this section, summarize what you just wrote about in the article, and add links to related content.
Make sure to describe why that content is related, and offer it as a natural continuation of the reading experience for your users.
Similarly, start each post with a brief description of what you are going to discuss in the post. Whenever possible, if the post is a continuation or is related to something else you wrote previously, state that in this initial section.
The ultimate goal is offering your readers a flow of posts that form a comprehensive, complete reference about the topics you are covering in your site. This is a huge incentive for your visitors to visit and read more content from you, and will greatly reduce the bouncing rate of your blog.
Showcase Your Best Posts
None of your posts should be an island, isolated from the rest. Yes, you have a menu in place and your sections properly organized, but that's not enough.
First, do a selection of your best stuff. The posts with more comments, or visits, or the ones that drive more traffic to your site. Then, put them in a place that's clearly visible. Setting a sidebar with my best three posts had a dramatic impact on the bouncing rate of my blog.
Also, don't forget to include a selection of those posts in the footer. Especially if you have a responsive design that removes the sidebar for mobile devices. Of course, this will depend on the main source of traffic for your site but always think about your mobile readers.
Where To Go From Here
In this article, we described how, using some simple strategies, you can reduce the bouncing rate of your blog by up to 8x, probably even more.
These techniques are simple, and mostly involve some awareness on how we structure and present our content. Also, it's essential to offer your readers a way to continue reading your content, and showcase your best work to them.
Have you found any other way to reduce the bouncing rate of your blog? Don't hesitate to share it with us in the comments!