Have you ever had a period of turmoil that led to a climax that changed everything for you? Today is that day for me. Usually, such days are only able to be identified when we connect the dots years later, as Steve Jobs said. But I know, as certain as I am writing these lines right now, that this is one of these days.
Work, work, work…
Today marks the culmination of weeks and weeks and weeks of hard work. Some days ago, I released Companio, the most powerful tool available right now to manage your Estonian company completely online. From bank account reconciliation to virtual office packages and letters, from employees and business trips to reports and payrolls.
I started its developments early this year, and I have been working non-stop on it. The last three weeks have been specially difficult, working 12-14 hours each day, weekends included. It's been just too much. After the release, some days ago, completely exhausted, I still had to endure some days to fix all the –expected– bugs and glitches in the code…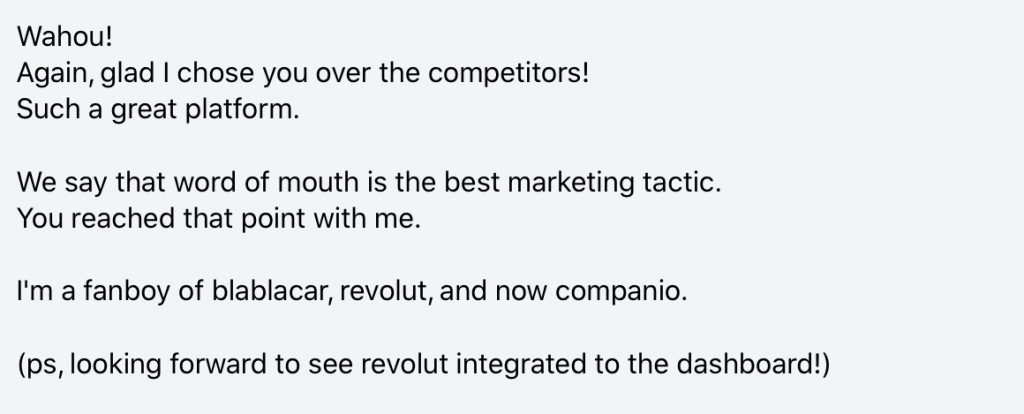 But it has been worth it. Companio is just beautiful and the feedback from the customers is amazing. Even when reporting bugs, all of them have had from nice words to raving praise about it. I was not expecting it, and it makes me so happy I could cry.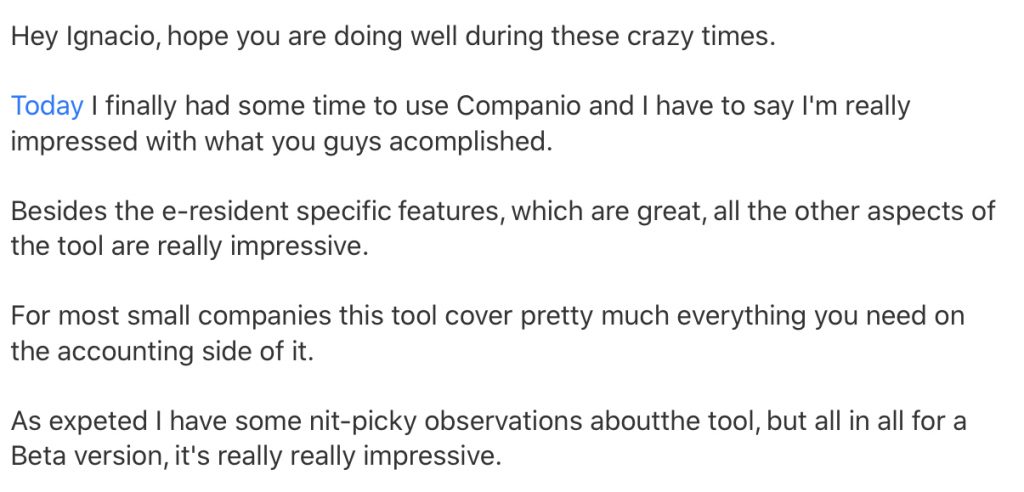 I can't honestly think of a better reward than these messages. But it's not been easy. I've been burning the midnight oil, not taking care of my health, neglecting my entertainment time and sacrificing the quality time with my partner.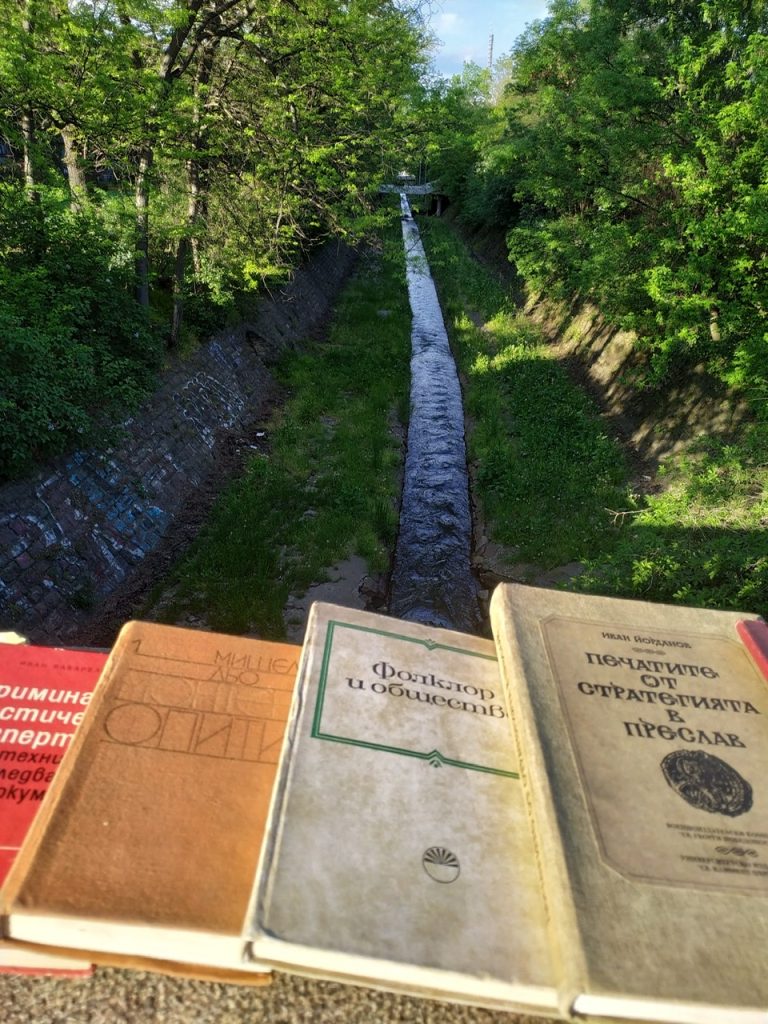 Slow down…
Right now, I feel depleted. And it is not because of these months of hard work. It is the whole process of building the company, making it grow from scratch and taking it to a point where it is a stable, serious and capable business. It's been a long journey and I think it is time to slow down things.
What do I mean?
I feel now like reaching the summit of a mountain you've been climbing for a long long time, only to find out is a plateau. It feels more like a relief than a triumph. But during the way, you have learned that it is not getting to the top of the mountain and looking down what matters.
It's the pride of having reached that place with your effort and being able to sit down for a couple of hours to enjoy a well-deserved snack while you watch the sunset.
So I plan on slowing down things from now on. That does not mean I will no longer be involved in it. On the contrary. Now it is the time to enjoy all the hard work. But from a different perspective.
I have put together an amazing team. Our hard work together, and not just mine, has made the company what it is now. I have automated a great tool that will make their lives and the lives of our customers better and easier. I think it is time I devote more time to myself, my relationship and my health.
I want to feel bored, I want to spend an afternoon doing nothing, and fight this urge to do things that I have now programmed into my organism. It will take me some time to re-wire my brain.
Staying in Sofia for a while…
With everything that's happening in the world, the coronavirus pandemic, and this point of inflection in my life, it is the perfect time to unpack our things for some months.
We have moved to a new house in Sofia. Much more practical, minimalist, and close to the center, and we will stay here at least until the end of the year. Maybe staying for half a year in Bulgaria will also give me more time and space to think where I want to take things next.
… And speaking about time and space, I will start this new period with a week of vacation. It's been more than one year since I was able to take one single day off. A long, long, long year.
I don't plan to go anywhere. They have opened parks and terraces again here in Bulgaria, and I will start doing some exercise and meditating again. It's been weeks since I had the chance of meditating for 5 minutes.
Conclusion
Building and growing a business is hard. I am not stating here that I have reached a final destination, or that the company is complete. A company is not an event, it is a never-ending journey. There are always new challenges, a new stage with different lessons to learn, and the continuous need of growing and adapting. Even more so during this crisis.
No, I am not telling that.
But today marks an important date in my journey. After two years of working my ass off to make this company grow, I have reached an inflection point. It is now time to slow down and work at a more normal pace. It is time to take care of the things I've been neglecting for too long.
Am I happy? I will, as soon as I have some rest… 😴