Lifestyle
Two beautiful and relatively unknown places on the coast of Bulgaria: Burgas and Nessebar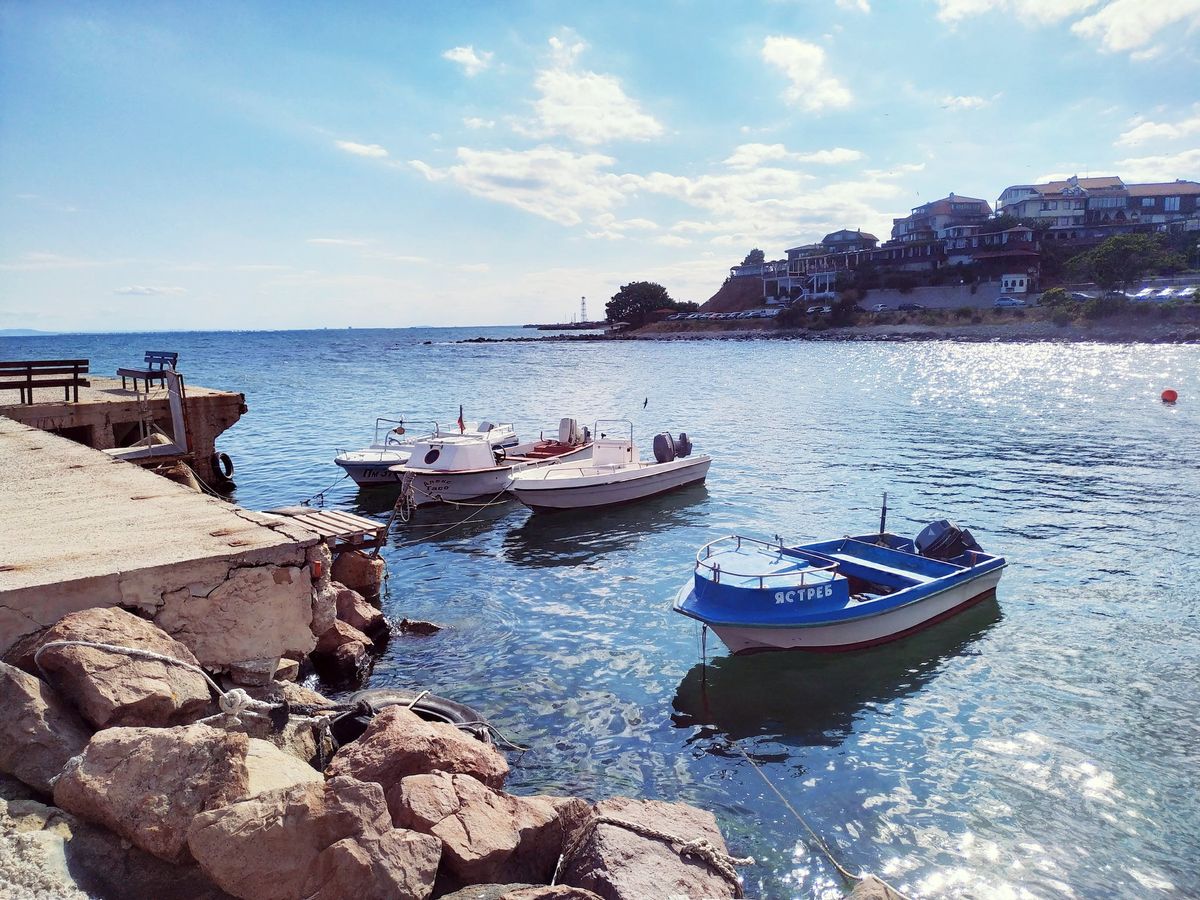 This summer, for the first time in two years, I took two weeks off work. I needed them. Fortunately, my business is now in a better place than it was two years ago. I have a strong team in place I can rely on, so I left my laptop at home and decided I would only take my iPad Pro with me, just in case there was an emergency.
With the COVID-19 situation here in Bulgaria, we were not sure if we would be able to travel to a different country, or if we would be asked for a PCR test or to stay in quarantine… Which was not a very alluring perspective for holidays.
So we decided to explore the coast of Bulgaria. As we are not fans of touristy places, we opted for less-known spots. That left Varna, and the northern coast out of the equation.
However, after two years of work, we did not want to be lost in the wilderness hiking or doing some indie stuff. We were ready for a standard "lay down on the beach till my butt hurts" summer holidays. We also wanted to be able to enjoy a good restaurant or a beer occasionally. That left the wildest but remote beaches of the southern border out too.
After asking some friends from the Cosmos co-working space, we opted for Burgas and Nessebar.
So first stop, Burgas.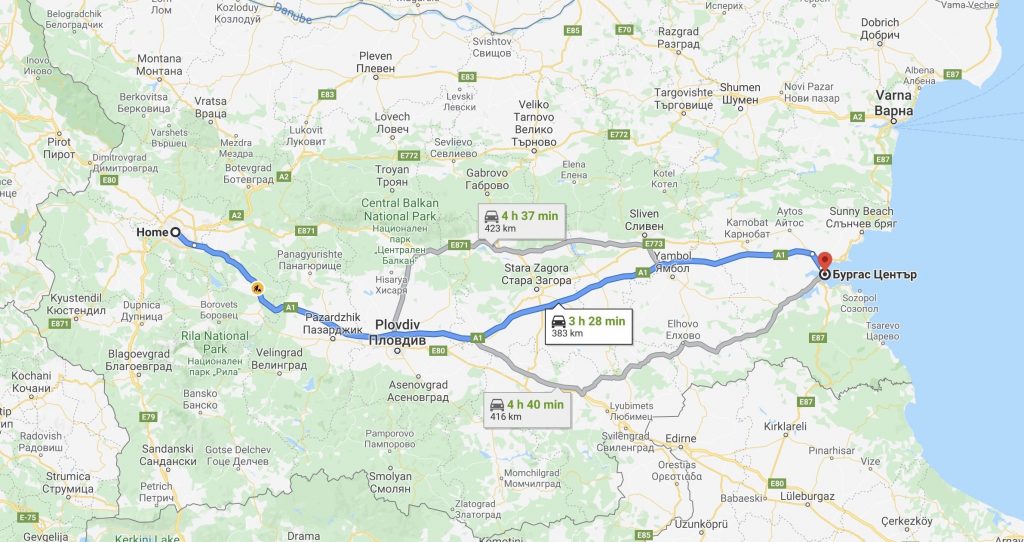 Traveling to the coast
There is a bus that will take you to the coast, but as we wanted to explore some villages and move to Nessebar afterward, we opted for renting a car. The price for two weeks was around 360€, which is quite affordable. You can get to the coast using the A1 highway in approximately four hours.
Renting our apartments on the coast was quite cheap too. One week in each one of them was around 240€, which means the total price for our holidays was 1000€ including extra expenses (meals, etc).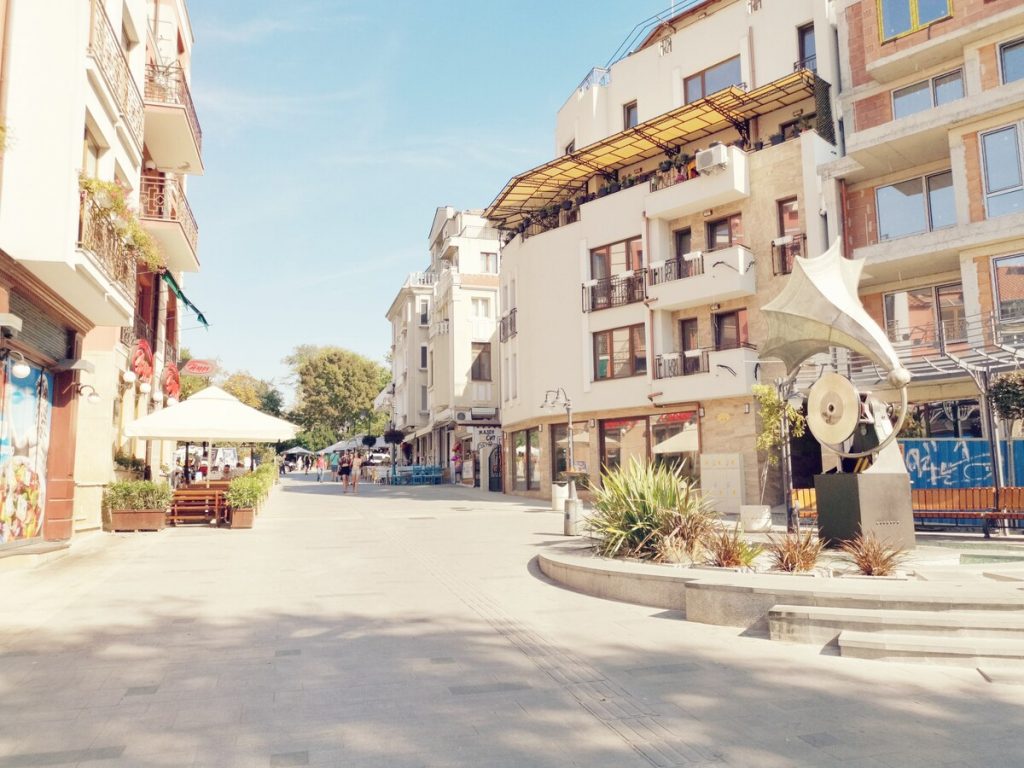 Burgas
Burgas is the fourth largest city in Bulgaria after Sofia, Plovdiv, and Varna. Still, with just 200,000 inhabitants, it is small enough to feel like a cozy coastal village.
One of the main selling points of the city for me was the fact that there's a beautiful park between the city and the sea. This park acts as a green wall between you and the buildings and makes you feel you are in a more natural environment.
The promenade and the pier
The city has a small promenade full of restaurants and cafés that leads to the park. There are seafood restaurants and a Happy Grill (a chain restaurant from Bulgaria offering a large selection of Italian and Bulgarian dishes), but also local cafés and ice cream parlors.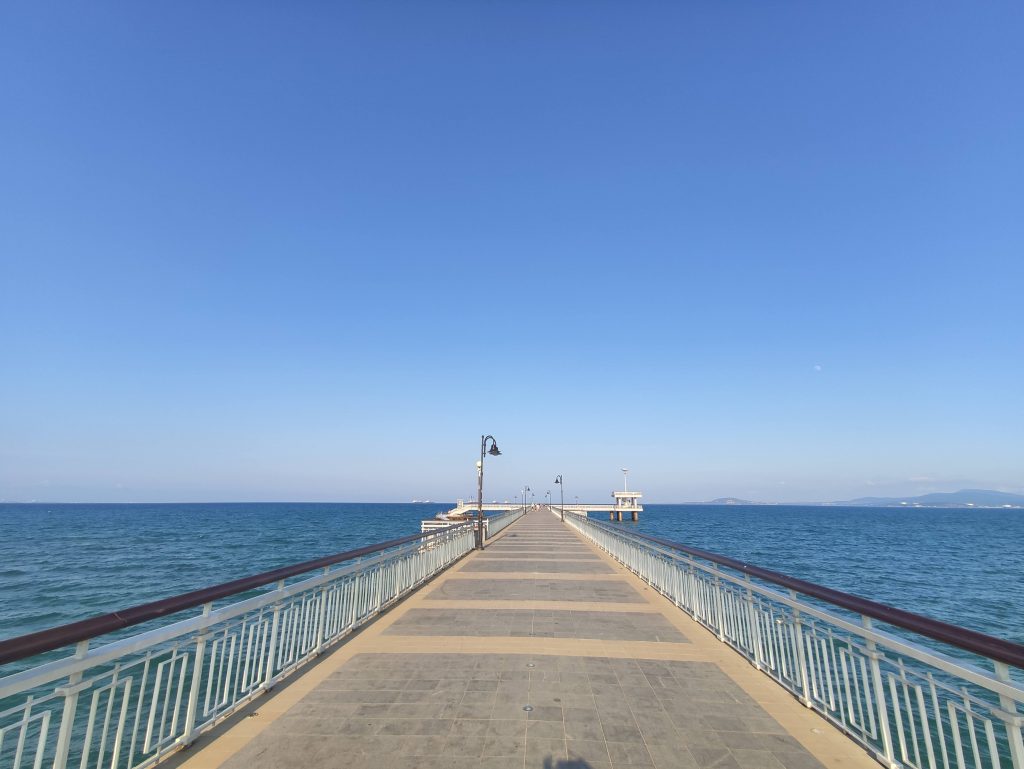 One of the main attractions of Burgas is its pear. It makes the beach interesting, it's perfect for a short afternoon walk, and offers some jaw-dropping views of the coast.
The apartment
Our apartment was just in the middle of the main square at the end of the promenade leading to the beach. That had a pro but also a con.
The pro was that we were close to everything. Less than 8 steps away from the apartment there were four restaurants we could go for dinner. The park was just twenty steps away from the apartment.
The con was noise. We were in the main square, above all the bars and pubs. And some of them had loud music up until 2-3 am. Music started also early every morning, around 8-9 am. So we were only able to enjoy 6 hours of uninterrupted silence at most. Add screaming seagulls, drunken neighbors, and cars burning wheels at 4-5 am on top of that, and Burgas was not a place for having a good night of sleep.
My recommendation: don't get an apartment close to the main square. The village is so small and walkable that a much better option is getting something 3-4 minutes away from the beach. You will still be close to everything but will be able to sleep at night.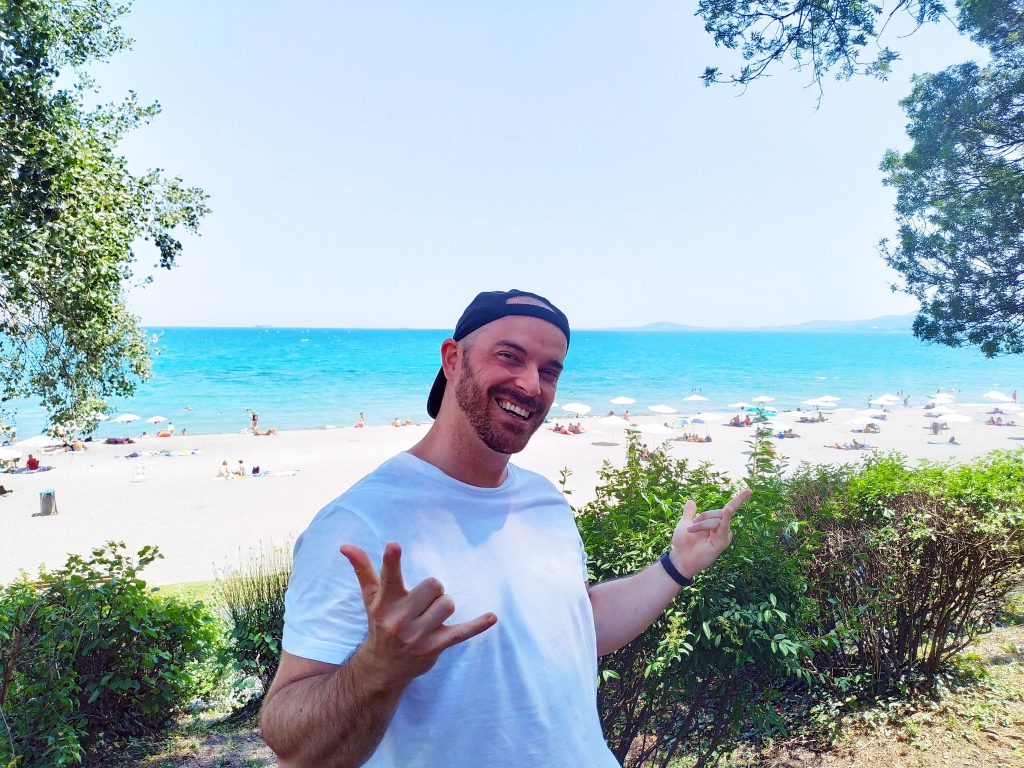 The beaches
The coast of Burgas is amazing! As I mentioned, the fact that behind you there is a park full of trees instead of ugly buildings, and the sight of the pier add a lot of charm to the Burgas beach.
There are some wooden beach bars and restaurants here and there. Enough to enjoy a delicious frappe and good music if that's your thing, but not enough to ruin your day if you want a quieter, more relaxing place.
The water is clean and the beach is full of shells, conches, and even mussels. The place was not crowded at all, but then again, it is probably because of the COVID-19 pandemic.
Prices
The beach bars and restaurants were quite affordable. There is also a fancy restaurant called Neptuno by the sea if you feel like having that special dinner, but most probably you can enjoy a typical Bulgarian meal for around 5-8 euros, including a drink.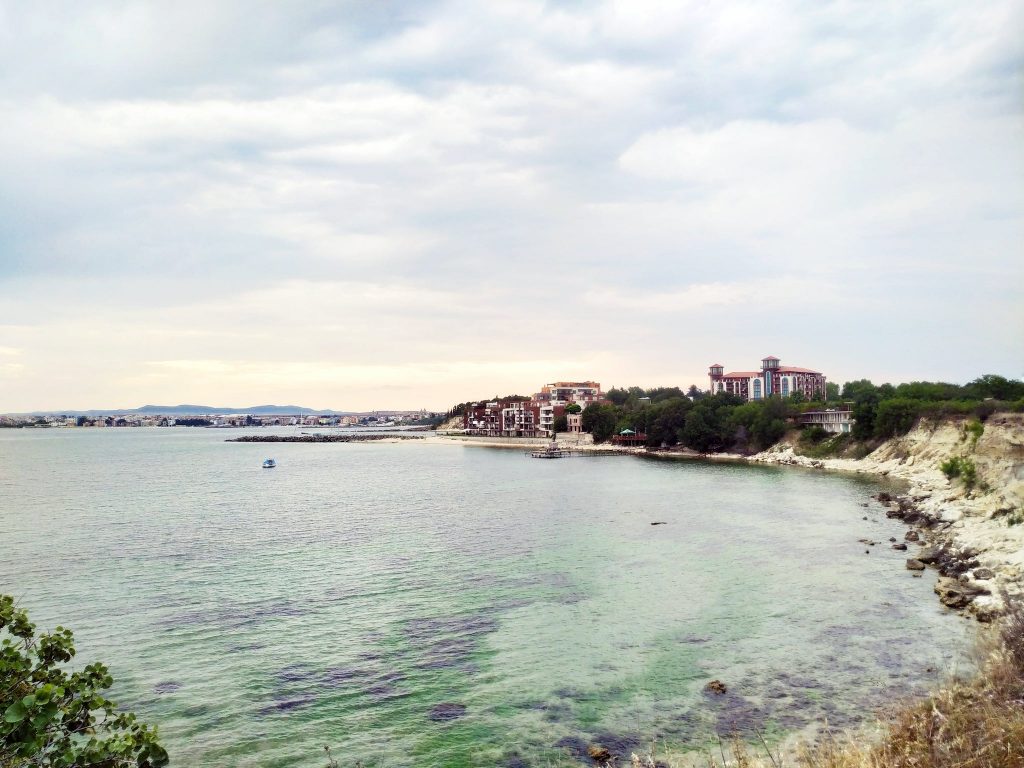 Nessebar
After one week in Burgas, we headed north to Nessebar. This small town sits in a natural peninsula, and it reminded us of classical Spanish old-towns such as Toledo, Teruel, or Segovia, only, on the coast.
Nessebar is indeed very touristy. The "village" is nothing but an amalgamation of restaurants, small shops, and attractions for tourists. There is also a beach called Sunny Beach which is extremely popular. None of that is good news for us. As we didn't want to stay in either a touristic Disneyland or the Bulgarian version of Benidorm, we opted for an apartment in the outskirts of the peninsula.
Near Nessebar, there is a small beach called Spectrum near a hotel and some apartments by the sea. We chose this area because it was less crowded and we wanted some silence and rest after Burgas. There was a nude beach nearby too.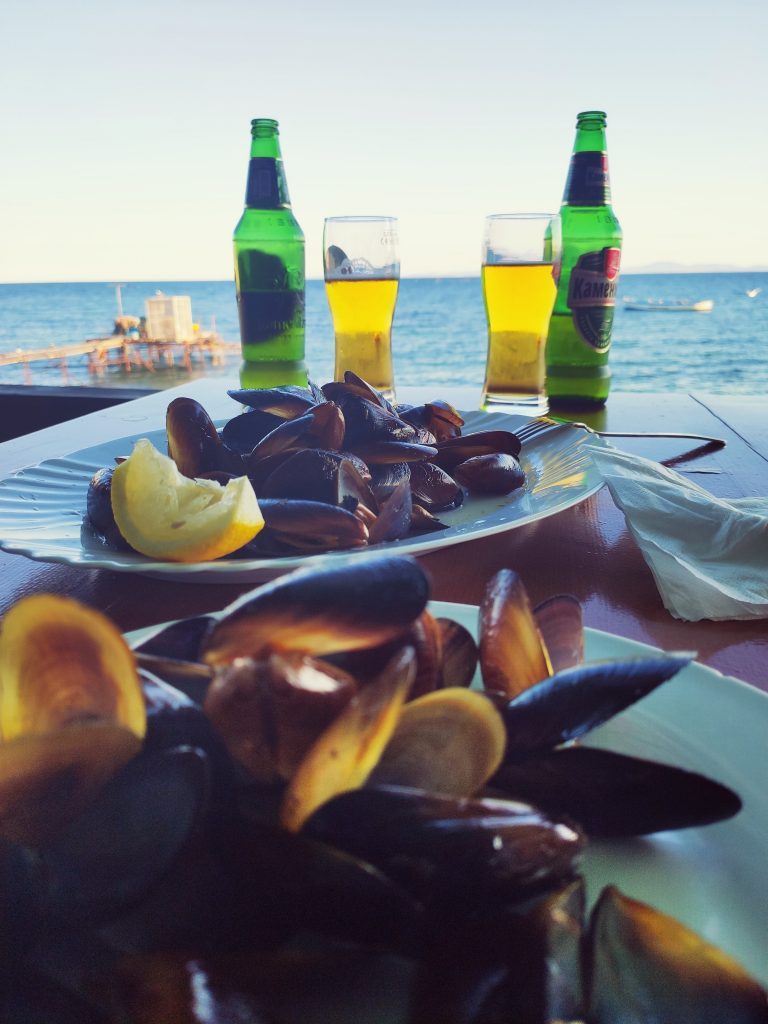 The Dalyan Akrotir restaurant
Close to the apartments, there is a small seafood restaurant called Dalyan Akrotir (Далян Акротир). It is one of these authentic restaurants where you eat what they fished early that morning. That means there is not a large variety of dishes, and sometimes you can't have mussels if they did not get any.
However, the quality of the seafood there, and the prices, more than made up for that. Everything was super fresh and tasty, the staff was genuinely kind to us, and you can enjoy a giant dish of mussels for 4€ or Tsa-tsa (fried anchovies-like small fish) for just 5 €.
The Spectrum beach
The Spectrum beach, close to the apartments, is a small and lovely beach. Never too crowded, it has a small bar and a CrossFit/calisthenics area with weights made out of metal bars and tires. It was simply amazing.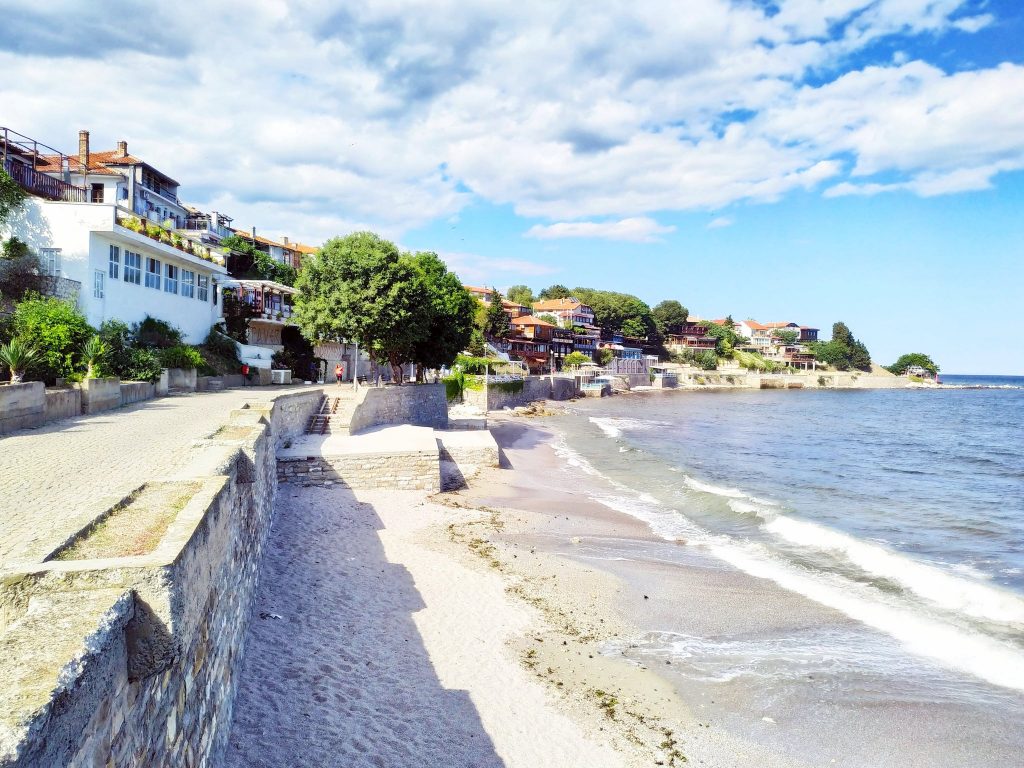 Nessebar's old town
We actually visited Nessebar's old town one day. Luckily, due to COVID-19, there was almost nobody there. No tourist crowds in sight. Thus, we were able to enjoy the peninsula almost for ourselves.
I imagine that, on a normal summer season, its cobbled streets must be filled with people. The large number of restaurants there (basically, there were only restaurants, small shops, and an old church) was a clear indicator of what it would look like normally.
Overall, and due to the unfortunate situation we are in, we could experience a very different old town. Still, even in a normal year, it may be worth a visit on a lazy afternoon.
Conclusion
In this post, I talked about two beautiful and relatively unknown places on the coast of Bulgaria: Burgas and Nessebar. If you are visiting Bulgaria during the summer season or want to spend some time in a place that's not too touristy, they may be a perfect alternative.
I personally enjoyed Nessebar more, but if you are a party animal and are looking for some fun, Burgas may be a better place to go.