Finally! After a second visit to Lithuania, I have my e-Residency card. I am officially the 79th e-resident of Lithuania. In this post, I describe my second visit to the Baltic country to get the card, how to install and configure it, and what you can do with it. Ready? Let's do it!
Why Lithuania?
Estonia was the first country to launch an e-Residency Program, and quite successfully. Thousands of people are e-Residents of the Baltic Tiger now, and the program has empowered (as of the end of February 2022) more than 20,000 entrepreneurs to open their companies in Estonia. In 2021, Estonian companies opened by e-Residents generated €32.5M in taxes for the country, 90% more than the previous year.
That's a remarkable achievement. If the Baltic country was a startup, I would certainly be investing in it. It's no wonder then that other nations are launching similar programs. Azerbaijan announced the launch of its own program in 2019, but it seems abandoned. The benefits of running a company in that country are not clear either.
Lithuania is a completely different story. Being a European country with a very interesting (and tax-efficient) micro-company structure, and beneficial legislation for fintech businesses, it is an attractive option for location independent entrepreneurs. A fierce competitor to Estonia, at least, in theory.
So as an early adopter of these initiatives and a strong supporter of projects that empower people to live, work, and do business wherever they want to, I applied for e-Residency and visited the country twice, first to get my fingerprints taken, and then to pick up the card.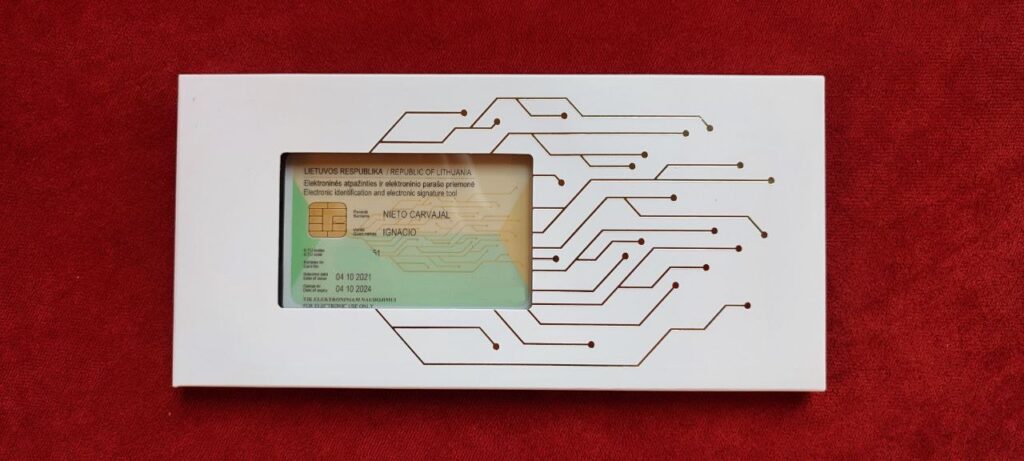 Second trip
Ok so one of the worst aspects of Lithuania's offer is the fact that you have to travel to the country twice. After my first trip, and going through a quite busy –read, stressful– period in my life, I was not in a hurry to get another flight to Lithuania. But I finally spent some time in the southmost Baltic country, most concretely, in the capital, and was able to pick up the e-Residency card.
As a foreigner, you will need to make an appointment in the immigration office to collect the ID. I described the experience of visiting that grey governmental building as opposed to collecting the card in the embassy. The feeling is exactly the same on your second visit (only, it is usually a shorter one). I forgot again that you don't need to get a number, you just have to go to the desk that's specified in your appointment's email. So I asked some public servants until I found one who spoke English and kindly reminded me to check my email.
Ten minutes later, I was outside the building with my e-Residency kit, containing the card and a white USB reader. Yahoo! I couldn't wait to configure it.
Configuring the card and the software
Well, configuring the card and making it work was a little harder than I expected.
The package contained a set of instructions that are a bit confusing. You are asked to log in to the Migration Office website (using the credentials you created when applying for the card, not the card itself), and activate the account. I could not find any place where to activate it following the instructions in the box, but I finally managed to find the place and activate the certificate.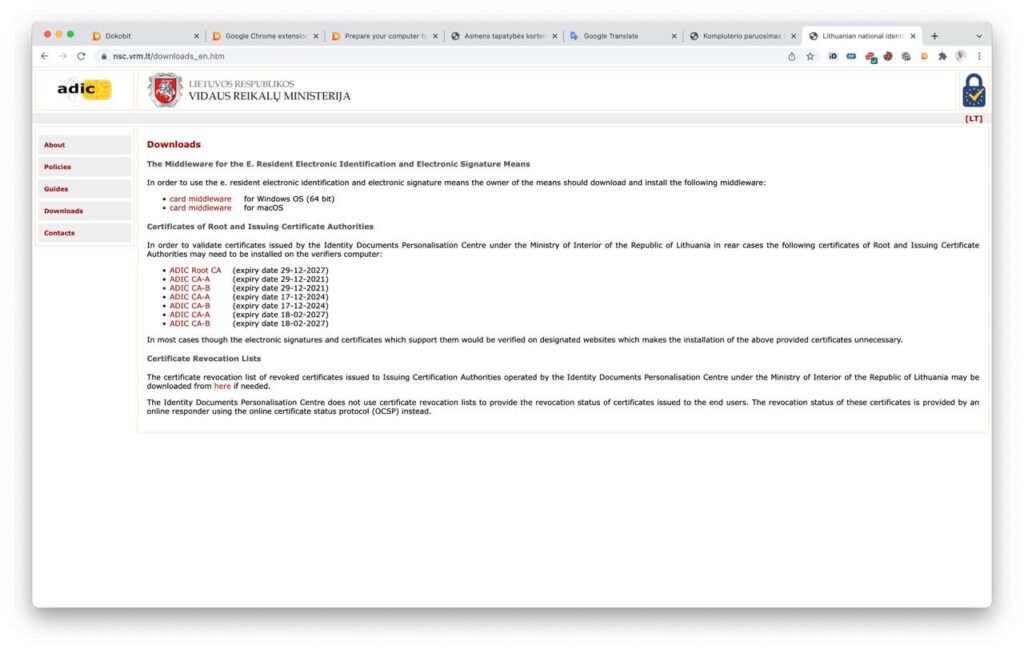 Then, after inserting the card in the reader and connecting it to the computer, you need to visit another website to download the drivers and browser plugins. So far so good.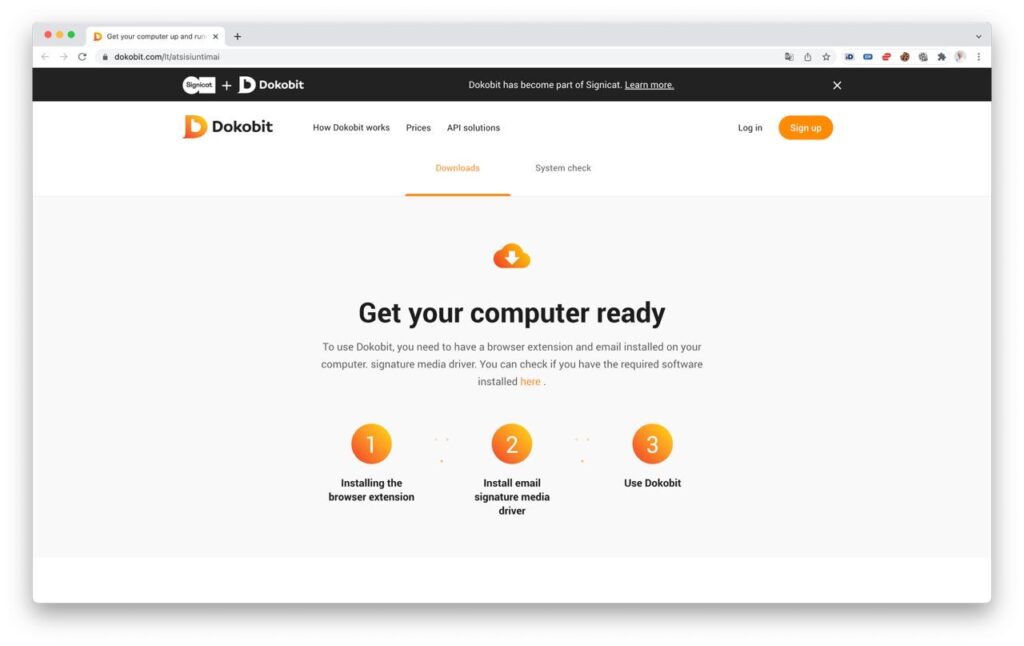 Unfortunately, after installing everything and rebooting the computer, I could not access the system. I kept on receiving an error message: "No certificates available for the plugin for listing".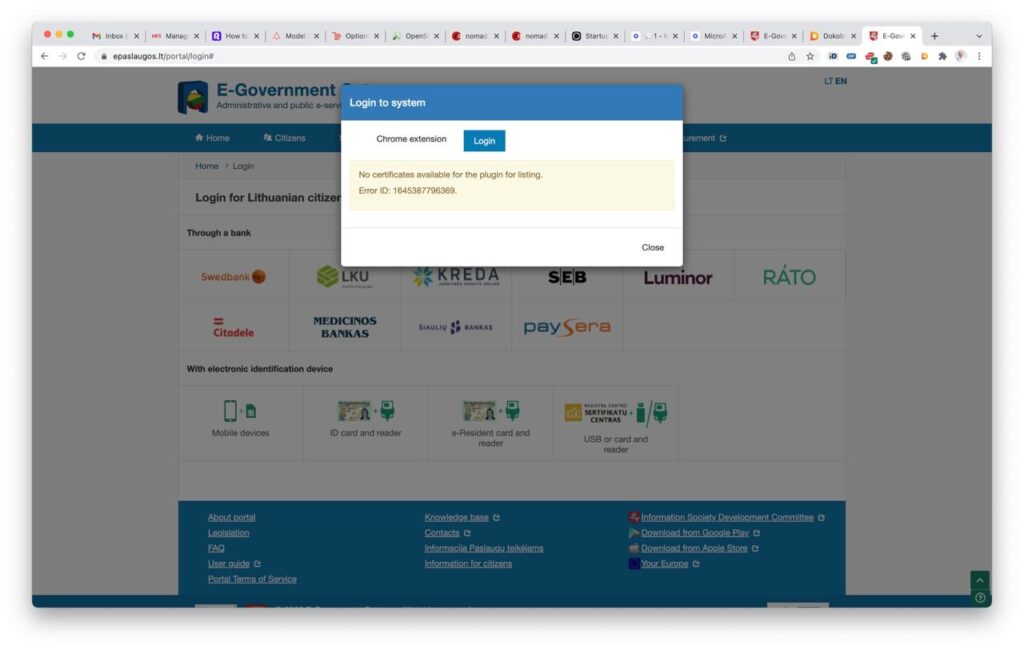 Then, after several frustrating attempts, I tried with the USB reader from the Estonian e-Residency pack and it worked! So ironic comments apart, it was clear that the problem was in the drivers. At least I was able to make it work, but you know how I am… I wanted it to work with the right USB reader.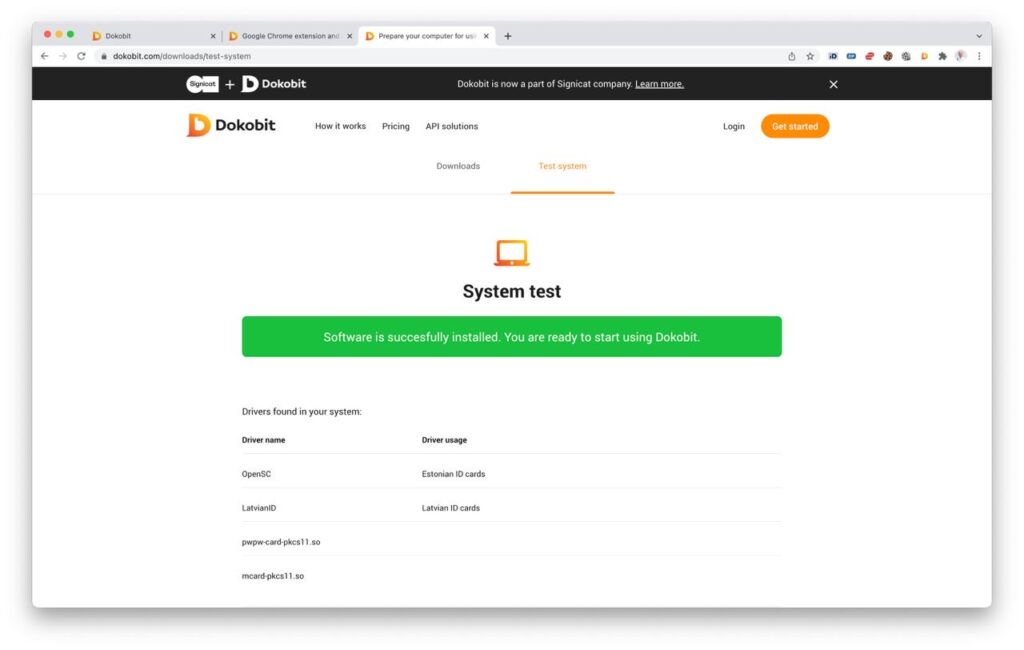 So I wrote to the customer support from both the Immigration office and this Dokobit website. They instructed me to try a couple of sites. One of them required me to install a package that included some drivers for the reader. Probably, these drivers were more updated, or that version somehow worked better with my hardware, but whatever the reason, after a couple more reboots I managed to make it work with the right USB reader. 🙌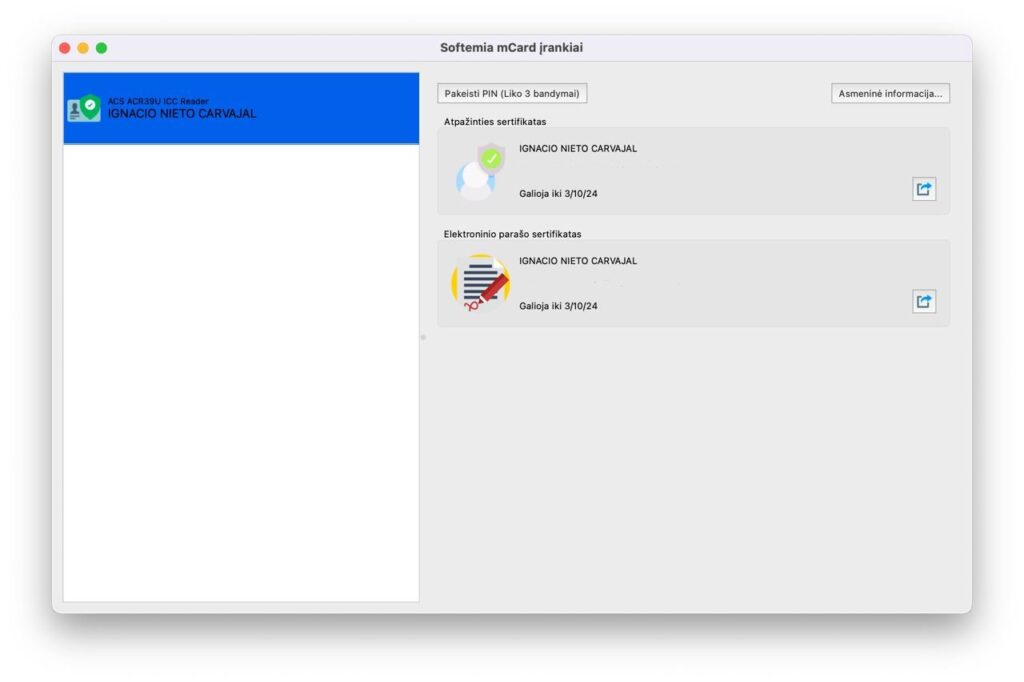 So it was kind of a difficult and frustrating setup process, and I am a computer science engineer and geek. I guess that for non-IT savvy people, this can become a problem. I have to say, though, that the support team from the immigration office is super kind and responsive. They answered fast to all my help requests in flawless English. Kudos to them.
Now what?
Ok, so I had my card working, the browser plugins installed, and everything ready. So I got into the Migracijas site, logged in with the card… anddddddd, well, there it was, the Immigration website.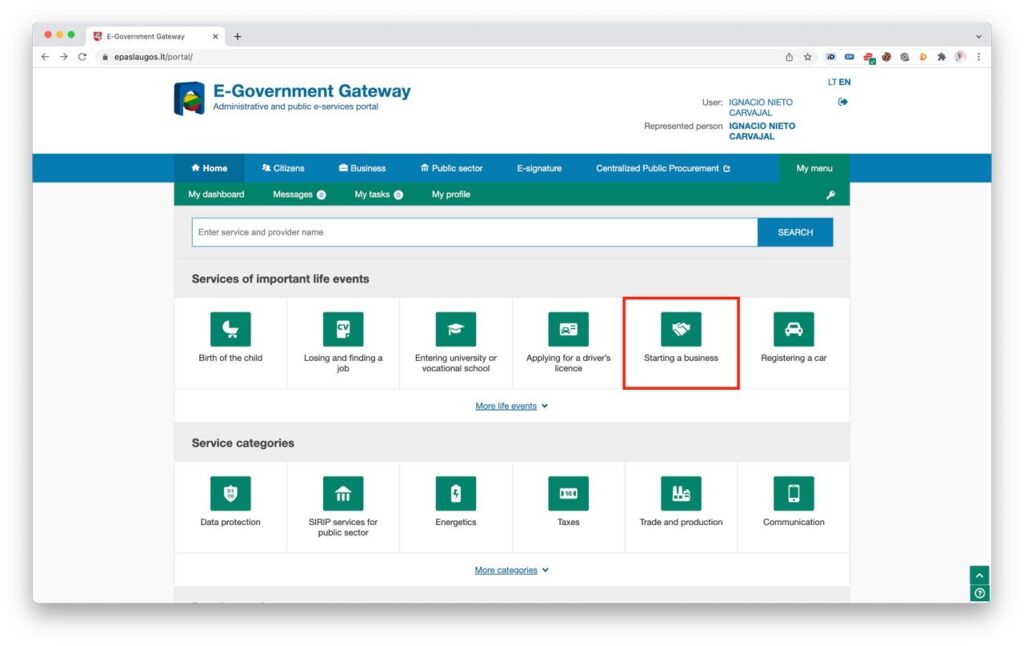 I saw a section that said "Starting a business". I held my breath and clicked on it, wondering if I could start a business online in Lithuania right away. But turned out to be a list of resources that had nothing to do with starting a business: licenses, legislation, etc.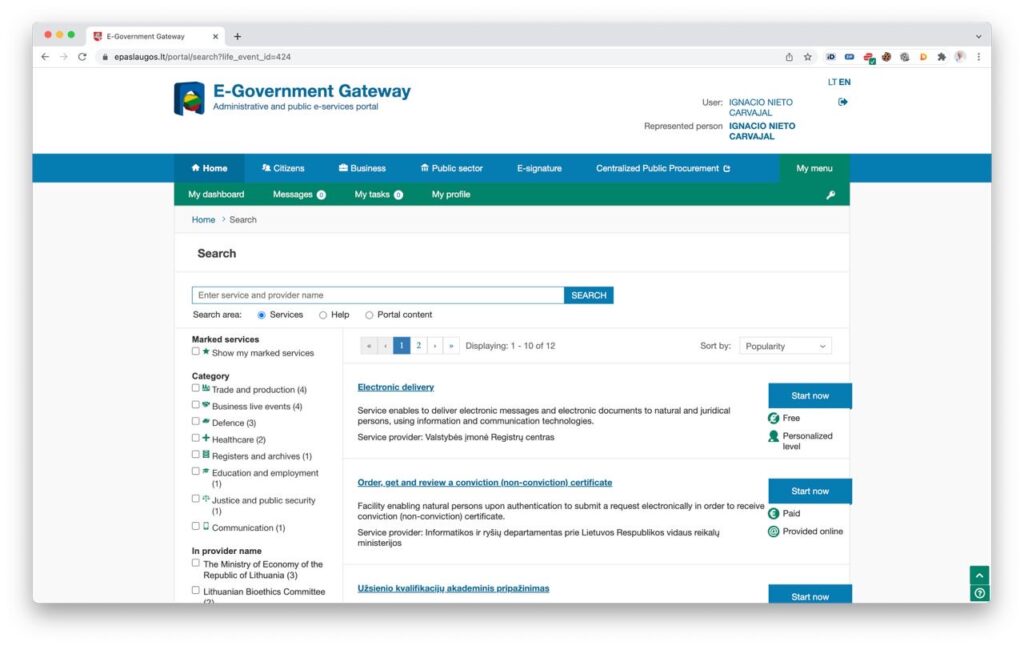 To be continued…
So I guess we will have to wait until the program is more mature. So far, the card is pretty useless for anything remotely interesting for a location-independent entrepreneur. But as Bogart said in Casablanca…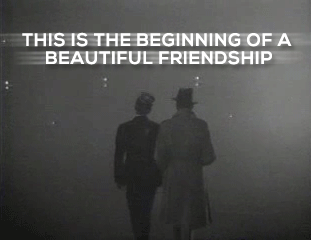 I had the pleasure of meeting the Counsellor of the embassy of Lithuania in Estonia to talk about the Lithuanian e-Residency Program. It is true that it is still in its early days, but I honestly think it has the potential of rivaling the Estonian one. It just needs a dedicated team that takes care of it as successfully as the Estonian e-Residency team has done during the last 8 years.