After living and working for three months in Bali, I can confidently say I have visited a lot of co-working spaces and cafés. More than anywhere else. In this post, I share what's –in my opinion– the best co-working space in Ubud, Bali.
Ubud for digital nomads
Ubud is a quite unique place. being an inland city, it has managed to escape the touristic frenzy of coast villages such as Kuta or Seminyak. Still, there are many digital nomads and expats living here. While most of them are just interested in yoga and meditation, there's also a large community of entrepreneurs and freelancers. However, unlike other cities such as Chiang Mai, here the entrepreneurial community seems to be scattered in small groups gathering around co-working and co-living hubs.
It's true that your experience working in a new city is not determined just by the working place, but lots of other factors. Some of them include the traffic, public transport, and the quality of the internet connection in the area, to name a few. In this post, I discussed some of the problems we found to work comfortably in Ubud.
The first one is how hard it is to move around. The lack of sidewalks and the crazy traffic makes it almost impossible to move by foot in some areas. We decided not to rent a motorbike, as one of our friends had an accident just weeks before we arrived to Bali. Unfortunately, the local taxi mafia and the special Balinese character made using apps like Grab or Go-Jek quite difficult.
The second one is the internet connection. Finding a good, reliable WiFi is not that easy in Bali. Even well-know and renowned co-working spaces suffer from a lack of good network connectivity, as we'll see later.
What do you look for in a co-working space?
Different people have different needs when it comes to choosing a good place to work. Some people look for events, networking, and a challenging and creative environment, others just need a quiet space.
Personally, I fall into the latter category. I always look for a silent place with good internet connection and, ideally, good coffee too. A foosball table is not a good sign for me in a co-working space.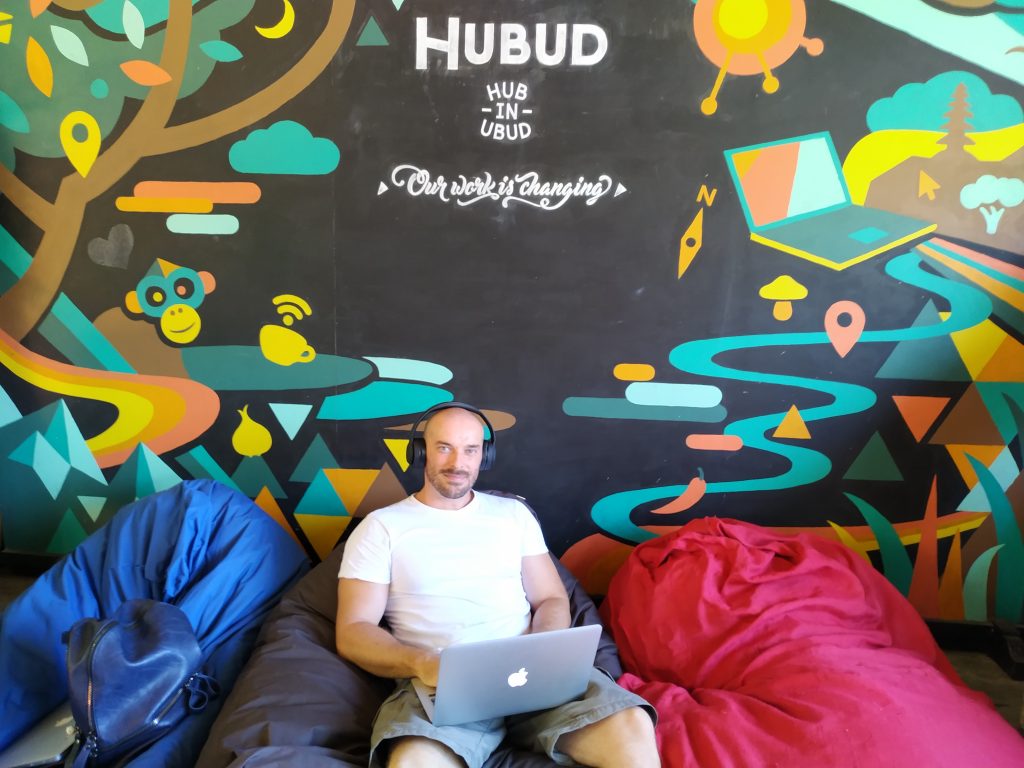 Hubud
Hubud is probably the most famous co-working space in Ubud. It was also the first to open its doors in the city. Named one of the best co-working spaces in the world (spoiler: don't believe all you read), it's located just in front of the monkey forest. That means that your co-working mates will not only be digital nomads, expats and locals, but monkeys too. To be honest, watching a lady shoot monkeys with a sling is a unique experience at first, but gets tiresome and distracting after a while.
Nevertheless, the space is beautiful, and you can even enjoy some amazing views of the rice fields. Its bamboo structure is also quite nice, both outside and inside.
The on-boarding process is definitely a hassle, especially if you are visiting for just one or two days. You have to fill in a form with lots of data, including things like your phone number or where did you hear from them. Then you need to select the subscription plan and, surprise, daily plans are not in the menu. So you have to call someone from the desk to come and help you, activate your account, before you can log in.
All in all, the process takes thirty minutes. If you are into "experiencing" a co-working space and merging with the entrepreneurial community, it may be nice. However, if you just need a place to work, spending half an hour before you can sit down is simply not ok.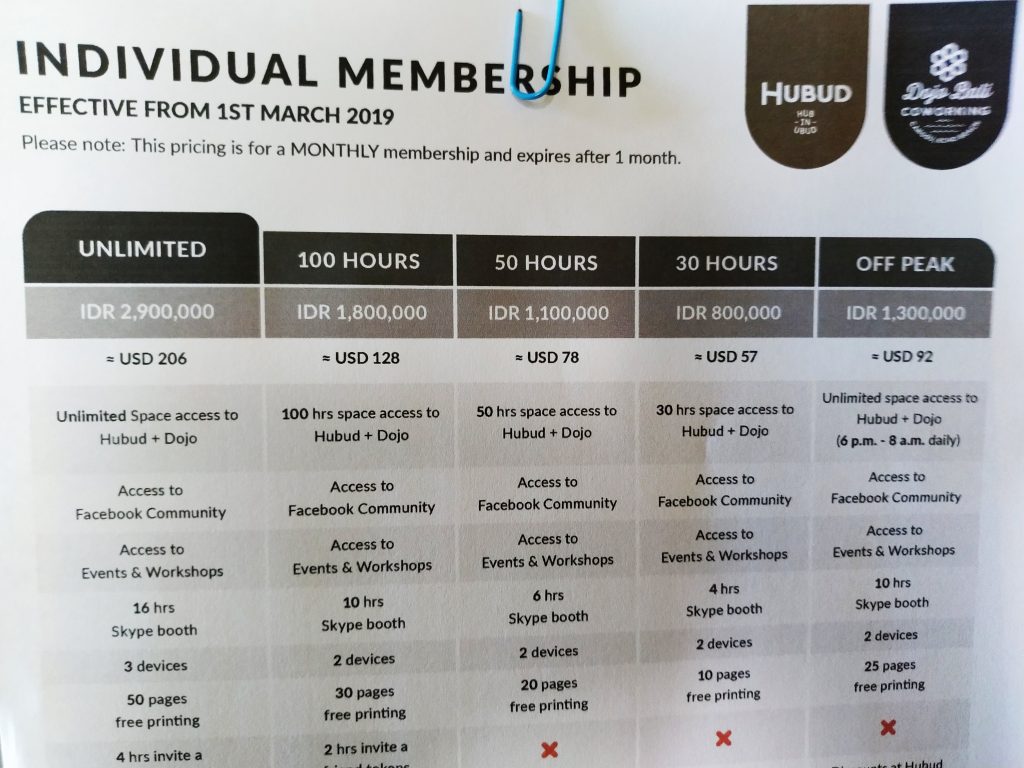 Paying top dollars for a poor connection
The worst thing about the on-boarding process is not just the time you lose, but the fact that the internet connection works through a captive portal. And it disconnects. A lot. Not only that, but you are only granted access with two devices. I usually carry my phone, iPad and laptop. While I'm trying to get rid of the Mac, I still use it sometimes. So that means paying an extra if I want to be able to work properly with all my devices.
And that's outrageous. Not because you are –supposedly– in the best co-working space in Ubud, and one of the bests of the world, but also because you paid 15€ to stay there for just one day. And that takes me to the price. As you can see, unlimited access to the space for one month costs 190€ (2.900.000 rupiah). Most co-working spaces in Europe are 100€ a month. Being surrounded by monkeys is not what I would call an extra worth paying 90€ per month.
The coffee is ok. They have free american coffee, and you can even add some milk to it if you want to. Of course, you can pay if you want something more sophisticated, like a latte.
So overall, the place is beautiful and the people are nice, but that hardly justifies what you pay for staying in a place with such terrible network. A sign at the front-desk states that you pay for the space, not for the connection, and that becomes obviously painful after a few minutes.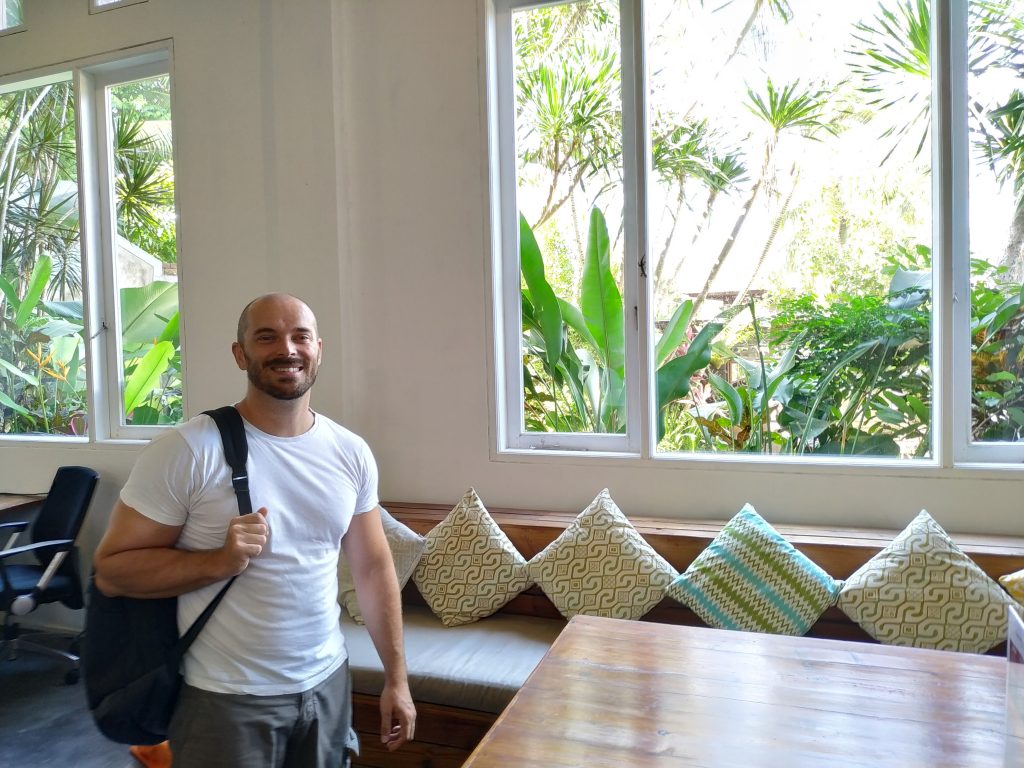 Outpost
Another renowned space, Outpost is located in Lodtunduh, in the outskirts of Ubud. They offer not only co-working, but co-living also.
The space is really beautiful and quiet. They have an open floor on top where people can do some networking, and a silent space on the ground floor. The latter is perfect for focusing on your work.
They also have an on-boarding process that takes a tad too long, though not as overly time-consuming as Hubud's one. The number of devices is also limited (what's wrong with these spaces?) but this time you get 3 devices, so I was able to use all my equipment.
The network was fortunately a lot better here also. I was able to work without a problem. That's a relief when you pay around 15€ for one day. Their fees are also quite high. 170 whooping euros for one month with unlimited internet. There are "reduced" plans with a limited amount of internet hours per month. For example, you can pay "just" 43€ for a plan including 25 hours of internet per month. Now, that's less than 1 hour and a half of internet a day. I don't know about you, but I would not do much with that.
There's a canteen in a small patio where you can get some coffee. The coffee is free, but hideous (you get what you pay for, right?). It's DIY Balinese coffee. That means pouring hot water in a cup full of brown powder and drinking coffee grounds. It is like codeine for a drug-addict. You take it because it's the closest you can get to the real thing.
So another over-hyped, over-priced co-working space. Better connection, but worse coffee. Far from ideal.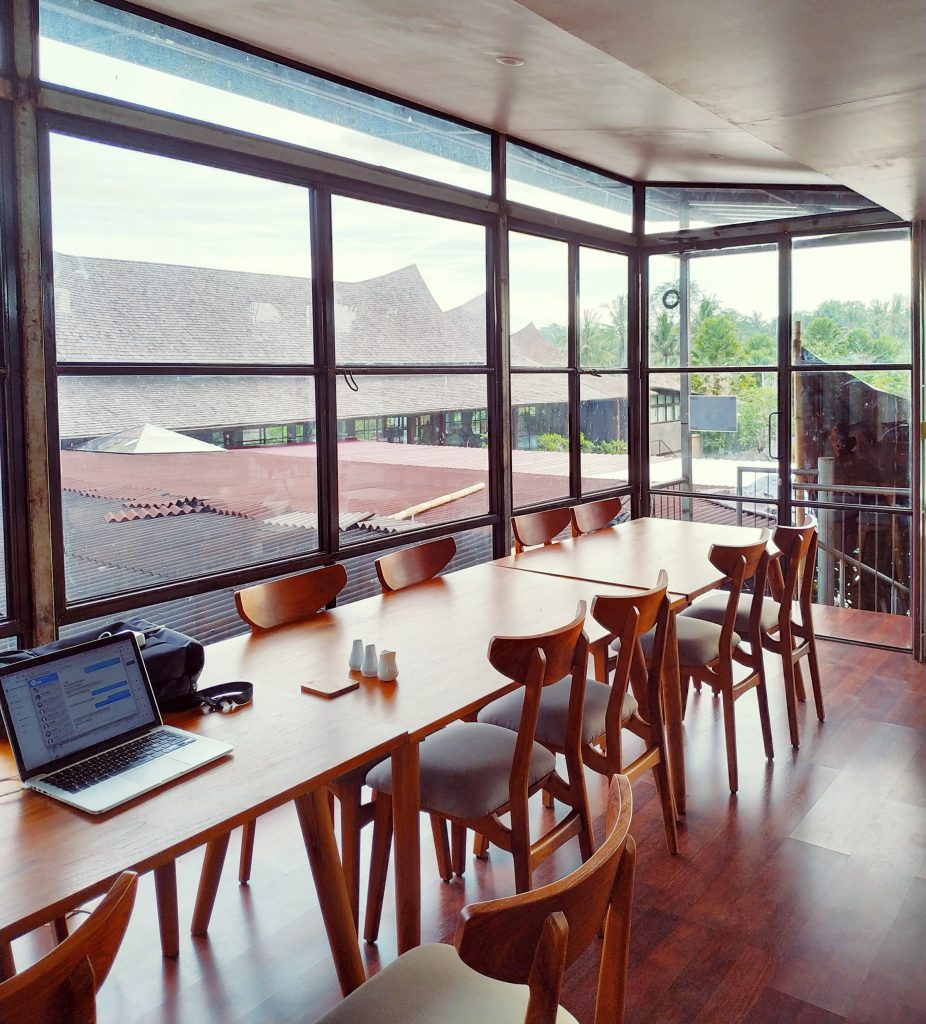 Titi Batu
I was decided to explore all alternatives in my quest for the perfect co-working in Ubud. Curiously enough, one of the best options I found was a sports club near our villa.
Titi Batu is a club in Lodtunduh. They have a gym, a large pool, a restaurant and a cafe, and a working area with desks and chairs upstairs. It's quite tranquil, and people there are usually focused on their work. The cafe spot may also also a good option if you are not easily distracted by people swimming at the pool or children playing around.
So while it's not strictly a co-working space, it works surprisingly well. The WiFi connection is good enough…ish. Some days it's just not that great, and there was at least one occasion when we had to go somewhere else to work.
While they don't have free coffee, you can get a superb latte if you pay for it. Sometimes, you prefer to pay for a quality caffeine shot instead of chewing coffee grounds.
As we stayed in Ubud for three months, and we wanted to go there not just to work, we paid a very convenient subscription fee of 135€ for three months. That's less than what you would pay for a month at Hubud or the Outpost, and you get some extras like the pool and a top-notch gym.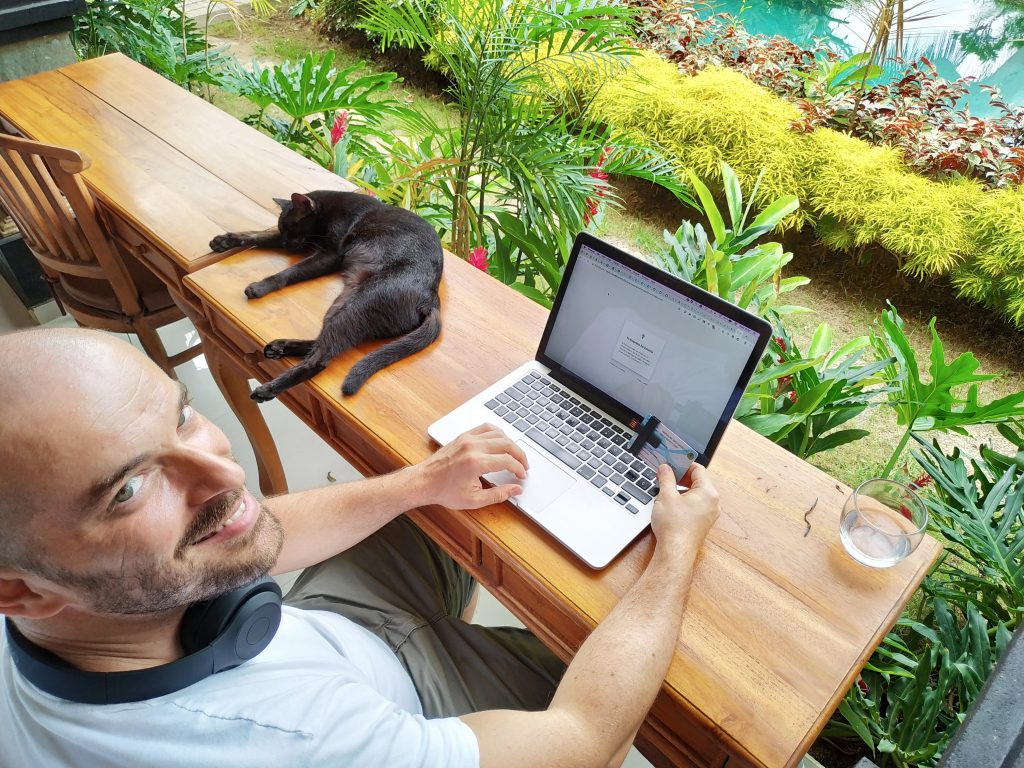 Hustlers Villa
We decided to also look into less-known co-working spaces, and that turned out to be a ver good idea. One of them was the Hustlers Villa co-living space. The daily price was 100.000 rupiah (around 6€), which is cheap compared to Hubud or the Outpost.
When you arrive and start working there you understand how simple and convenient things can be when done at a smaller scale. The on-boarding was basically us saying "Hi, we want to try Hustlers Villa for a day" and paying the 6€. They gave us the WiFi password and we had a seat.
Yes, you heard that right. They gave us the password for the WiFi. No captive portals, no max devices limitation, no bullshit. The connection was super good, and we were able to start working in less than 5 minutes after our arrival.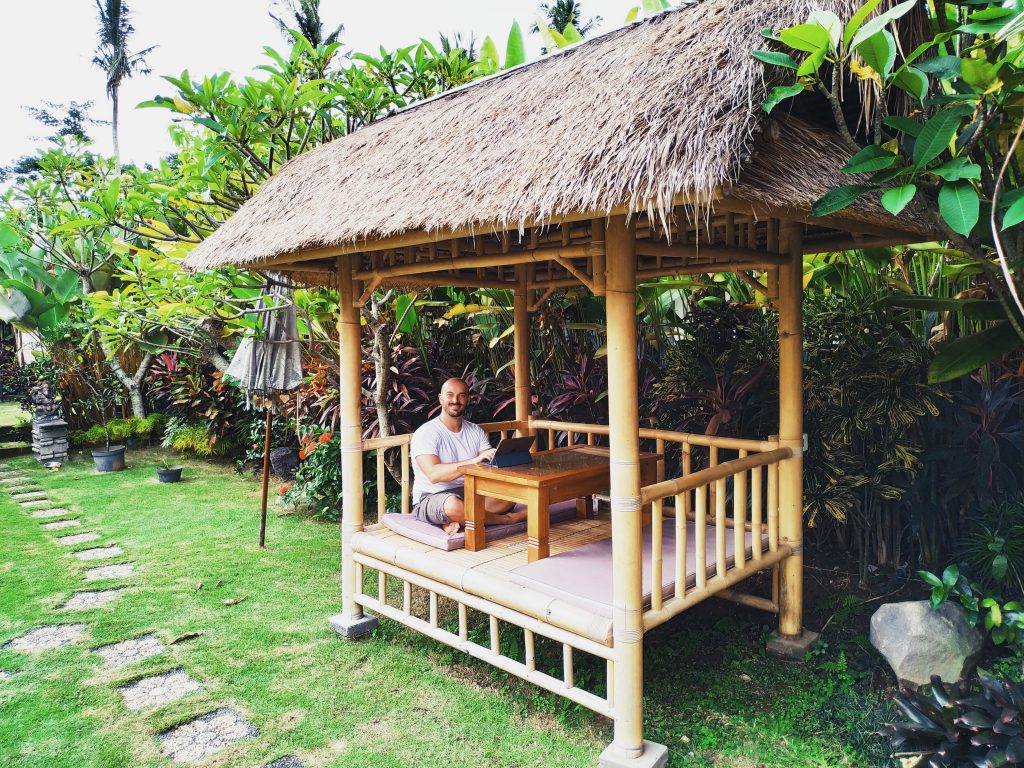 Not asking for our email addresses in an awkwardly long form means we weren't subscribed to any spammy mailing list. They have a Facebook channel, events from time to time and a weekly networking meeting on Sunday. In my opinion, enough to satisfy your networking needs.
The space is small but enough for 10–12 people. The food is good and cheap, they have free balinese coffee with milk, and you can order a latte also. The pool is small but enough for a refreshing break, and you have a beautiful garden with some cross-fit equipment and two small balinese cottages to work outside. Air conditioning, good internet connection, and a clean toilet. I can't really ask for more.
We were so impressed that we decided to remain there for the rest of our stay in Bali. The price also surprised us, at 1.600.000 rupiah (around 100€). That's quite standard for a co-working space.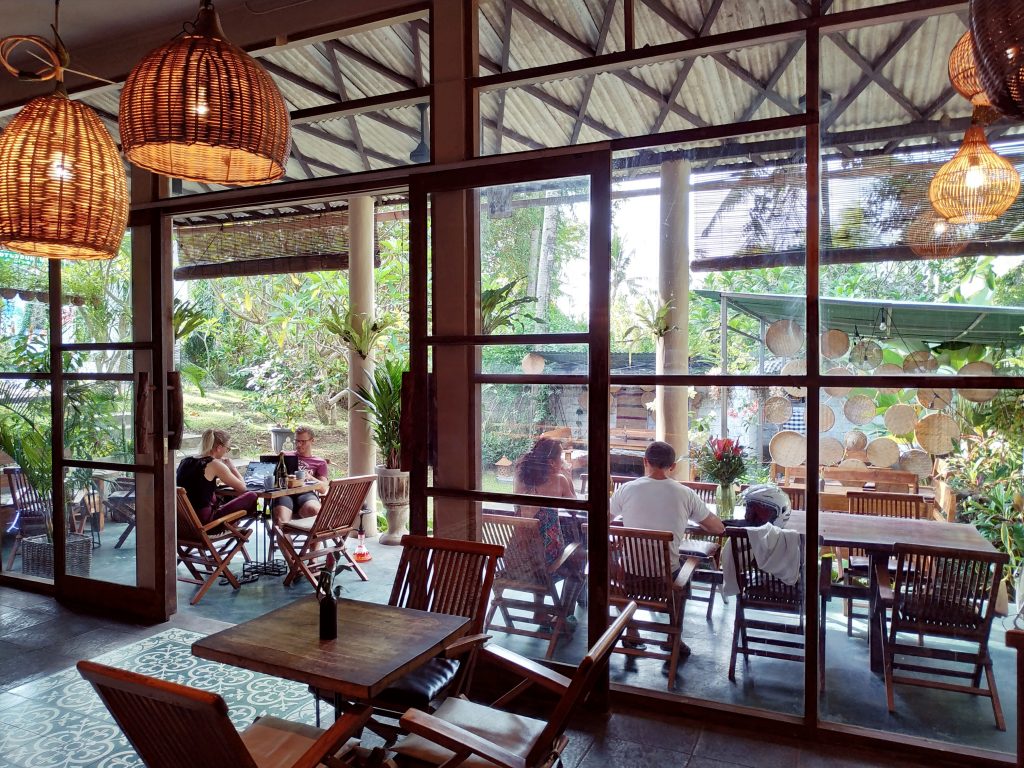 Cafés near Ubud
We also explored some cafés near Ubud. The city and its outskirts are full of them. Surprisingly, many of them have quite decent internet connections.
If you are into working in cafés, and prefer a more casual environment, or switching places regularly, this may be a very solid option. There's no shortage of beautiful cafés in Ubud and it's surroundings.
One of the nicest ones for us was the Usha Café & Bakery in Lodtunduh, in the outskirts of Bali. Also, there's a small but cool café in Ubud's city center called F.R.E.A.K coffee. Make sure to check it out if you prefer to stay close to Ubud.
The verdict. What's the best co-working space in Ubud?
I sadly have to say that none of the famous, awarded and renowned co-working spaces in Ubud were good enough. Don't believe these "best co-working spaces of the world" lists written by guys who haven't even visited them. Hubud is a terrible place to work. Of course, that depends a lot of what your needs are. In my case, it's working.
And that's the problem of these places. The overly long on-boarding, the community bullshit, weird limitations, mailing lists, and plain greed (190€/mo? really?) means they forget that they are co-WORKING spaces, not co-HYPING spaces or co-TED-TALKING spaces. People go there to work.
Of course, it's nice to meet other entrepreneurs and learn from other people's experiences. There needs to be some balance between working and networking. But let's be honest. That 26th talk on how to generate leads on Instagram or "What being a real man means" (real Outpost talk) won't make your business grow. Those talks are on Youtube. Now do something productive with your working time.
So while the Titi Batu club was a really good option, the better WiFi connection and more focused environment of the Hustlers Villa made it the clear winner.
Conclusion
There's a lot of hype surrounding co-working spaces. It seems to me that sometimes people buy this hype and forget it's a place to work, not a place to play foosball while watching monkeys steal your lunch. Specially in places such as Bali.
In this article, I discuss what's –in my opinion– the best co-working space in Ubud, Bali. Surprisingly, the winner was not one of the most renowned, "best of the world" awarded spaces, but a modest, smaller co-working space like Hustlers Villa.
What are your experiences in these places? Do you miss a co-working space in the list? Share your thoughts with us in the comments section.