After a short stay in Thailand, we moved to Bali to stay here for three months at least. In this post, I share my experience on how is life in Ubud for Digital nomads.
Different people have different metrics when evaluating how good -or not- a place is.
For context, I live and work as a full-time digital nomad with my partner. We are in our late 30's/early 40's, need to work almost daily, and have a medium budget. We hate Starbucks and fast-food chains and prefer local restaurants and cafes instead.
As a result, we value living in a comfortable, hassle-free house, in a somewhat tranquil and culturally interesting neighborhood, with access to co-working spaces or good Wi-fi connections, and a low cost of living.
We are less interested in nightlife, and not being rich teenagers, cannot afford to spend our time going through every single beach of the country, looking for the perfect wave.
Are we on the same page? Good! Let's start.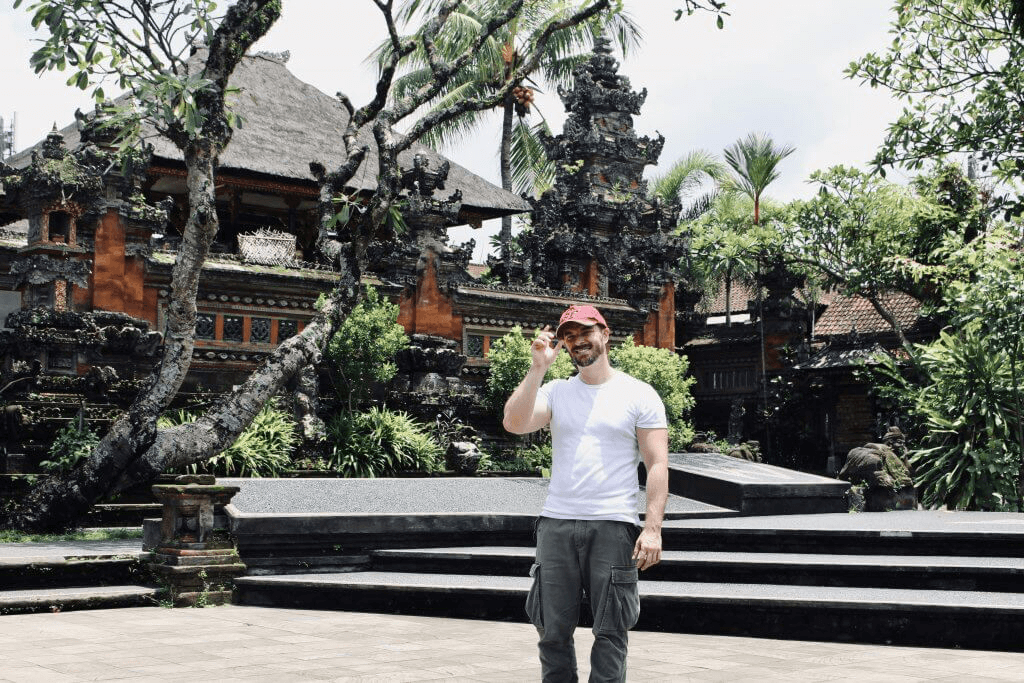 Bali Is Different
The mind-blowing landscapes, the rice fields, the temples, the forests, the beaches… Bali is a unique place and, coming from Europe, you are really in for a mindset challenge. As you may know, we don't like to live in touristic places. We wanted to experience the real Bali. Thus, we decided to stay away from locations such as Denpasar or Canggu, and also Ubud's city center. We opted for a green Villa in Lodtunduh instead, in the outskirts of Ubud.
Living here is a once in a lifetime experience.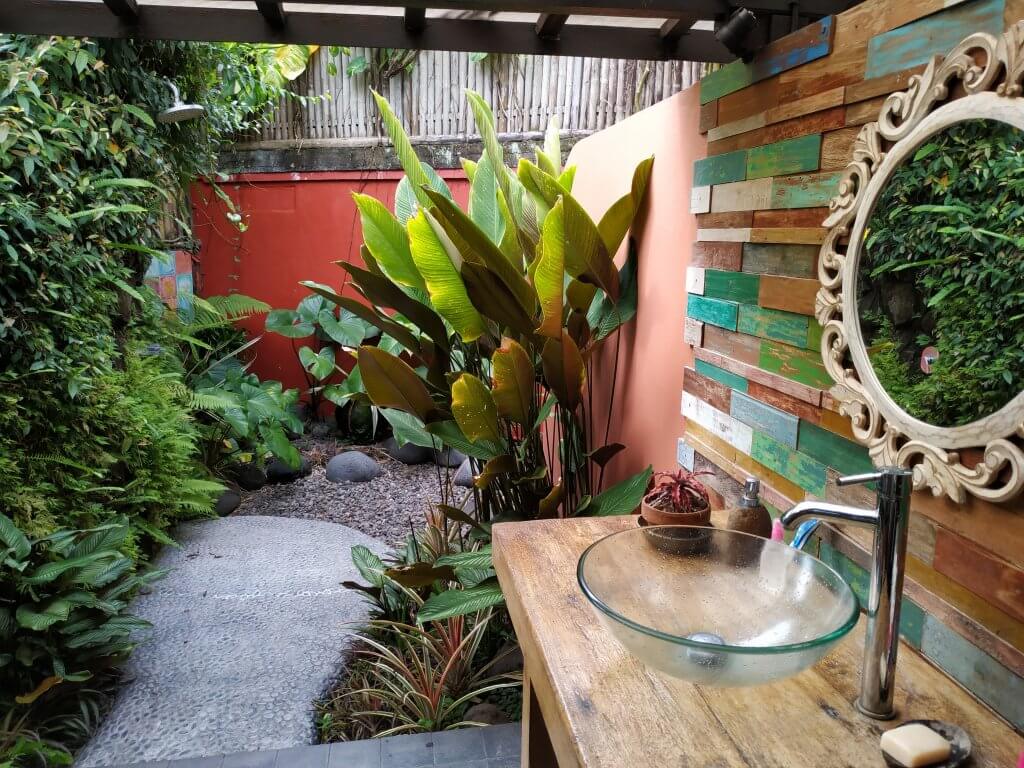 To begin with, we live in a green house, and it's quite different from any other place we've lived in before. It's made of bambu, and has no air conditioning. It has no walls also. Not at least in the traditional sense of the word for western folks like me (meaning, a closed block of bricks going from the ground to the roof). There are sliding doors made of wood and cristal, but they don't get to the top, which is open.
The bathrooms are outside, and that was also a challenge for me at first. This openness means you have to get used to the fact that there will be bugs. Mosquitos, ants, dragonflies, even a cockroach from time to time… You have to embrace that. Luckily, there are some bug-eating lizards and geckos here to balance things out.
The great thing about Bali is that you can experience this. It's still there, as it's the amazing forests and the wildlife. It's a opportunity to experience something different, and you can always come back to your Scandinavian minimalist studio in Europe, the traffic jams and the big malls any time you want.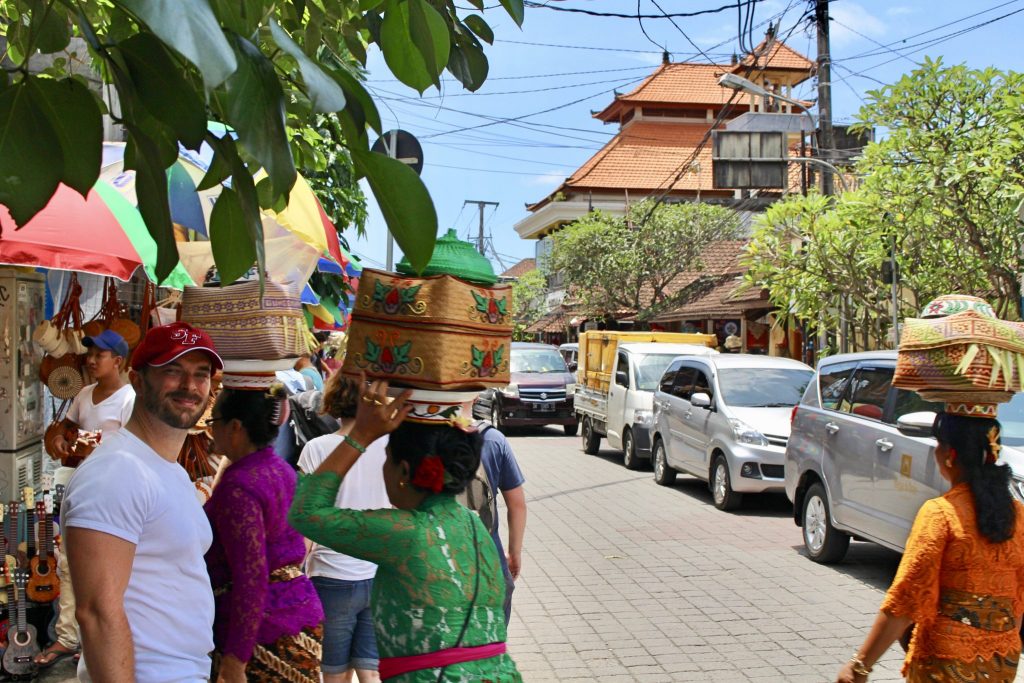 Ubud And Surroundings
The first thing you realize when you get to Bali is that, apart from Denpasar, the concept of "city" is completely different here. When you think of a city, you picture a mesh of intersected streets. They can be distributed in an orderly fashion, like New York, or as a sinuous mess of blocks and houses commonly seen in old European towns such as Lisbon. Our cities usually grow like oil spilled on the floor.
However, in Bali, after you leave Denpasar, you end up in a road with no shoulders or sidewalks. This road is surrounded on both sides by houses and local businesses: restaurants, laundry shops, wood artisan studios… This goes on and on until you get to a "city", which is nothing more than a place where apart from the main road, there is a handful of secondary roads forming a loose cluster. In between, it's difficult to know when one town or village ends and the next one begins.
Cities in Bali grow longitudinally around the roads.
And that's a problem, because unfortunately the lack of infrastructures and walkways make it very difficult to move on foot. The infrastructures of Bali have not been thought for pedestrians. This is really unfortunate, because distances are short here, and you could probably go to lots of different places just walking.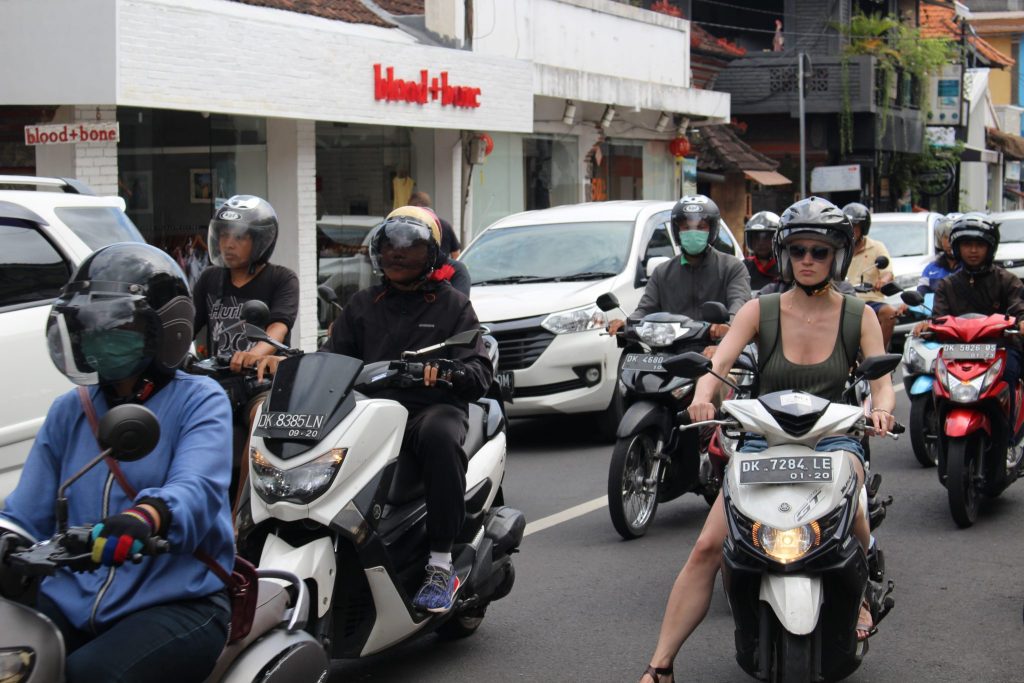 Noise, Traffic And Safety
Everyone here seems to agree that you need a motorbike to move around the island. However, we were not really sold on the idea of renting a motorcycle, for security reasons.
Some weeks before we got to Bali, one of our friends, and fellow e-Resident, arrived to the island and rented a bike. One of his first trips ended up in the hospital after hitting a car. Apart from the fact that being in a foreign hospital, especially when you are alone, is not funny, he had to pay also the car repair costs.
This is not an isolated case, as we've actually met quite a few people who have had a motorbike accident in the island.
Right after arriving to Denpasar's airport, while traveling to our villa, we witnessed for ourselves how crazy the traffic in Bali is. Yes, traffic is a mess of motorcycles and cars criss-crossing each other all over Southeast Asia. But at least, in Chiang Mai, there were traffic lights, and you could see a traffic control every now and then. Ten minutes of watching the traffic on our way to Lodtunduh were enough to convince us to not rent a motorbike.
The bright side of this lack of infrastructureas is no traffic noise. Speed limits are meaningless here, as you have to be really careful because of the traffic. Hence, people drive slowly and quite respectfully. So unless you live in Ubud's city center, or in front of a main road, you won't be exposed to a lot of noise.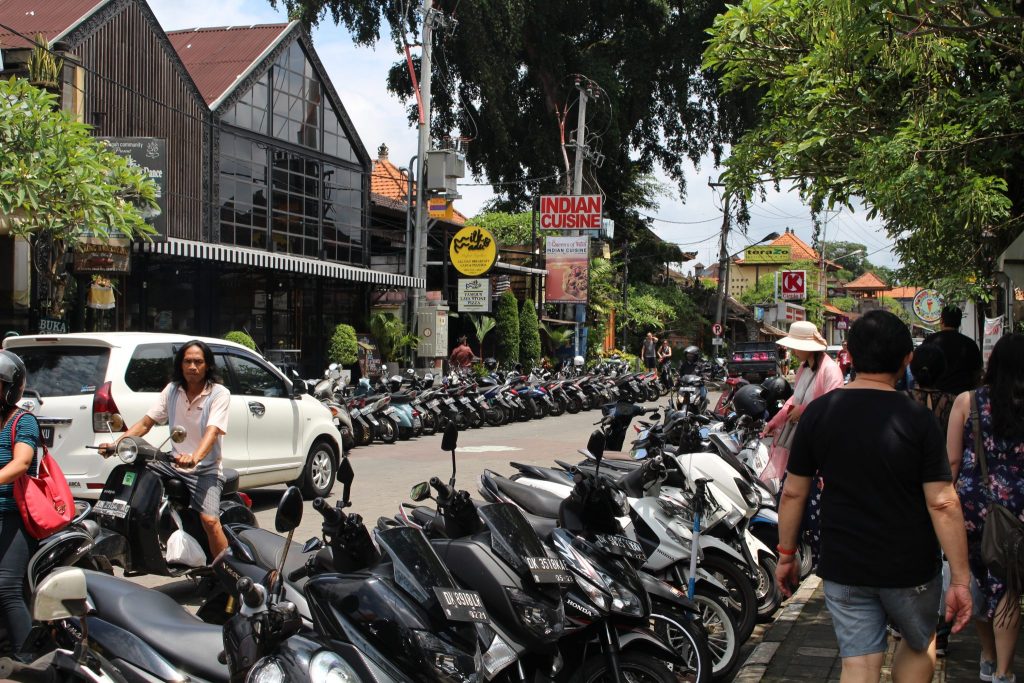 Public Transportation…
Me and my partner like to move everywhere by foot if possible. In Bali, except for close locations, it was not a viable option for us. A motorcycle or even a bike was not an alternative either. To make things worse, there's virtually no public transport in the island. Thus, our only option seemed to be taxi apps like Grab or Go-Jek.
These solutions had worked quite well for us in Chiang Mai, so we decided to give them a try. Unfortunately, our experience in Bali was hit and miss, mainly for two reasons.
… The Local Taxi Mafia…
First and foremost, there's a huge local taxi Mafia in the island. In most big cities, with the exception of Denpasar, these mafias have placed signs warning foreigners not to use Taxi apps such as Grab or Go-Jek. Their argument is that you should support local taxi drivers… which is a fallacious one, given that taxi drivers from those apps are in fact locals. What they really want is being able to rip off toursists asking for super high prices for a ride and expecting the foreigner not to bargain too much.
Haggling is in fact a common practice here in Bali but, honestly, when I just need to go somewhere else, I don't want to waste 10 minutes of my time discussing about the price and then 5 minutes trying to explain to a non-english driver how to get there using Google Maps. That's why Uber became a thing.
Grab and Go-Jek drivers are scared. We haven't experienced that, but we've heard of people who've been taken from the car by local taxi drivers, even assaulting the Grab or Go-Jek driver afterwards.
… And Balinese people…
Another important reason why these apps don't work is because of the way Balinese people are. They will accept the ride right away, and then realize, 5 minutes later, that they need to get past a traffic jam to get to you. So they will ask you to cancel and get a new driver. Now you've lost 5 minutes, and need to ask for a new taxi. Then you are assigned a new driver, and this driver realizes you are too far, or he would like to go the opposite direction because there are more potential customers there, or a new customer appears for a longer (and more profitable) ride… and asks you to cancel the ride again. This happens quite often, especially for short distances, so get ready for this back and forth interaction.
Other times, they will send you a message while you are waiting for them to pick you up, asking for more money. Or as soon as you enter the taxi, they will ask you to cancel and pay them a little bit less… but in cash. And I don't like having to go through this every morning to go to the co-working space.
Go-Jek drivers seem to be a lot less professional and more willing to this kind of swindling in my view. While we've been able to use Grab, it's certainly not a hassle-free experience. I would say this is one of the mainproblems of Ubud for digital nomads like us.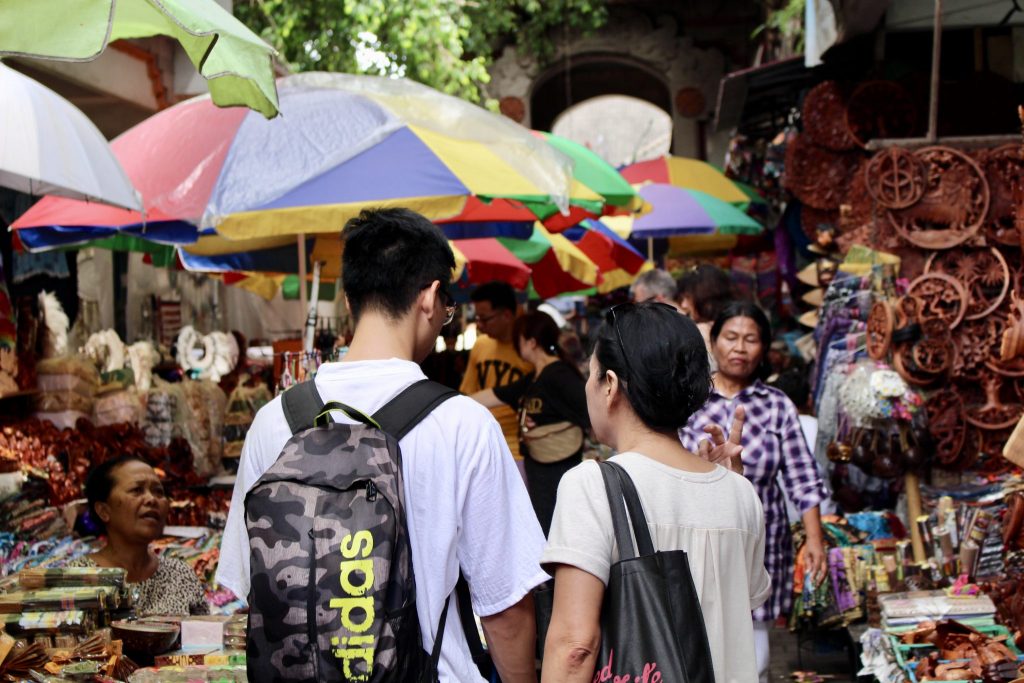 Tourism And Gentrification
Our first visit to Ubud's made us realize how lucky we've been to choose a place outside the city "center". Yes, Bali is a paradise, but it's full of tourists. Even a town like Ubud, in the island's interior, an hour away from the closest beach, is packed with tourists. Our first visit was on February, so that means it gets even worse during the high season.
The town does not even look like a real city, but something built for the tourists. There are restaurants, bars, hotels and villas, souvenir shops, temples and western-style cafés. It's nice, but you hardly get the feeling of being in a "real" city.
Walking the narrow sidewalks means dodging tourists and backpackers. Every 200 meters, a taxi driver from the local mafia will ask you if you need a ride. Overall, it's a very exhausting experience. Ubud is ok to come on weekends or one night to have dinner, perhaps a Bintang or two (the local beer) and head back home, but I would not like to live there.
In sharp contrast, when you go to the outskirts, or venture in the more rural areas (like Lodtunduh, where we're staying), there's not that many tourists. If you go to a bar, café or restaurant, there will be foreigners there for sure, but most probably they are mid-to-long-term visitors or people living in Bali.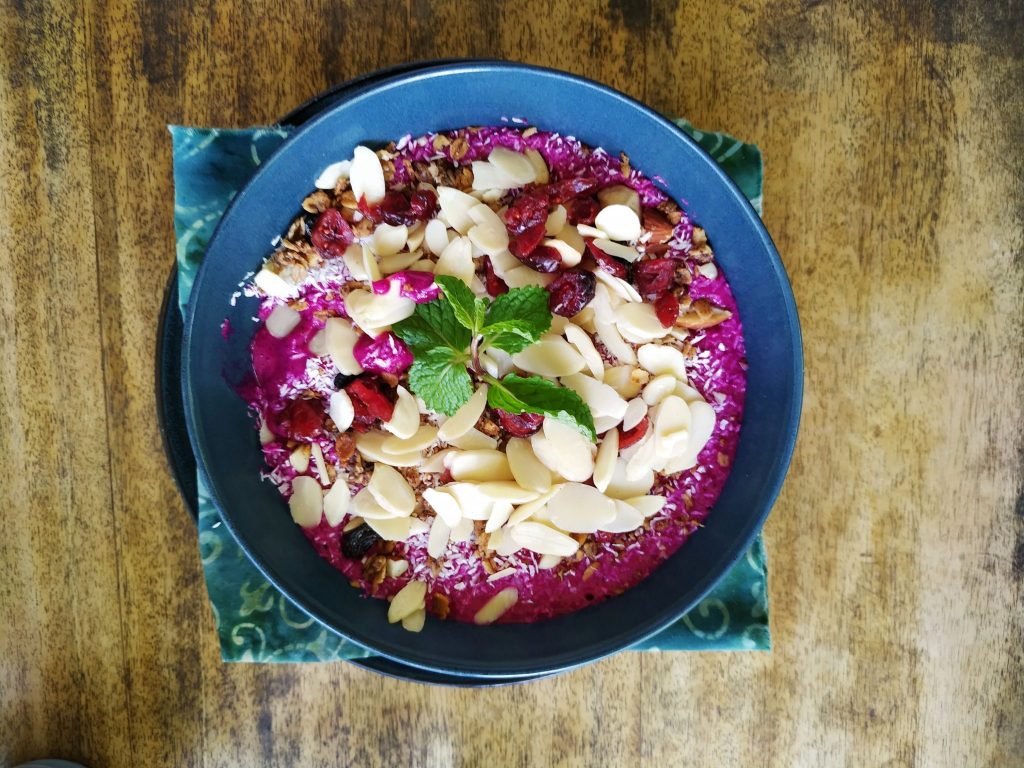 Food
Balinese food is amazing. I really love it. I find it very healthy. Unlike Thai food, here they don't abuse sauces and sugar. Instead, most of their food is based on rice or noodles and vegetables, with some meat -usually chicken- or fish thrown into the mix.
Their most famous dish has actually two variants: one with rice, and another one with noodles. The former is called Nasi Goreng, and the latter Mie Goreng (Nasi means rice, Mie means noodles, and Goreng means fried). They are basically the same: fried rice or noodles cooked with vegetables and a little bit of chicken, served with a side made of pieces of tomato, cucumber and lettuce, with an egg on top. Usually, they add some chicken or fish skewers (sometimes for some extra rupiah).
There is a huge variety of vegetarian food here, as many dishes don't include -or can be cooked without- meat, fish or eggs. That's probably why Bali is a heaven for vegans. There's also plenty of recipes using tofu, and I've never tasted as many different variants of tofu as in Bali. There's a special kind of tofu called Tempe that I just can't get enough of. Mixed with rice, it's simply delicious, and makes for a superb main dish.
As we wanted to get a real taste of Balinese food, we hired a cook to prepare dinner for us, Monday to Friday. She buys the most affordable and fresh food of the day in local markets and cooks it for us. It's an excellent way to discover the local cuisine and save some money.
Weather
This may not come as a surprise, but weather in Bali is hot. Really hot. Supposedly, there's no winter, summer, spring or autumn here, just a rainy season and a dry season. The first one is supposed to be softer and slighly colder, but on February the temperature was usually around 28-34 ºC. Also, being the rainy season, it's not raining as much as I would have thought.
Perhaps my opinion is biased after spending almost one year in Latvia, but this weather is not the best for working or taking care of your business. Yes, you can always go to a co-working space or café with air conditioning, but it's still not the best setup for me.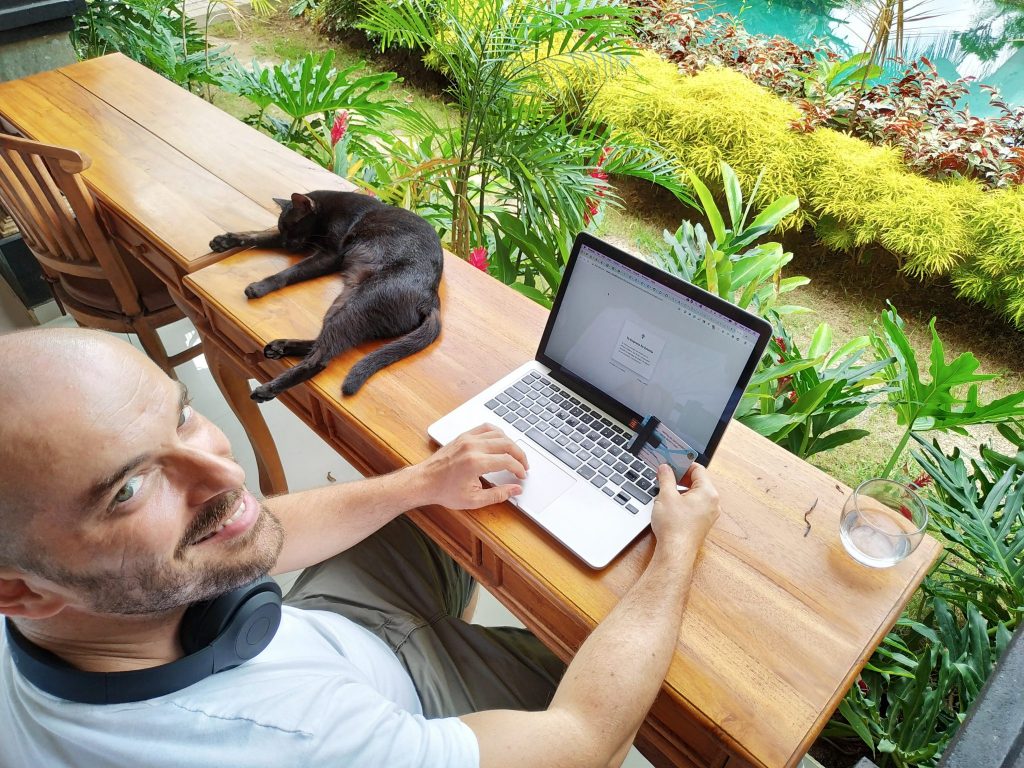 Places To Work
And speaking of work, Ubud, like other parts of Bali, is full of co-working spaces, clubs and cafés to work from.
Named one of the best co-working spaces on earth, the center of Ubud houses the aptly named Hubud co-working space. However, at 180€/month for a regular membership (unlimited access), it's WAY OVERPRICED, and what they offer, in comparison with the plethora of other co-workings around, is not worth it. Unless you really need to be there for the connections or networking, I suggest you not to look for a better place to work.
We initially went to a club called Titi Batu near our villa. Apart from a working area, and a pretty good internet connection -for Bali anyway- it has a gorgeous pool, an amazing gym, a restaurant, and a massage parlor. The nice thing about the place is that it's not as overpriced as Hubud. Our subscription is just 45€/m, and you get a gym or a pool as a bonus.
Co-working, or Co-living?
Then, we have discovered an awesome co-living space called Hustlers Villa, and it has quickly become our favorite co-working space in Ubud. It's quite close to our house (5 minutes by car). Even though they only have room for three guests, you can use it as a co-working place. We like going there often because it's the perfect place to focus, the internet connection is great, and the food is amazing, and quite affordable.
If you are looking for a co-working space near Ubud, I cannot recommend it highly enough.
The influence of tourism, and the fact that lots of digital nomads come here looking for a place to stay and work for some months, means that it's more usual to find co-living villas (like Hustlers Villa) than just co-working spaces.
Internet?
The big problem to work here comfortably (apart from the super hot weather) is the internet connection. While there are places where it's ok, if your work involves managing and uploading large audio or video files, you'll have a hard time working in the island. It's ok for web design, development, mail and for an occasional audio or even video conference. Just don't expect it to be HD.
Oh! and take into account that in Indonesia there's internet censorship, so you won't be able to access some websites and services. Use of a VPN service is advised.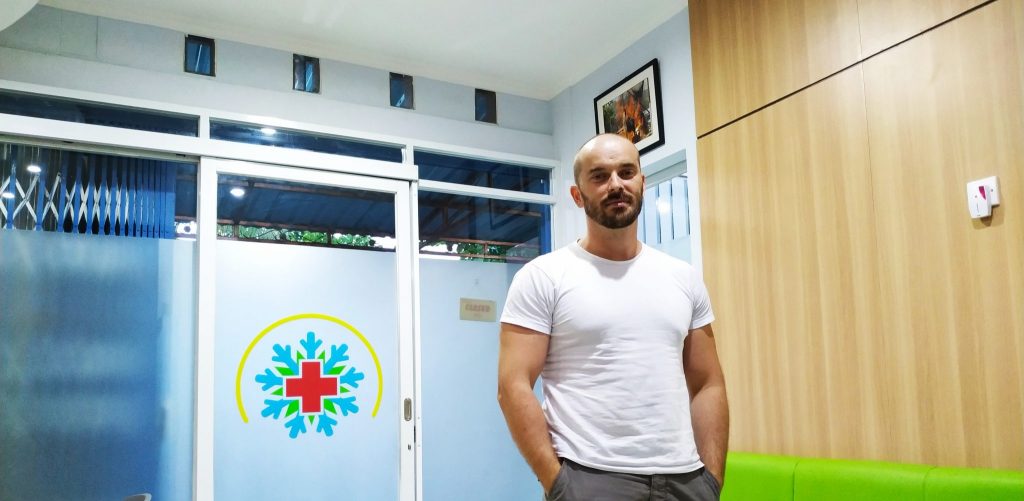 Hospitals And Clinics
While the most important ones are in Denpasar, There are a few clinics and even hospitals in Ubud. I recently had to go to the clinic because of a pain in my abdomen. Luckily for me, I am insured and the experience was quite nice. In my opinion, doctors in Ubud are good professionals, but they lack resources and equipment.
People here seem to agree that hospitals in Ubud are OK for minor things, but if you really need major surgery, or treatement for a serious illness, it's better to go to Singapore or, if that's too pricey for you, Bangkok.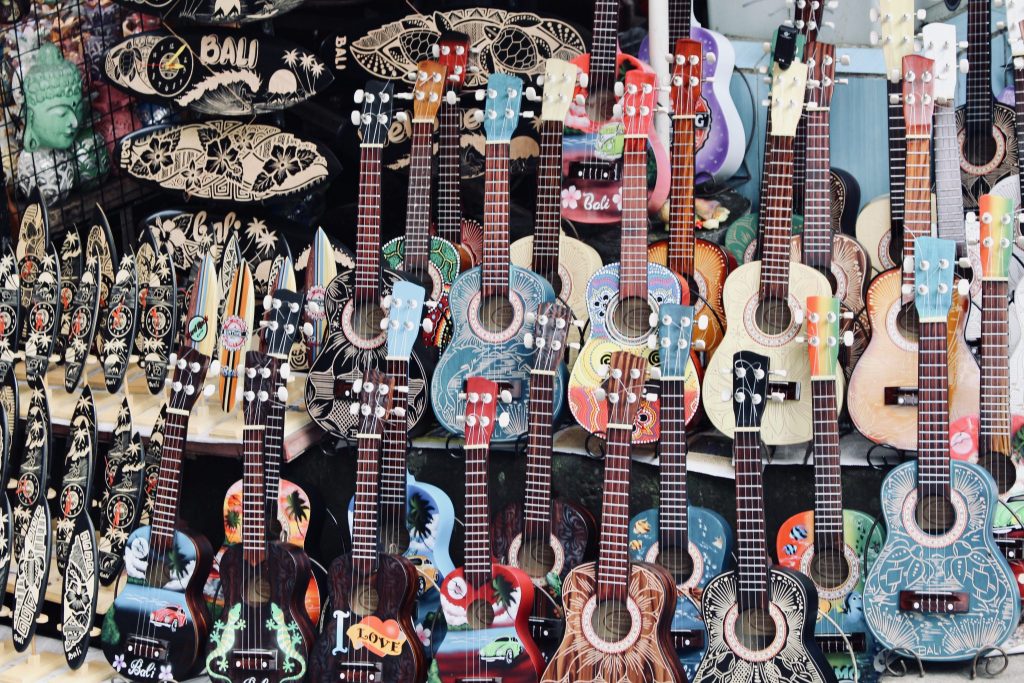 Cost Of Living
Bali suits all budgets. You can go from super cheap accommodations, services and food to ultra expensive restaurants and hotels. That makes drawing comparisons difficult. Generally speaking, however, the cost of living here can be a lot more affordable than in Europe if you avoid the most touristy areas. Still, it's a touristy place, and life in places such as Chiang Mai is a lot cheaper.
As an example, you can eat the quintaessential Indonesian dish, the Nasi Goreng (or Mie Goreng) for around 40k to 65k IDR (2,5-4€). In comparison, we used to have Pad Thai in Chiang Mai for around 50 THB (1,25€). There were restaurants in Riga where you could eat a one-dish meal for 3,5€.
Our greenhouse in the T-House Villa costs us 720€/month (including cleaning and breakfast for two), and that's quite cheap for Ubud. Prices in Canggu, for example, are a lot higher, usually starting from 900€ for a co-living space (meaning: a room with private bathroom and access to shared spaces).
There's a beautiful Villa -China Moon- we like to go from time to time, to have a coffee and work, because their WiFi connection is excellent. I asked the price for a one bedroom apartment and it was around 4500€/m. So as you can see, you will need to do some research to find a good, affordable place.
Prices for clothing and especially services can be quite affordable too. Just remember that Balinese people love to haggle.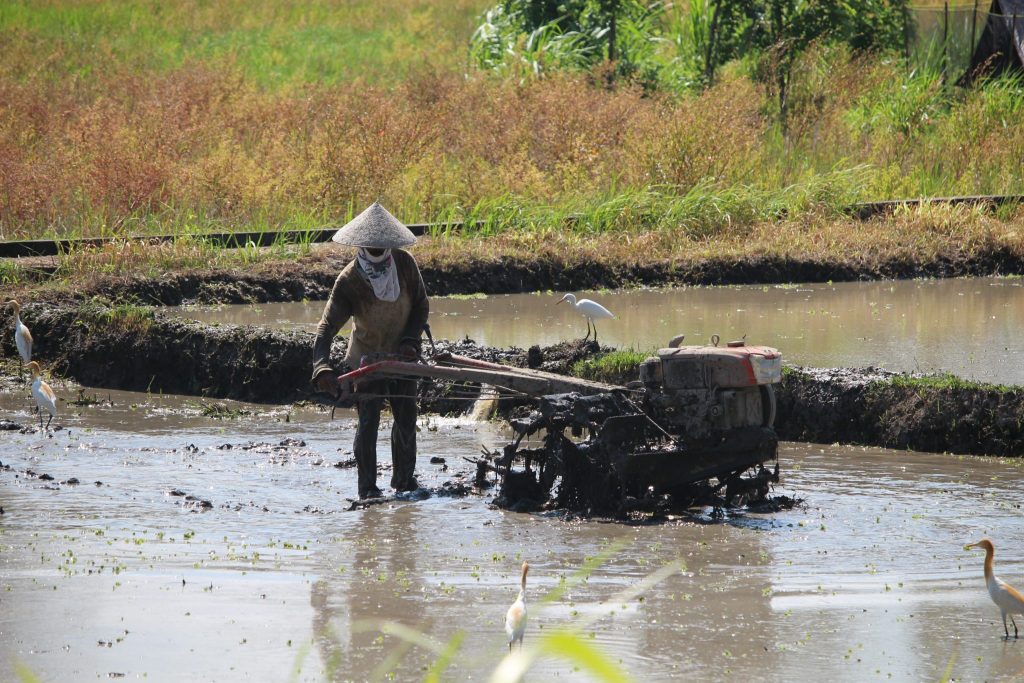 People
Balinese are kind and usually sociable people. Most locals you find will greet you and start a conversation with a smile on their faces. One thing that may surprise you at the beginning, especially if you come from Europe, is that they like to ask a lot of questions: where do you live, what do you do, where are you going…
They are simple people, extremely proud of their culture, traditions and society. Many of them live from hand to mouth, and are stress and problems-averse, which is not necessarily a good thing (like when your taxi driver cancels your ride because he does not want to go pass the traffic jam to pick you up).
Most people here speak english perfectly (apart from Balinese and Indonesian). As a Spanish-speaker, Indonesian is quite easy to learn for me, as -unlike english- they speak as they write, and vowels are like the Spanish ones (a is /a/, not /ei/, e is /e/, not /i/, i is /i/, not /ai/, etc…).
On a negative note, sometimes you get the feeling of being seen as a walking bag of money, especially people you find on the streets. After living here for some time, you start to wonder if people make so many questions because they are genuinely interested, or because they are considering if they can sell you something or not.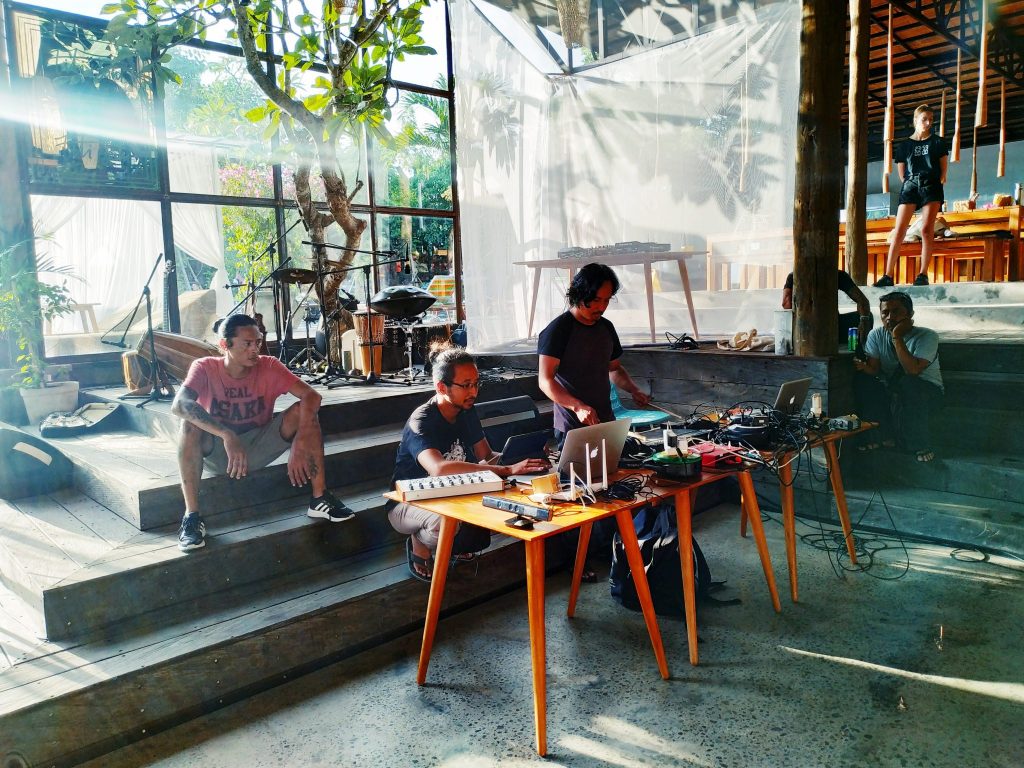 Urban Life: Bars, Restaurants, Things To Do
The city offers a large number of attractions and things to do: restaurants, bars, street markets, cafés, dance shows… There's a lot of things going on in Ubud. Apart from the most touristic activities, like attending a Gamelan music performance or visiting a temple, if you do some research, you can find interesting events for both party animals and culture lovers.
However, don't be fooled. Ubud -and Bali in general- is not New York, Berlin or Paris. There is no cinemateque, indie festivals or post-modernist art exhibitions. Most events here are focused to a tourist audience, like live music on the beach, wildlife tours or local art galleries.
If the American way of life is your thing, be warned that there are no malls in Ubud. You'll have to go down south (to Canggu or Denpasar) to find them.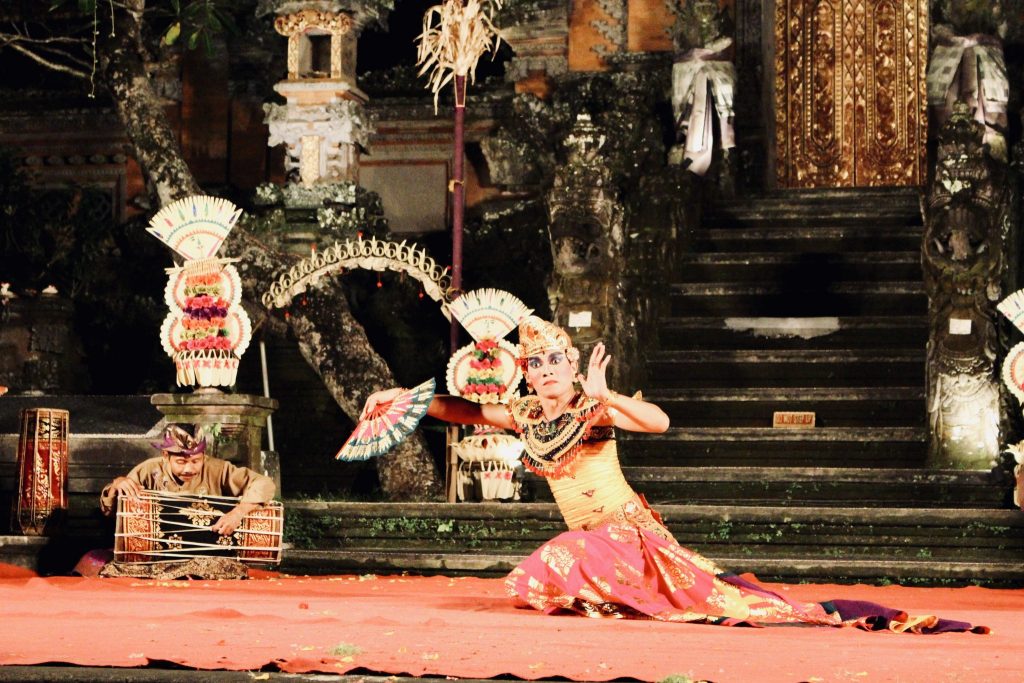 Life In Bali, Ubud for Digital Nomads, Final Veredict
Bali is a paradise. And Ubud is the perfect place to relax, immerse yourself in a completely fascinating culture, and experience a different way of life.
However, in my opinion it's not the best place for digital nomads. At least not for remote workers or people who need to manage their businesses every day, like us. It may be the perfect place for you if you are an instagrammer or live off of passive income only.
I know, I know, that was just a heresy. After all, Canggu, 45 minutes down south, is listed #1 on Nomad List. There's this fuss about Ubud as the perfect destination for digital nomads… And life can be affordable here… And you have the beach nearby, and the good weather…
But honestly, I think the island is overrated. The fact that you need a motorbike to move around is a problem, as it's the lack of infrastructures. Also, the internet connection is not really the best for working online. Finally, on a personal note, and perhaps because of my age, I think I miss more urban life elements, like cinemas, bookshops, malls, museums, galleries…
And don't get me wrong, I'm quite happy here, and we are going to stay two or three months more at least, but if I decided to settle down in a city in Southeast Asia, I think I would enjoy more living in Bangkok, Chiang Mai or Kuala Lumpur. Obviously, your experience and opinion may be completely different.