Thoughts
Tips and Tricks to Make the Most of Web Summit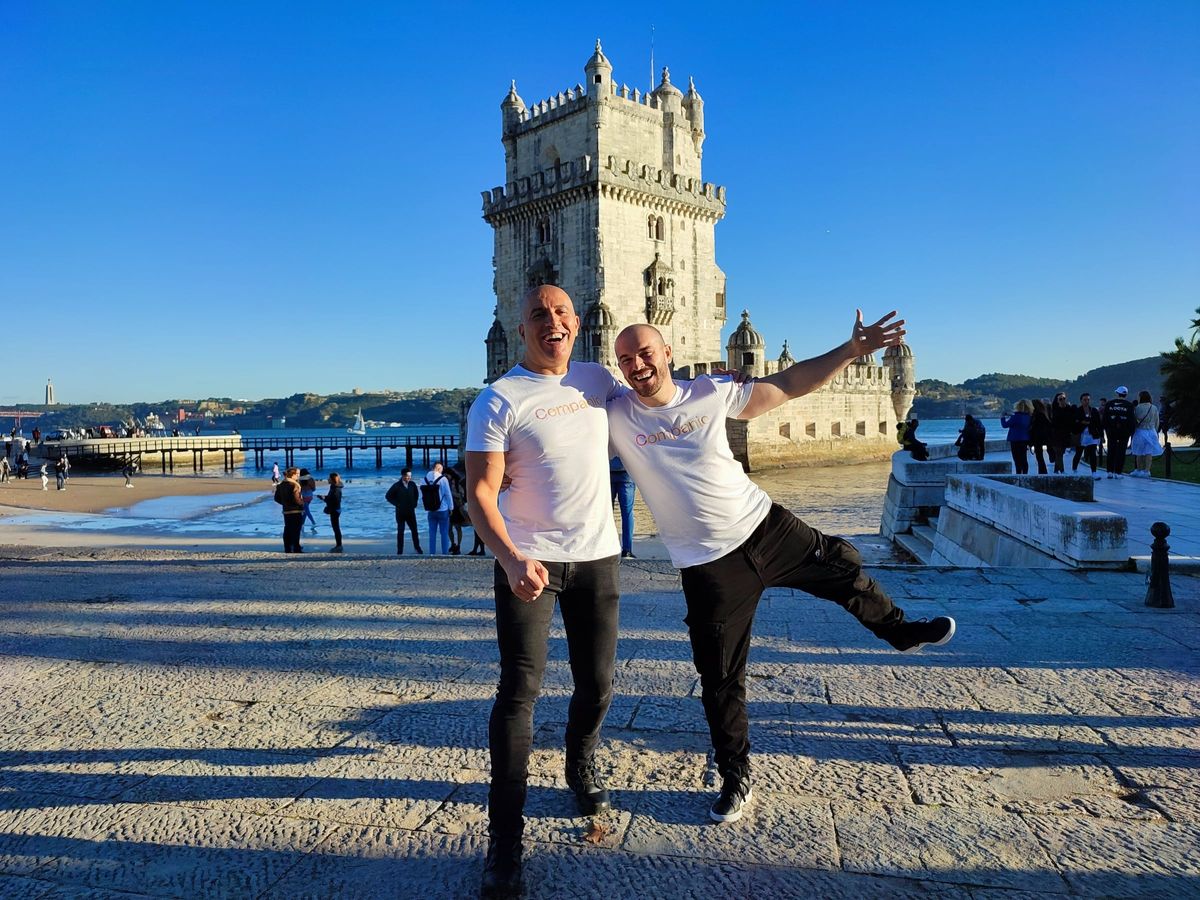 Web Summit is an intense experience, to say the least. As a startup founder, it may be certainly daunting. There is just so much to do there, so many people to talk to, investor meetings, Startup Pitch and Startup Showcase events… It's important to stay focused and know your goals, but also to enjoy the journey and make it count.
First, you may be wondering if you should attend Web Summit. It can be expensive if you consider the flights, tickets, accommodation, etc.
After our experience at Web Summit this year, I wrote a post about this. Should I attend Web Summit? (as a startup founder). The post may also be of value for you as a general attendee, but it's especially relevant for startup founders.
If you finally decide to attend, here are some tips and tricks to help you make the most out of the conference.
Do your homework
First of all, before coming to the conference, do your homework. Start early, 2-4 weeks before the conference at least.
First, write a document with your goals for the conference. What do you want to achieve? What's your goal? Networking, customer acquisition, exposure, visibility? Are you fundraising?
Make a list of all the people you'd like to meet. For investors, create a document with their…
names,
pictures,
the name and website of their VC firm,
their target market,
business areas they are interested in,
geographical areas they cover,
type of rounds they do and average checks, and
any other interesting fact about them.
Add there only the investors you are interested in (those who would work with startups in your stage and from your area and target market), and be selective. Visit their website and make sure they are the right partners for you. Learn about their values, what they are looking for, their approach to investment. Remember, an investor or VC firm will become a partner of your business, and you will be working closely together. You should not see them as walking bags of money. They are your companions in this journey.
If you are participating in Startup Showcase or Startup Pitch, prepare your pitch and rehearse at least twice every day for a couple of weeks. You need to be able to recite it by heart, and you will be nervous (read: freaking out) when you are on stage.
My advice is to ignore the Mentor hours. The value you'll get from them is minimal. However, if you decide to attend, make sure to prepare the questions you are going to ask. You'll be there with 4-5 more people, and you won't have your mentor's full attention. You'll only have a small amount of time, so make sure to make every minute count.
My recommendation is to ignore talks too. It's unlikely that you will get much value for your time. Still, if you go, don't try to attend all of them. Choose the ones that you think are going to be really relevant to you.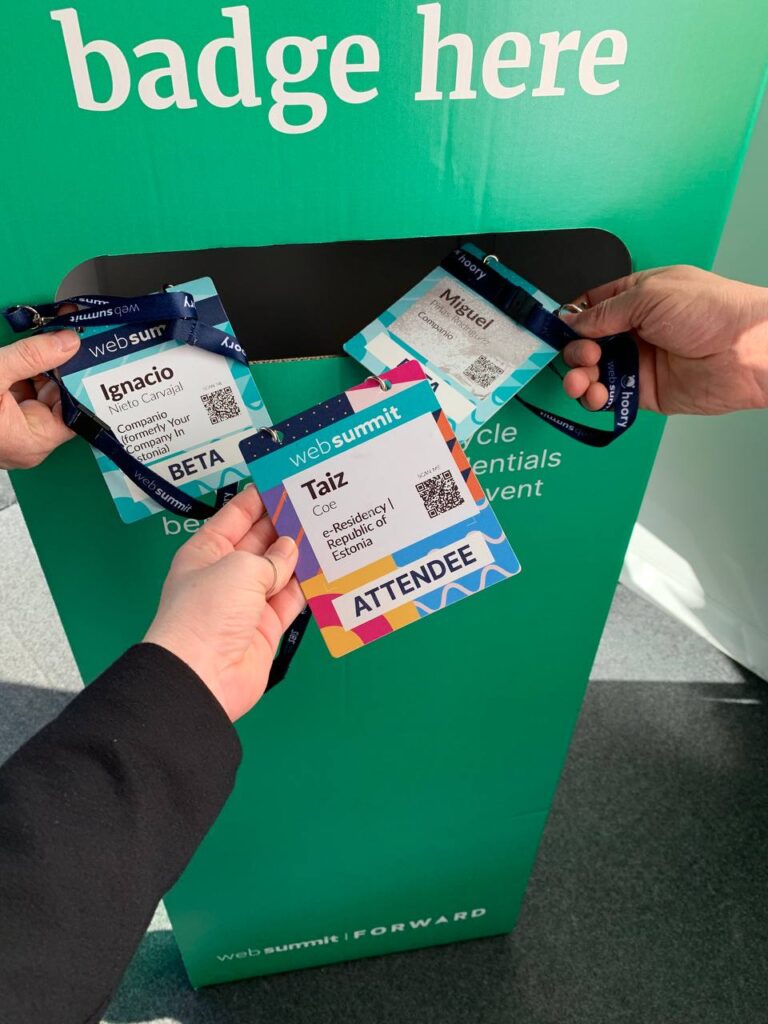 Preparations
Web Summit is an opportunity for your startup to have two or three living ads walking up and down the conference pavillions. Take advantage of that fact. Print t-shirts or hoodies with your logo for the members of the team that will attend the conference.
If you are going to show your product or have a booth, prepare a demo account and some fake data to show (don't mess up with real production data from your users or customers ;). Let your IT department know you are presenting that day your product to the world so they won't introduce important changes or new features that can break the system.
It's also a nice idea to have a video showing the product in action for the worst-case scenario (the internet connection is down, your server is suddenly down, etc).
Flight tickets, accommodation, and getting to the arena
We bought the tickets to Lisbon very late, and they were very expensive, so make sure to buy your tickets in advance, as soon as possible. There is usually a Web Summit booth at the airport, so you can claim your badge there. I strongly recommend you to do that, as the venue will be overcrowded, especially the first days.
That also applies to the accommodation. Prices of hotel rooms and AirBnB apartments skyrocket as the date gets closer, so make sure to book yours in advance.
The security measures at Web Summit are a little bit of a hassle, so it may take you some time to get used to them. When you claim your badge, you will be also given a bracelet you must carry with you for the whole week. You cannot remove the bracelet or you won't be allowed to get in. If you lose it (or the badge), you'll be charged 100€ for a new one the first time. The second time, you'll be asked to buy a ticket again. So be careful!
Public transportation
Web Summit's page recommends you to buy a tram ticket to use during your stay in Lisbon. The tram ticket for five days is 25€. We thought it was a great price if we were able to move there by tram only, so we bought two tickets.
During the opening ceremony, the mayor of Lisbon made an inspiring speech about how Lisbon was all about supporting entrepreneurs, green energy, and events such as Web Summit… Well, as it turns out, there was a tram strike that affected us during half of our stay there. So basically those 50 euros were mostly wasted money. We had to take a lot of taxis.
Both Uber and Bolt (from Estonia) are available in the city, but prices are expensive. Getting to the venue from our hotel (which was only 4-5 metro stops away) was usually more than 15€. My recommendation would be: try to look for a hotel nearby a metro stop, and get ready to look for alternative ways of transport in case of Strike. Weather permitting, you can also ride an electric scooter, but be careful with the traffic and make sure you can follow your GPS while riding it.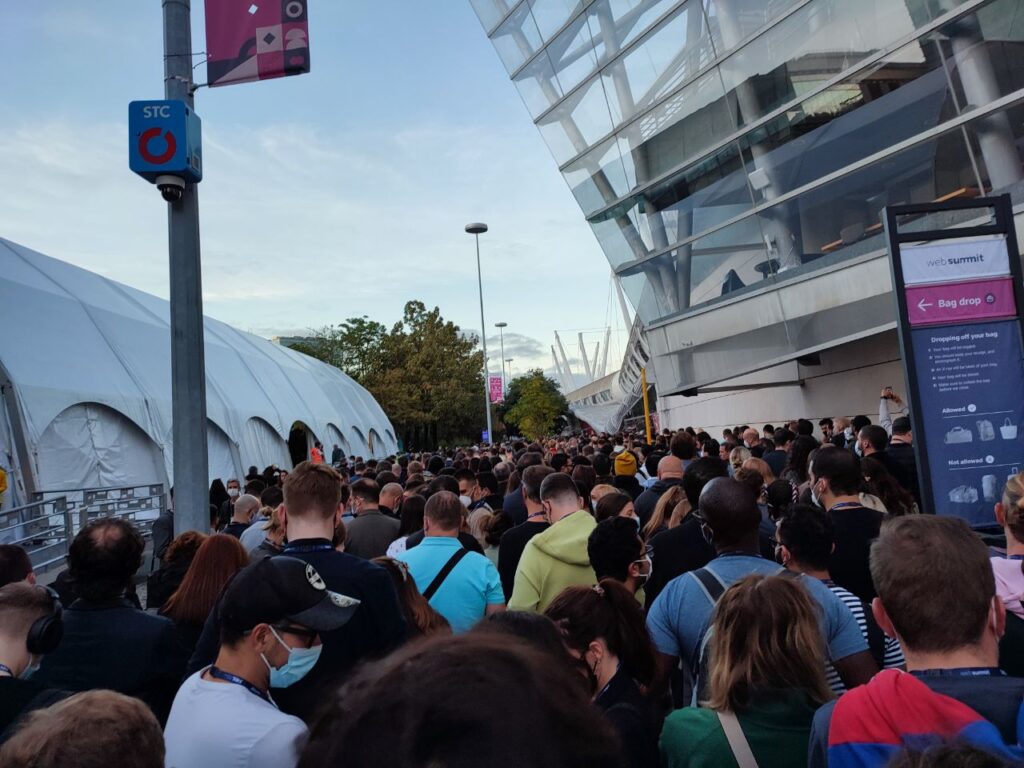 Arriving at the venue
We were not aware of the sheer amount of time it takes to access Web Summit. The first "official" day, as a BETA startup attendee, we had our booth from 8:30 till 17:00. We were supposed to arrive there at 8 to prepare everything before other general attendees started to arrive. However, we got there well past 10.
What happened? Well, the strike caught us by surprise. The traffic was terrible, and our Uber took more than 15 minutes just to pick us up, plus almost 30 minutes more to arrive at the venue. We got there at 9:10.
Now, 9 to 10 are rush hours. Everybody is trying to get in. Long queues, having to show your COVID vaccination certificate, the security checks… It all sums up to almost one hour.
So make sure to plan in advance. Arrival time is critical. Try to get there before 9, and account for almost one hour before you can get into the pavilions. If you need to meet someone at 9, you should be at the entrance area at 8 sharp, which implies getting the tram or taxi at 7:30-7:40.
Oh! and wear comfortable shoes too. You'll be walking a lot during these four days.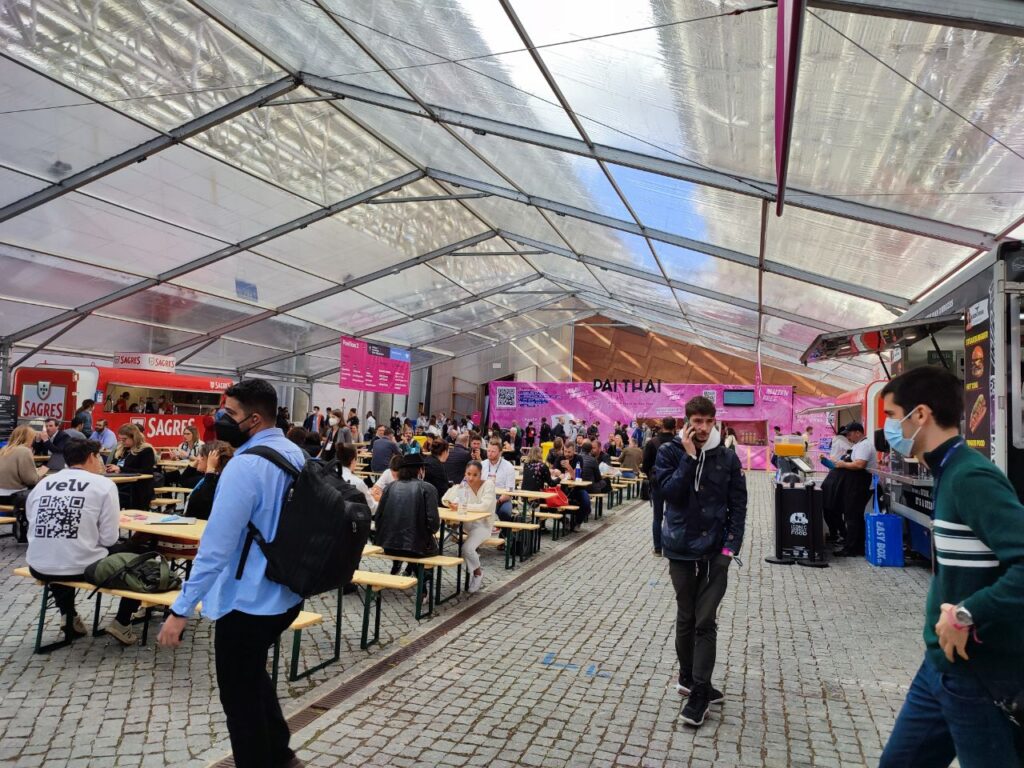 Food
Ok, so after Spain (of course :), Portugal has one of the most incredible cuisines in the world. Unfortunately, instead of promoting the amazing Portuguese food to a humongous audience, the Web Summit organizers have opted for a series of fast-food trucks and kiosks in an area inside the venue they call "The Food Summit".
So basically what you get is a more or less varied selection of really expensive junk food, including burgers, asian noodles, and tacos.
My advice: ignore the Food Summit, leave the venue, and turn left until you reach the port's promenade. Keep on walking there until you reach the seaside restaurants. There, you will be able to taste real Portuguese delicatessens such as the octopus (polvo) with rice, or the cod (bacalhau). Fish and seafood dishes in Portugal are just mind-blowing. You don't want to leave without tasting them. My personal favorites at the promenade: Restaurante Peixaira and d'Bacalhau.
If you get the chance, after the conference, go to Belém, and try the traditional pastéis de Belém. They are delicious 😋.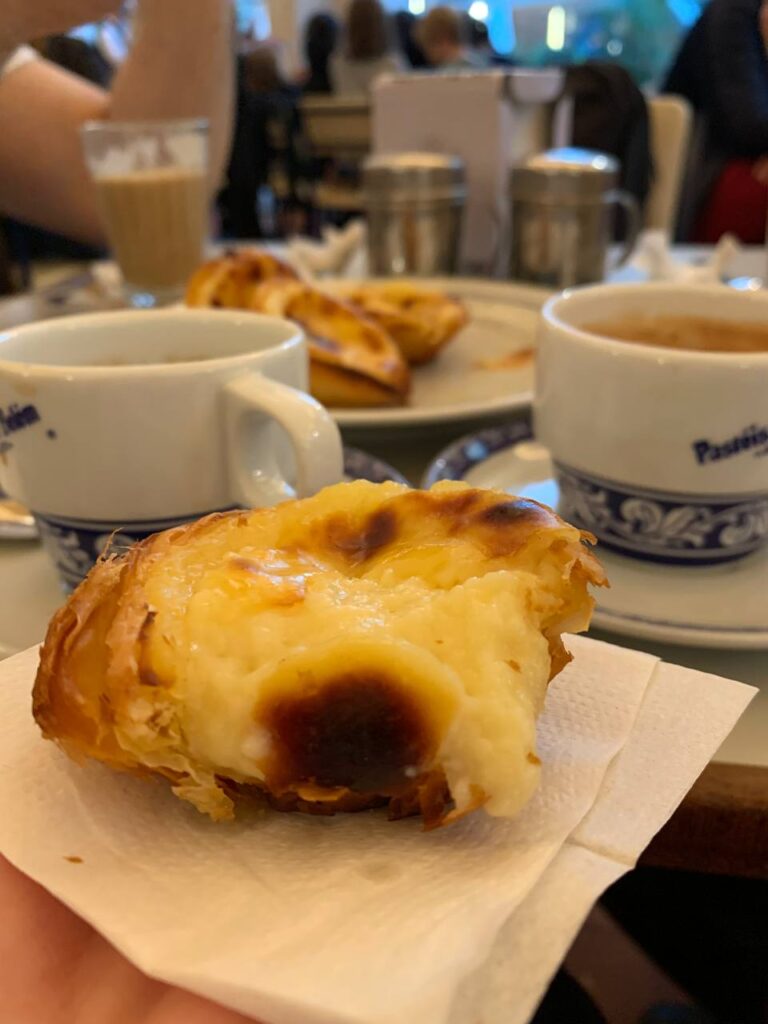 A good deed a day
Something that kind of happened by accident, but I would recommend to everybody. Do a good deed a day. As I mentioned, the first day, there was a tram strike, so we had to get an Uber. The pick-up time alone was so long that we even considered walking to the venue.
When our cab arrived at the metro stop where we were waiting, there were two Web Summit volunteers that were late too because of the strike. They were waiting there and,by the time our can arrived, they had another 15 minutes of wait still, so we offered them to share our ride for free. Needless to say, they were quite happy.
That felt really good, and left me with a really good vibe (even if we arrived super late). So I decided to try to do a good deed every day.
The second day, I found one V1be business card in the surroundings of the venue. I recognized it cause I've got one myself. These cards are basically NFC enabled metal cards with a QR code that allow you to share your contact details in an eco-friendly way. As I know they are expensive, I picked it up, contacted the owner, and gave her the card the next day.
Giving advice to a fellow entrepreneur who was lost after a more than disappointing Mentor Hours (she was part of my group) and helping another who was feeling depressed and stressed about her pitch completed the good deeds for the whole week.
That made me feel so good. I don't believe in heaven or karma, but I do believe in people. It feels good helping others. If you attend the conference, I recommend you to do a good deed for someone each day at Web Summit.
Talk to people (you don't know)
Leave your introvert self at home! Web Summit is all about making connections, so don't be shy! A lot of people there are nervous, bored, or just looking forward to talking to someone. Even if you are an introvert, try to do an effort and talk to people, especially people you don't know.
Don't expect anything from these talks in terms of business. Not every conversation needs to have an immediate ROI. You may engage, however, in fascinating discussions with people who may give you new ideas, become eventually partners or customers, or you can even end up making some new friends.
That happened to me. We met this super cool guy from Moldova who was as bored as we were in the booth next to us during the first day. We became friends and spent the four days together enjoying the tasty Portuguese food, going to a football match, an investor's event, a coffee afternoon at Belem, and a karaoke night in just four days. Not bad.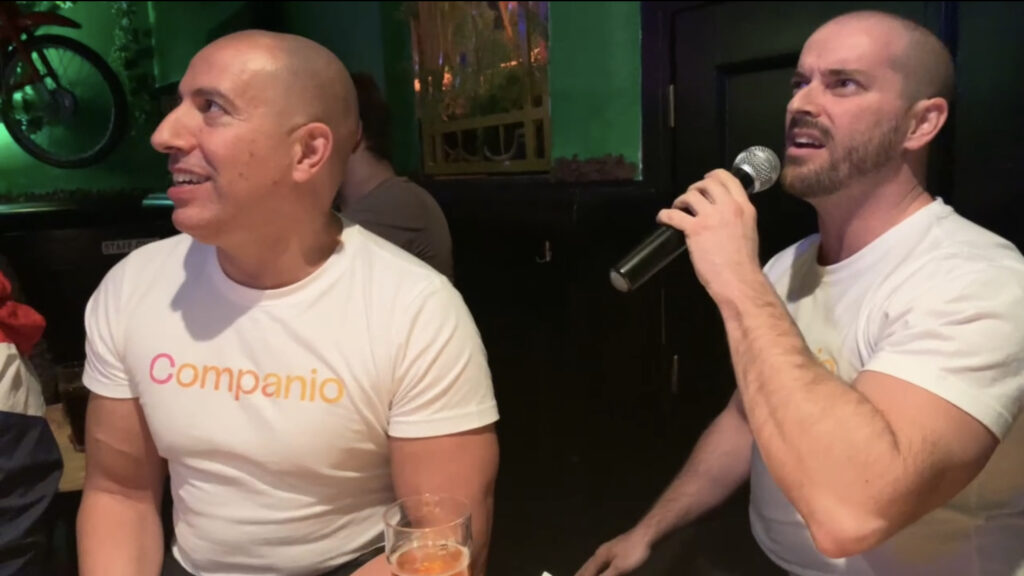 Have fun!
And above all, have fun! Enjoy the experience. Don't focus just on the summit, or business, or your startup.
As I mentioned, we made some amazing friends, ate almost 40 Pastéis de Belém, went to an exciting football match for free, and spent a glorious karaoke night (in which I offered pretty decent renditions of Radiohead's There, There! and The Doors' Break On Through), among other things.
Life is short, and being part of a startup is stressful, demanding, and (sometimes) exhausting. Web Summit is a lot of work itself (preparing the booth, the Startup Showcase, Mentor Hours, the Investors' meetings…). So allow yourself to take a break and enjoy life just for a couple of days.