After a long period of inactivity due to the COVID pandemic, we have started to travel again. Antalya, on the south coast of Turkey, has been our destination of choice. We spent there the whole month of July.
So is Antalya a good spot for digital nomads? Well, let's see… Different people have different metrics when evaluating how good –or bad– a place is.
For context, my partner and I are digital nomads and entrepreneurs. We are in our 40's, need to work every day, and have a medium budget. As a result, we value living in comfortable, hassle-free apartments located in peaceful and culturally interesting neighborhoods, with access to co-working spaces, good Wi-fi connections, and a low-to-average cost of living.
You have more chances of finding us in a local restaurant or café than in Starbucks or McDonalds. We are not really interested in nightlife, but we do enjoy delving into the local culture, wildlife, and gastronomy.
Are we on the same page? Good! Let's start.
✈️ Why Antalya?
Well, with Sofia as our starting point, we had lots of possibilities to choose from. Greece, Romania, Moldova, Hungary (not the best place to be these days, to be honest), Serbia, North Macedonia, Kosovo, Ukraine, Montenegro…
We had spent almost two years in the Balkans, so we wanted to experience something different, and Turkey seemed a good option for that. Initially, we thought of Istanbul, but that was too obvious of a choice. While most places in Turkey are touristic hotspots, we at least wanted to try a place that was not well-known in digital nomads circles.
That's how we, after spending a couple of days in Istanbul, ended up in Antalya, Turkey.
Arriving in Antalya
As we also wanted to know Istanbul, we spent there the last days of June and then took a domestic flight to Antalya. Unlike Istanbul, Antalya is well connected with the airport via public transport. There is a tram line that will take you to the city center in 25-30 minutes.
Upon leaving the airport, you'll find the station right in front of you. One trip is 8 Turkish Lira (about 0,80€), but you need to pay an extra 1.5 Lira for the ticket. You can later reuse the same ticket by adding more trips. So that's less than 1€ to get to the old town.
After our experience with taxi drivers in Turkey (more on that later), we decided to avoid them as much as possible and use public transport when available.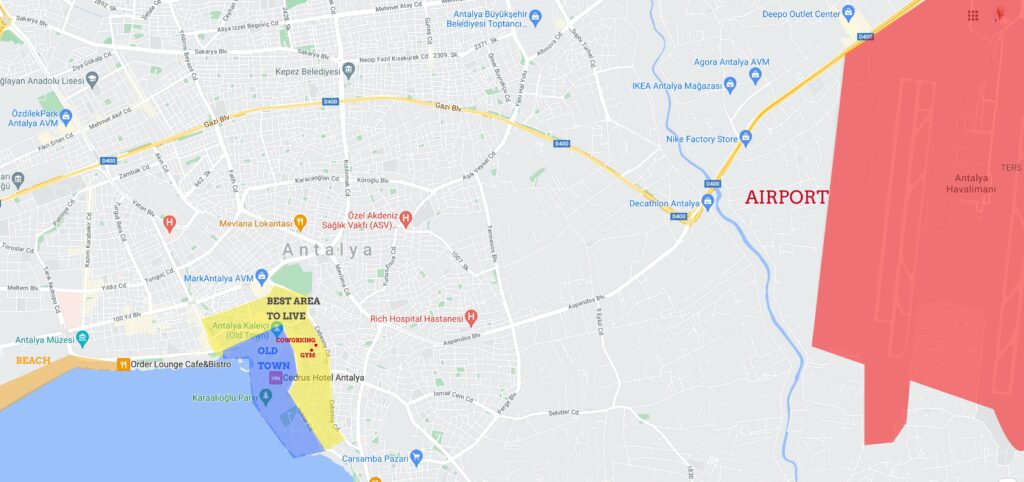 The city and its surroundings
Antalya is a medium-size city. It has 2.5M inhabitants in the urban area. Like many other touristic towns, it has a well-preserved old town that acts as a magnet trap for tourists, and then a more urban area. The most interesting part is, in my opinion, the one that lies just outside of the old town.
The old town is beautiful to see, but don't make the same mistake we did and book your apartment there. I will explain later why. The best area is the one surrounding the old town.
All the "beaches" that you can access by foot in the old town are nothing more than private concrete/wood platforms built on top of the rocky cliffs that separate the city from the ocean. That made sense in ancient times as a defense mechanism (the city is difficult to attack by sea), but if you want to enjoy a more "standard" beach you will need to get to the western part of the city.
On the map, you can see the best area to live marked in yellow, the beach at the left (in orange), and the airport at the right.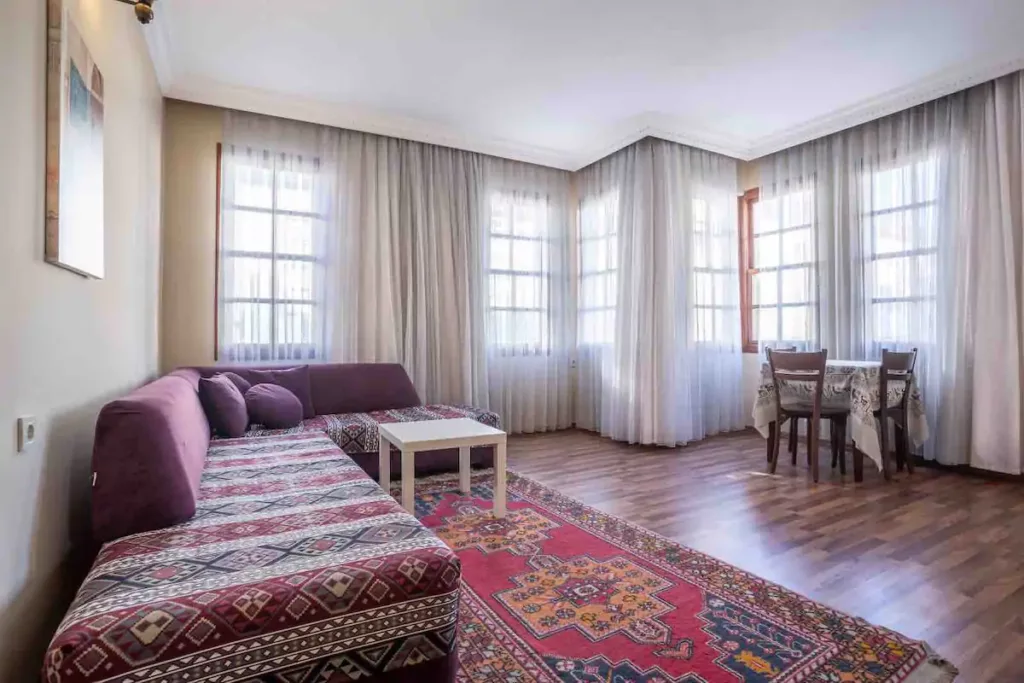 Accommodation
Being such a touristy destination, there's plenty of apartments for rent in Antalya. Most of them, even the ones on Airbnb, are touristic accommodations designed for tourists that are going to spend 3-4 days in the city, perhaps a week, but not more.
As a result, these apartments are not very comfortable for medium-long term stays, and the price/quality ratio is usually not good.
We made the mistake of renting an apartment in the old town. Not only it was expensive (we paid 900€ for a 1-bedroom apartment), but the place was very basic (lack of kitchen utensils, no air extractor, small fridge, no desk or comfortable place to work, terrible bed).
My suggestion would be renting a flat in the area I marked on the map before, facing the old town, but outside. You will enjoy the views and pay a lot less for a hopefully better-equipped apartment, while still staying quite close to the city center.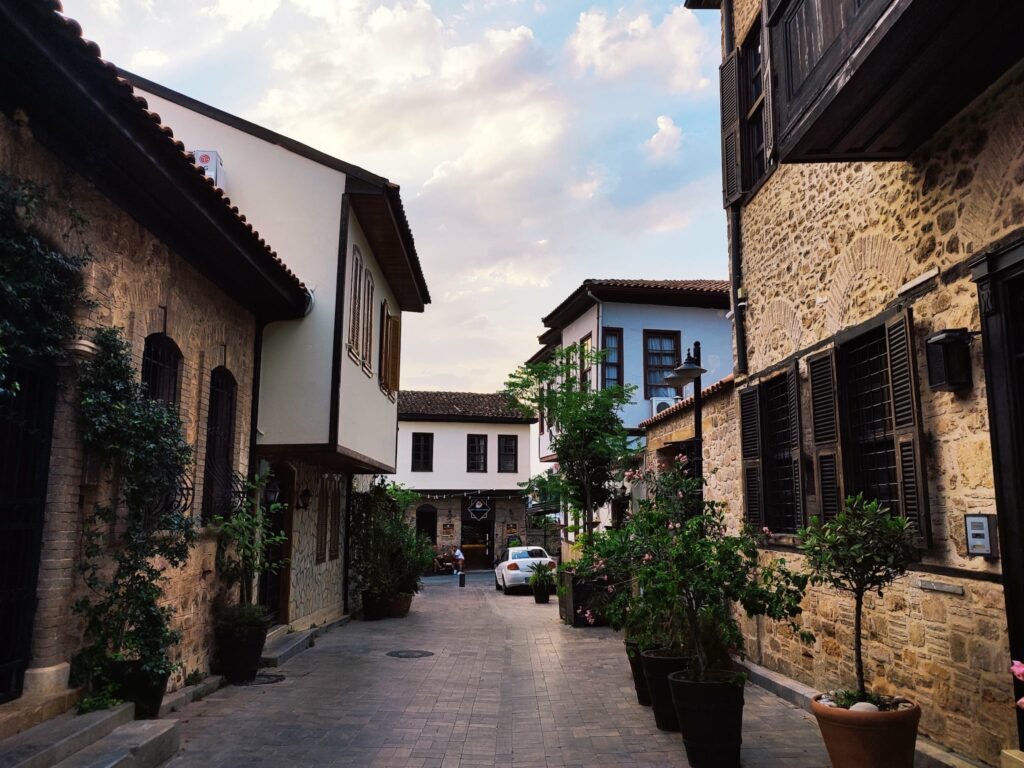 Noise, Traffic, And Safety
Another huge disadvantage of the old town is the noise. As a touristic hotspot, every day is "Saturday". That means bars, restaurants, and discos are open until late and playing loud music to amuse the tourists. I had to sleep the whole month with earplugs. If you are noise sensitive, make sure to stay well away from the old town and buy some earplugs beforehand, as they are not easy to find in pharmacies.
Also, a note about noise and mosques. Turkey is a Muslim country (in spite of the achievements of Ataturk). In the context of noise, that means you have prayer chants playing on multiple amplifiers every day from every mosque in the city five times a day, and the first one starts at 5 am in the morning. Yep!
We felt generally safe in Antalya. Social inequality is obvious in this part of Turkey, but if you stay close to the old town and adjacent neighborhoods, you will be fine.
The traffic is even worse than in places such as Sofia or Madrid. While in those cities, the drivers are aggressive and don't want to stop at pedestrian crossings, in Antalya drivers ignore them altogether. It's a little bit like traffic signs were written in a different language. They just don't seem to notice they are there. I won't advise renting a car either.
Public Transportation And Walkability
Fortunately, Antalya is a very walkable city. Unless you want to go to the more distant areas (or, unfortunately, the beach), you can go almost everywhere on foot.
If you are staying close to the city center, you have plenty of supermarkets (Migros is the best one), gyms, and even a coworking space within walking distance. Of course, there are many restaurants, bars, etc. As I mentioned before, the tram is really a game-changer to move around, and being able to go to the airport in just 30 minutes for 1€ is really cool.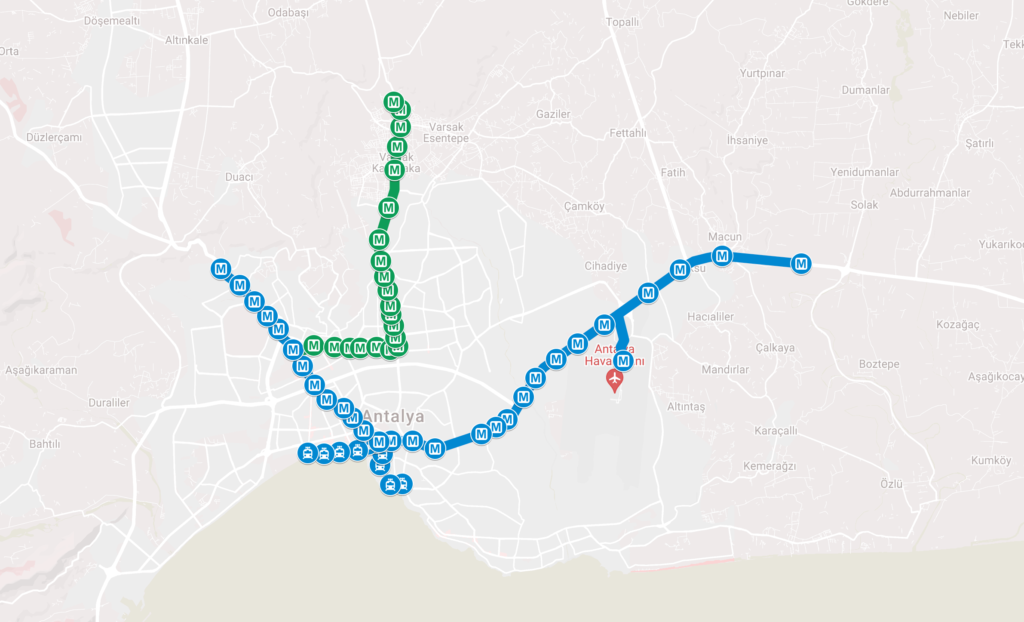 There's no Uber, Lyft, or anything similar in Turkey, and taxi drivers of course will try to reap you off. If you need to get a cab, ask them if they have a taximeter, and don't accept a ride in a taxi without one. Still, they will try to cheat on you, taking an unnecessarily long route, going in circles, etc. Of course, on top of that you also need to add the usual stuff: drivers without masks, smoking, playing loud music, or even trying to sell you things (like water, tours, hamsas, etc). The whole taxi experience in Antalya (and the rest of Turkey) is the reason why Uber and similar companies exist.
Fortunately, the tram is a very convenient way of reaching some parts of the city. There are two lines, the blue one, crossing Antalya horizontally (and taking you to the airport), and the green one, which takes you to the northern part of the city. One ticket is quite cheap (0,80€ if you recharge a ticket you bought previously).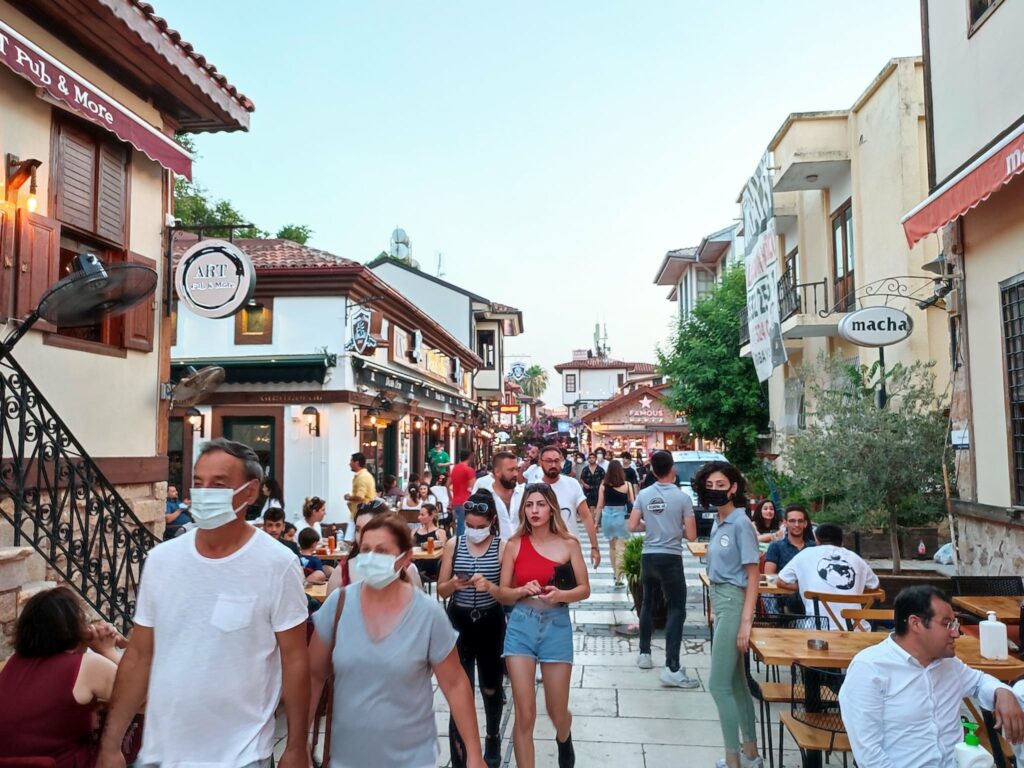 Tourism And Gentrification
Well, unfortunately, Antalya is a very touristic city. The old town is the Turkish version of Disneyland, designed for tourists, and crammed with hotels, restaurants, and pubs.
But not only the old town. The whole city lives off tourism. That means you are constantly experiencing that distressing feeling of being watched as a walking bag of money. Locals listen to you as you pass by and try to identify the language you are speaking to offer you things. If they can't, they usually stick to English or Arabic (depending on how you look that day). Excuse me, sir? Brother?
It's absolutely exhausting, and you end up not talking while you pass around people (so they don't identify you as a tourist). After one month, the same street sellers were offering us the same rugs, costume jewelry, and hot tea every single day. I wondered if they will still do the same if I decided to live in Antalya for ten years.
Not being able to stop for a fraction of a second to check the prices of a restaurant or have a look at the goods of a local shop without someone trying to convince you to buy something is enervating. Not a place for INFPs.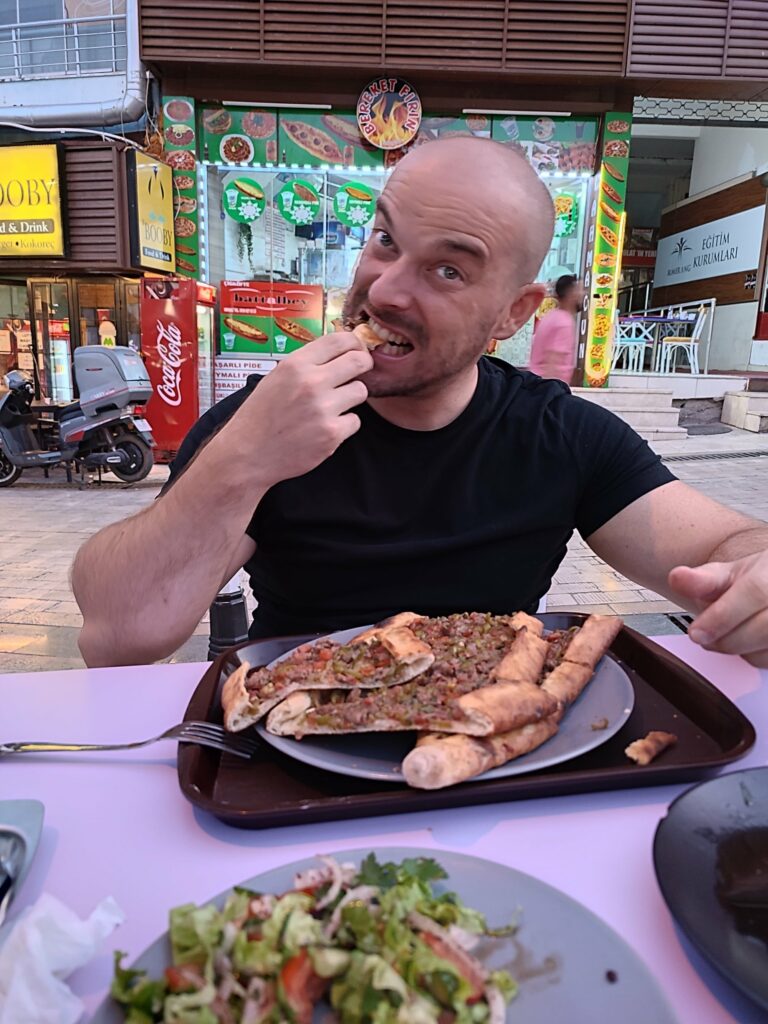 Food
Turkish food is great! Apart from the over-exploited Kebab, there is a whole gastronomic world to discover in Turkey. The Pide (Turkish patty), the Köfte (similar to the Bulgarian ones), Lahmacun (Turkish pizza), the Kibbeh (similar to Spanish morcilla trapped inside a croqueta)… It's Mediterranean food, and it's delicious.
Now, the problem is: you need to be careful with what you eat and what you drink. I was sick for half of my stay in Turkey. I ended up being paranoid to the point of not wanting to drink anything but bottled water and eat anything but pasta.
Don't drink water from the tap. This includes most teas, ice coffees, frozens, and juices. If you ask for something with ice cubes, make sure it's industrial (the cubes have a hole in the center).
Be very careful with where you eat. Don't eat anything from a beach stall or kiosk. If the restaurant does not look clean and hygienic, don't eat anything there. If your food smells funny, don't eat it and ask them to bring you something else.
We invited a local friend for dinner one day, and he told me: "Even myself, I have to be careful, I know where I can eat and where I simply can't". Unfortunately, as nomads, we don't have access to that information. That's also distressful, and one of the main drawbacks of Antalya as a digital nomad destination. Not to mention that having to consume water from plastic bottles every single day has a strong impact on your ecological footprint.
The Turkish breakfast is worth mentioning. For 1-5€ (depending on the restaurant) you can enjoy this fantastic meal composed of different vegetables (cucumber, tomatoes, olives), cheese, eggs (or omelet), tea, fruits, and more. You can't leave Turkey without trying one.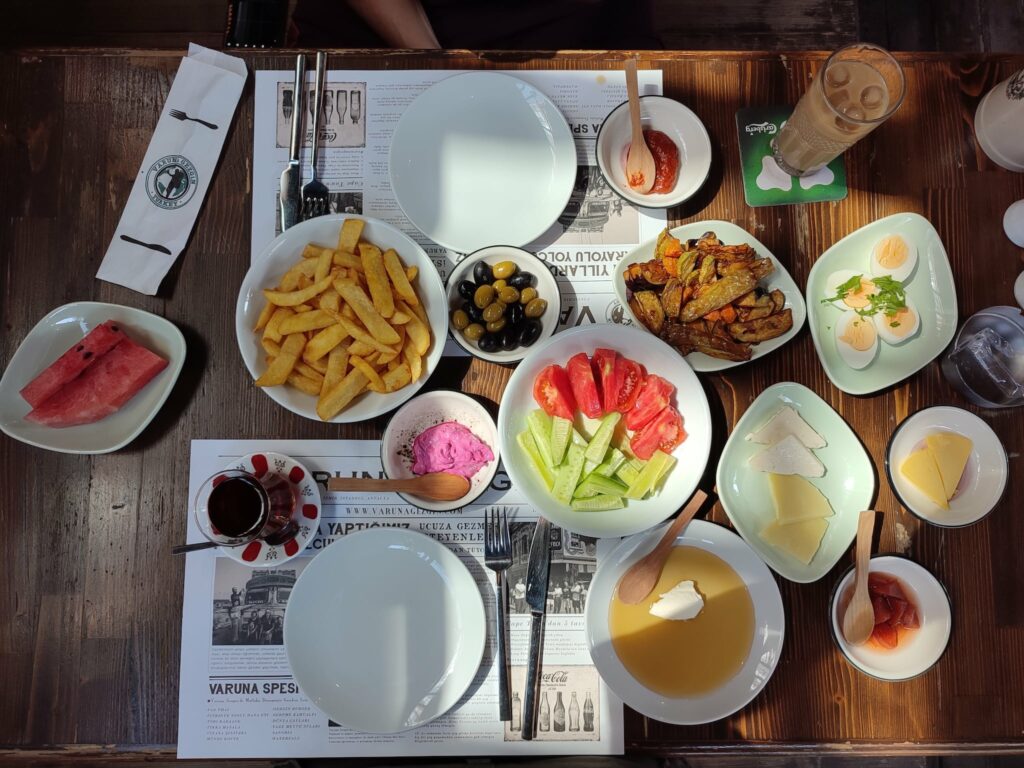 Weather
I am going to be very blunt here. Don't go to Antalya in July or August. It's just hell. We were chaining heatwave after heatwave (more than 40 degrees Celsius), to the point that calling them "heatwaves" made no sense anymore.
The whole region of Antalya was unfortunately devastated by wildfires during our stay, the consequence of climate change, human carelessness, and extreme temperatures. Fortunately, the city of Antalya was not directly affected by the fires. Even being so lucky, the extremely hot weather affected our everyday life. We had to keep the air conditioning on the whole night, and that's not good for your sleep (the noisy environment didn't help either).
Moving from one place with air conditioning to another without it (like going out to do the groceries) and back is not good for your health. Both of us suffered several heat strokes and working cost us double the effort.
Antalya has softer temperatures during the winter months, and it may be a good idea to visit the city from November to April-May only.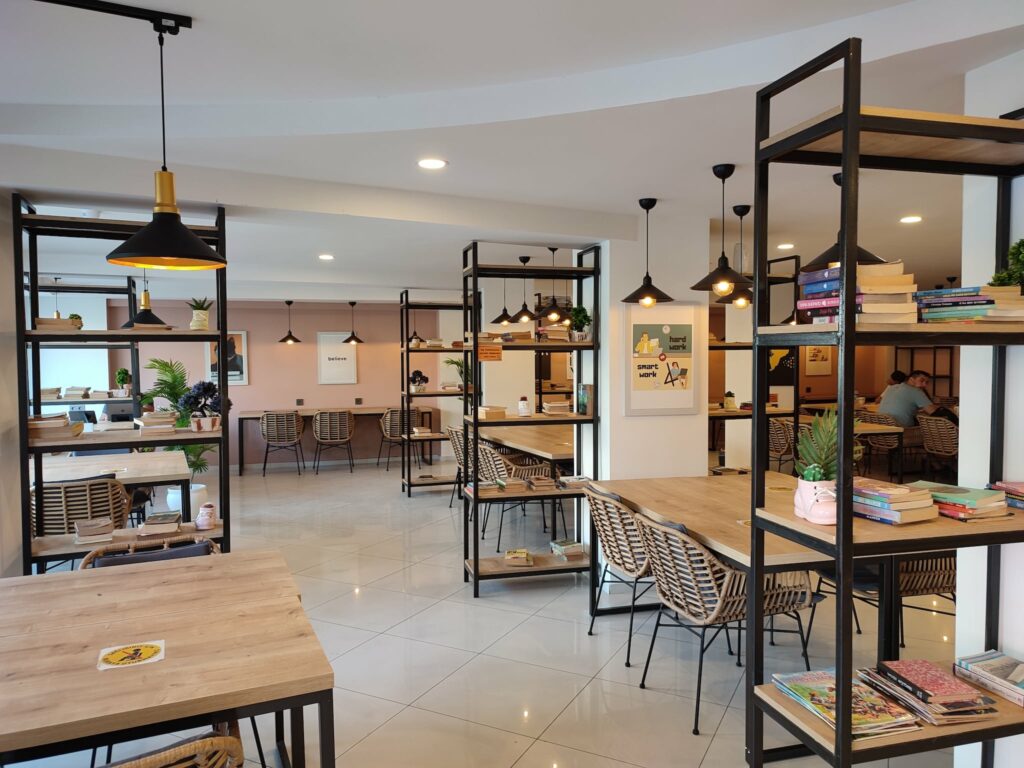 Places To Work
As Antalya is not a digital nomad destination, and there's not a large ex-pat community there, there is no coworking space scene. To be honest, there are actually no real "coworking spaces" in the city. There are only a couple of businesses offering offices for rent. However, we were able to find an absolutely amazing "co-working space" very close to the old town.
The place, Çalışan Kütüphane, is basically a co-working space minus the name. It's indeed a library where students go to study for their exams. However, it feels closer to a co-working space. The place is full of pictures with inspirational quotes(-ish), it has good WiFi and a meeting room. I don't know any library that has any of that.
So once you get past the fact that it is officially a library, you start to enjoy some extra advantages that most co-working spaces lack, such as silence. People there are focused on their studies or work, they are not playing foosball, or speaking loudly. I was delighted with the place.
Even better, the price is 12 Turkish Lira (1.2€) per day. They have a monthly subscription for around 25€, which is basically the same price as going there 20 times/month (5/week) and paying daily. And the entrance fee includes a free tee or coffee. You can't possibly ask for more.
Hospitals And Clinics
I was sick for half of my stay in Turkey. I even had a fever for a couple of days due to viral gastroenteritis. Fortunately, I didn't need to go to the hospital. There is, however, one very good hospital relatively close to the old town where doctors speak English. Several sources (both locals and ex-pats) recommended it to me.
It is called Şirinyalı, Özel Antalya Yaşam Hastanesi, and it is very close to the old town.
Cost Of Living
Here's where Antalya can get interesting for digital nomads, especially those looking for a place with a low cost of living. Antalya is a very affordable place. You can get an apartment outside of the old town for 200-300€/mo. Even in the old town, if you are not very picky, there are hostels (like the Kont Pansyon) where you can get a room for as low as 120 Turkish Lira (12€) per night.
The food is also quite cheap. There are three well-defined zones for restaurants and bars in Antalya. Those in the old town, where you can enjoy a meal plus a drink for less than 10€, those around the old town, where that same meal and drink will cost you less than 5€, and those a little bit further away, where you can have lunch for 1-2€, including a drink.
As I mentioned, you have to be careful where you eat. There are many places offering Lahmajun, Pide, or Kebap for 1€, but you will probably end up spending 4-5 days locked in the bathroom.
Supermarkets are cheap too. Doing the groceries here will cost easily half or a third of the price of the same products in a Western-European country.
Overall, if you are on a budget, you can easily survive in Antalya for 300-400€/mo, everything included.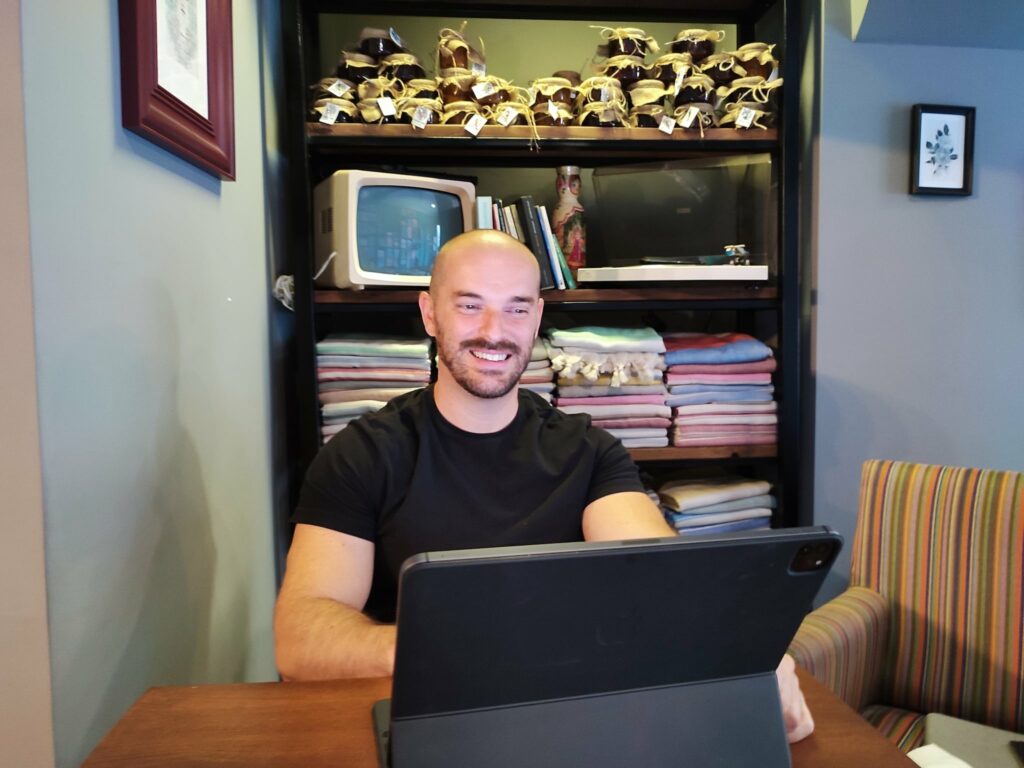 Internet
Internet in Turkey requires a special section. First, the connection is slow and sometimes unstable in most cafés, the "co-working space" I mentioned earlier, hotels, etc.
But most importantly, the internet is censored and surveilled in Turkey. As with other non-democratic countries (and I don't mind if Turks have the illusion of living in a democratic country, no nation censoring the information their citizens can access is a democracy), you will need a VPN to access the net.
The censored sites include websites with political views that are not in tune with the government, LGBTQIA+, and human rights websites, "morally questionable" websites (read: porn), and, sometimes without prior advice, well-known and otherwise innocuous services such as Facebook, e-Toro, or Netflix.
Not all VPNs worked for us in Turkey. The one we are using for our company (Private Internet Access) didn't work at all (we are indeed quite unhappy with their services). Finally, we found one that, after a little bit of tweaking, worked for us: Express VPN.
People
Much like in Bali, the first problem to get to know people in Antalya is that they see foreigners as walking bags of money. That means they will pretend to be super friendly with you until they realize they won't be able to sell you something. Then the interaction will be over.
You need to do an extra effort to meet people who are not interested in your wallet to get to know someone, but it's worth it. We were able to make some local friends, and all of them told us how Turkey has changed during the last decade, and not for the better. I remember that in my 20s, people were talking about the possibility of the country joining the European Union. That Turkey is completely different from the one we experienced this July.
So it's discouraging to hear about a generation of people who find themselves trapped in a country they love, but that is becoming less free and modern, and more religious and autocratic every year.
In our experience, people in Turkey are warm, friendly, and educated people when (once?) they start seeing you as something more than a bag of money 😊.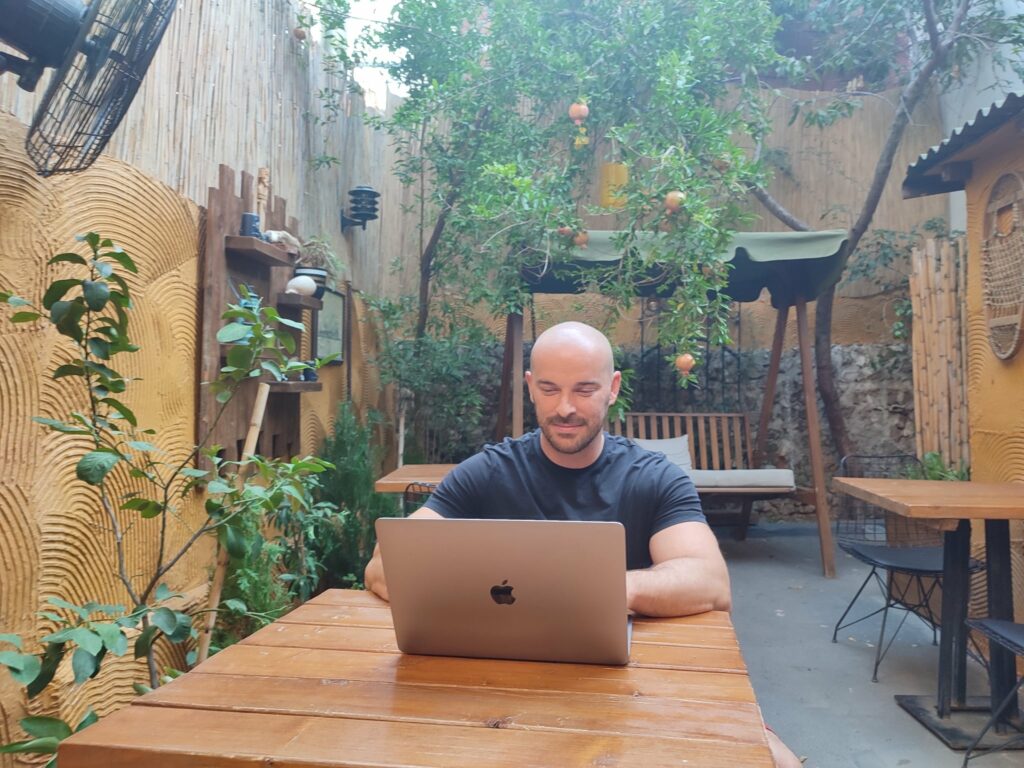 Urban Life: Bars, Restaurants, Things To Do
Being a touristic city, there are plenty of things to keep you entertained, from restaurants and bars to archeological remnants.
… Bars, restaurants
As I mentioned, it's important to know where to eat and where not to. In our experience some of the best (and safest) spots were:
Luna Garden: just outside the old town. This is probably a halal restaurant, because they won't serve alcohol and they close very early. Still, it's a huge place with a large selection of dishes, from traditional turkish food to sushi, pizzas, burgers, and everything in-between. You can eat here for 5-7€ including a drink.
LeMan kültür: My favorite, close to Luna Garden. They serve quality food at acceptable prices. They have a fit bowl with vegetables, rice, and yogurt that it's just delicious and super healthy. You can eat here for 3-5€ including a drink.
Varuna Gezgin Cafe: located in the old town, this hotel has a beautiful restaurant full of books. The vibe is amazing, and the food is quite good, especially their incredible breakfast!
Gyms
There are not many gyms close to the old town. However, we found one that had a very good quality/price ratio, called Gems. Some of the machines may need maintenance, but apart from that, it is an acceptable place to train for just 19€/mo (190 Turkish lire).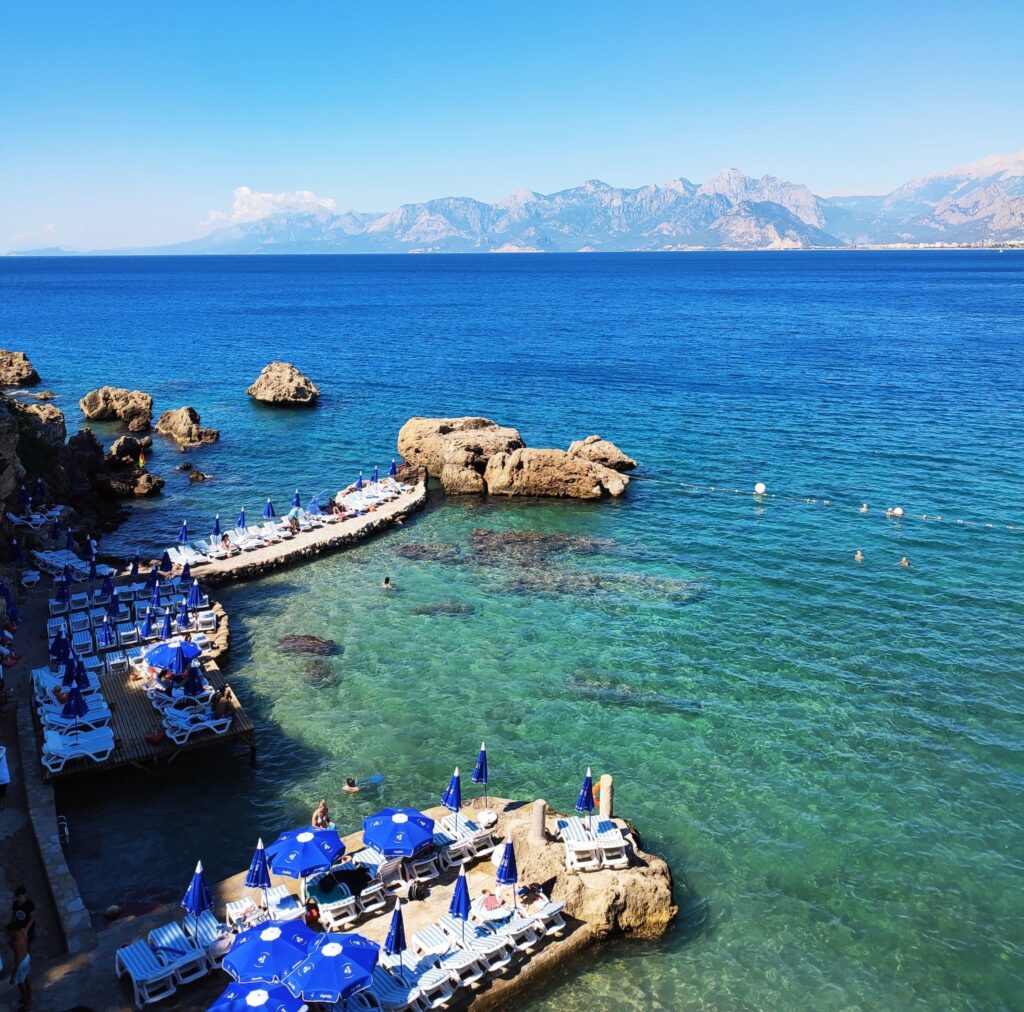 Parks, Gardens, and Beaches
There are not many parks or gardens in Antalya. There's, however, a very nice seafront promenade that will take you to the beach. And speaking of beaches, there are two very different kinds of beaches in Antalya.
Those inside the cliffy old town's coast are nothing more than decks built over the rocks. Most of them are private, and you will need to pay to access them. There's no sand or anything, just the platform, and some deckchairs. The price for a whole day is around 30-40 Lira (3-4€). It's a nice alternative when you are feeling lazy and just want to relax and cool down on the beautiful blue waters of Antalya.
On the east side of the city, you can find a proper beach. The beach is kind of rocky, but the seafront promenade is just amazing, the view of the mountains is nothing short of extraordinary, and the water is spectacular.
Just a word of warning, I won't recommend you to eat anything on the beach kiosks, especially on the old town beaches. That was one of the places that made us sick. Carry some sandwiches with you or wait until you get back home.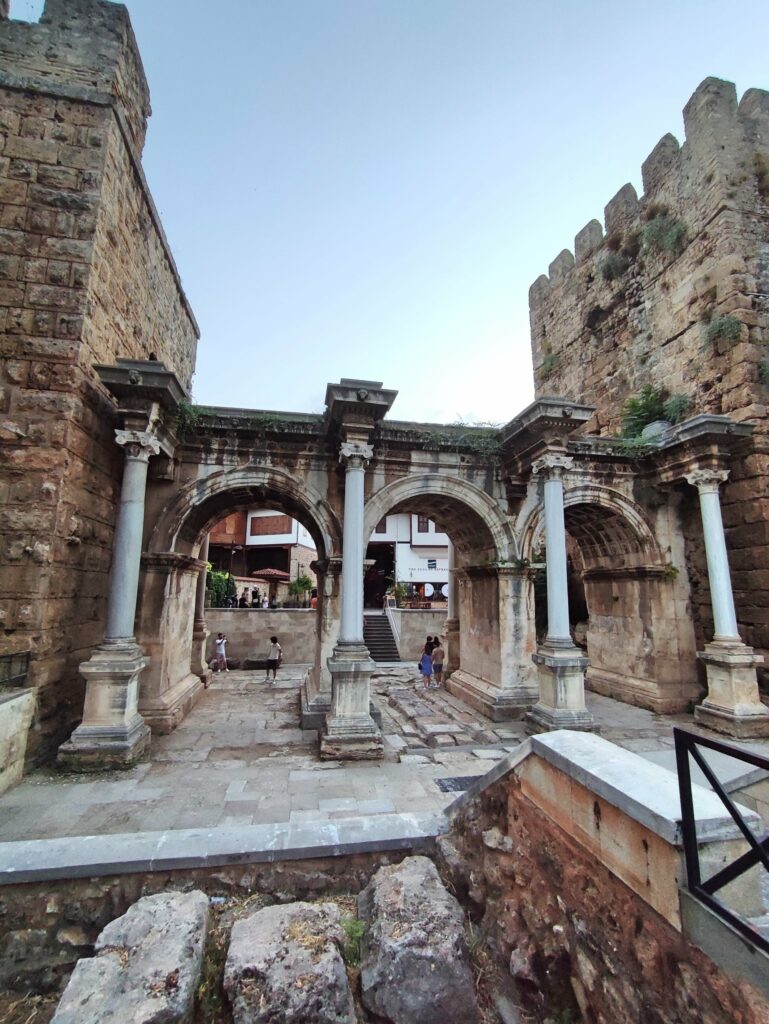 Things to see
There are plenty of archeological landmarks, ruins, and monuments to see near Antalya. "Near", however, is a relative term. The Cappadocia, for example, is a vast area, so most of those places will require a road trip ranging from a couple of hours to half a day by car to get there.
Given that we were sick most of the time, and the weather was so extremely hot, we decided not to visit any of these places.
Still, the city has lots of interesting monuments to see, such as Hadrian's Gate.
… And things to do
There's not much else to do. This is a touristy destination, so the entertainment options are basically those designed for tourists (the beach, restaurants and nightlife, bazaars and local markets), and those for locals (malls, cinemas, and the like).
Life In Antalya, Turkey for Digital Nomads, Final Verdict
Our experience in Antalya was not very positive. There were some important lessons that we learned about what we like and what we don't in a place. Most concretely, we don't enjoy tourist destinations, especially if the weather is too hot:
You are constantly saying "no" to people offering you stuff you don't want or need.
It's difficult to meet locals who don't see you as a walking bag of money.
The weather is so hot, you can't focus on your work.
It's difficult to do something meaningful whe you spend most of your time in a place with air conditioning gasping for air.
There's not a lot of stuff to do once you get bored of the beach.
You can easily get sick with the food, the water, or simply due to the extreme temperatures.
Antalya may be a good place for digital nomads looking for a budget location with warm weather, or a place near Europe to spend the winter months and work on their projects. The city is also a fantastic place to go for a week on holiday during March, April, May, or maybe November. Definitely not around July-August. I would rather spend one winter month in Estonia, Latvia, or Canada than a summer month in Antalya.
Will we get back to Antalya? Probably not for a mid/long-term stay. We may go there during winter perhaps, or for a short holiday.