This weekend we attended the Nomad Summit conference here in Chiang Mai. It was certainly a massive event, as the city is one of the most famous digital nomad hubs. After living here for some time, it's easy to understand why, and fall in love with this vibrant, chaotic town in northern Thailand But is it a good place to live and work for some months? In this article, I would like to share my experience on how is life in Chiang Mai for digital nomads.
Different people have different metrics when evaluating how good -or not- a place is.
For context, I live and work as a full-time digital nomad with my partner. We are in our late 30's/early 40's, need to work almost daily, and have a medium budget. We hate Starbucks and fast-food chains and prefer local restaurants and cafes instead.
As a result, we value living in a comfortable, hassle-free house, in a somewhat tranquil and culturally interesting neighborhood, with access to co-working spaces or good Wi-fi connections, and a low cost of living.
We are less interested in nightlife, and not being rich teenagers, cannot afford to spend our time going through every single beach of the country, looking for the perfect wave.
Are we on the same page? Good! Let's start.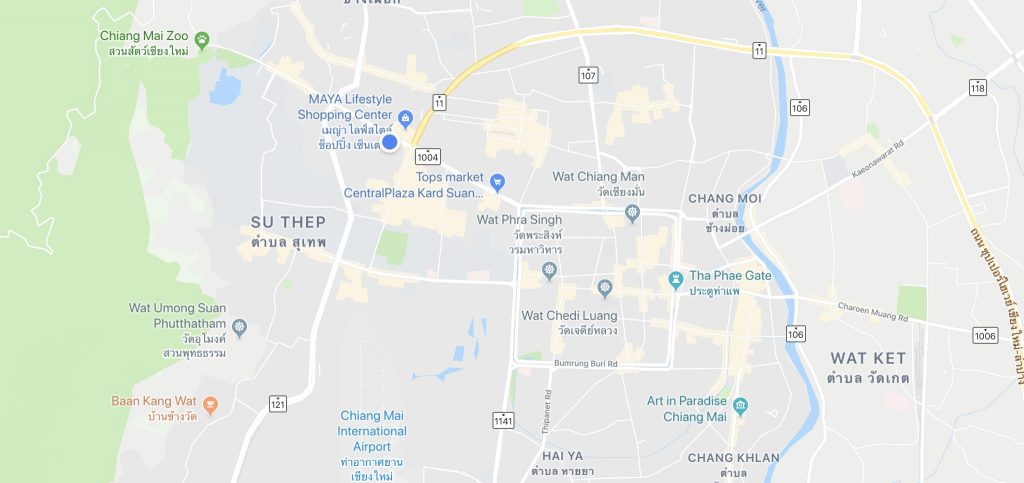 The City
Chiang Mai is a unique city. It's structured around a perfect square which delimits the old town. The airport is quite close to the city, to the southeast, so if you live here, you get used to the sound of aircrafts buzzing overhead.
If forced to use a single adjective to describe this town, it will be "chaotic". Obviously, my opinion has a strong cultural bias, coming from Europe. But Chiang Mai is a mess of streets, crazy traffic, street food markets, tuk-tuks and a myriad of small shops, restaurants, and massage parlors.
The town is very close to the mountains and the national park. That makes for amazing views, especially if your apartment is located at the top floor. I would say it's a very green city, full of trees. Also, there's this amazing thing that happens in Chiang Mai: you start walking randomly away from the city center and, suddenly you find yourself 10 minutes later surrounded by trees, a local cabin, and an almost hidden temple. It's so easy to get to know the real Chiang Mai by just walking around… It's awesome.
Our apartment is located on the north-west side, around 15 minutes walk from the city center's corner. We live very close to a famous shopping center called "Maya". Ours is supposedly the posh area of the city, so the prices are somewhat higher than in other parts of Chiang Mai, but you can still enjoy a decent meal for 40฿ (around 1€).
Fortunately, its higher prices and the fact that it's not close to the city center makes it a more authentic, less touristy place.
Tourism And Gentrification
And talking about tourism… Luckily, Chiang Mai is not Bangkok or Phuket. Yes, there are some tourists here and there, but most of the foreigners you meet here are digital nomads or mid-to-long term travelers. Probably that's due to the fact that Chiang Mai is far from the coast.
Obviously, the city center is still a very touristic area, but you don't have that feeling of visiting a touristic destination such as Paris, Budapest or Amsterdam. Most of the tourism here comes from Asia, not from Europe. As I mentioned, most Europeans you'll find here are probably digital nomads.
So thumbs up to Chiang Mai here!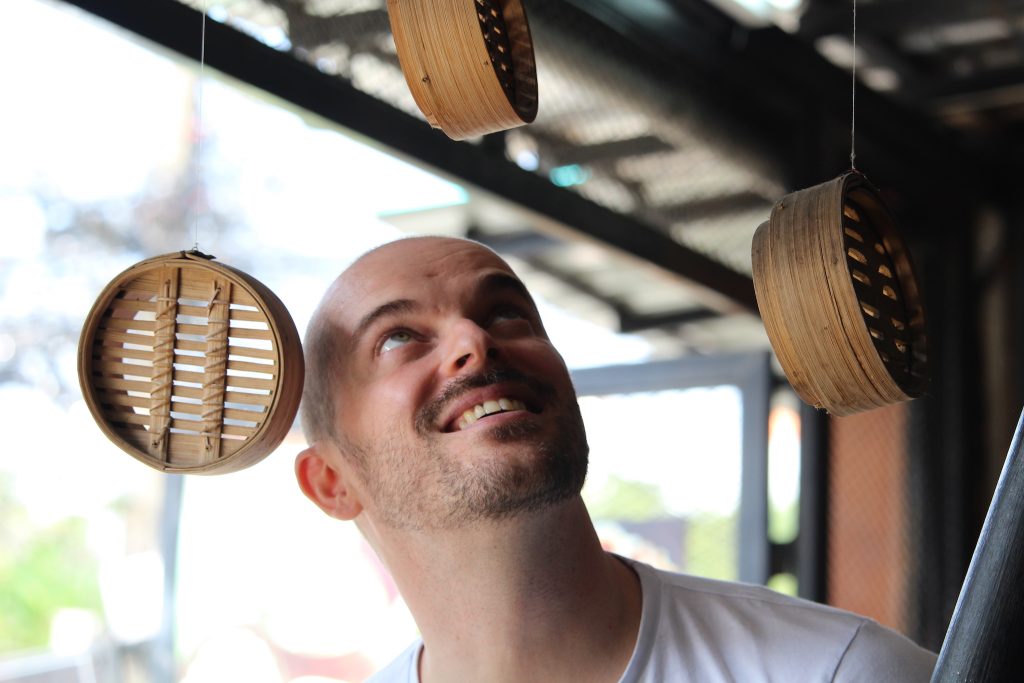 Food
The food in Chiang Mai is simply delicious, as in the rest of Thailand. Even though I don't enjoy spicy food, there's always a new dish you can try, and a new flavour to discover.
A friend of us told us that "Chiang Mai is the town of the 300 temples". I would add my own quote and say "Chiang Mai is the town of the million restaurants". Sometimes, especially when walking around the city center, you have the feeling that you just see one restaurant, then one massage parlor, then another restaurant…
That's because of the laws in Thailand where anyone can start a small local business. You just buy a stove, put it in your garage, get a decent amount of chicken, seafood and vegetables, and bum! Instant Thai street food business. Of course, they should register and pay social taxes, but most of them don't do it, resulting in a large part of the population that is not insured.
Anyway, in Chiang Mai, you can go from questionable street food -not for the faint-hearted- to modern, western-like restaurants and cafés. It all depends on your budget.
One important aspect every traveler going to Chiang Mai seems to be worried about: The water. The water in Chiang Mai (regardless of what the government says) is generally considered non-safe to drink. Some go as far as saying that they don't clean the vegetables or brush their teeth with water from the faucet, opting for bottled water instead.
While we drink bottled water, we wash our teeth, shower and clean our food with water from the faucet. We also drink water and drinks with ice from restaurants and cafés. So far, we've never had any issues. So don't get too obsessed. Just drink bottled water and you'll be fine.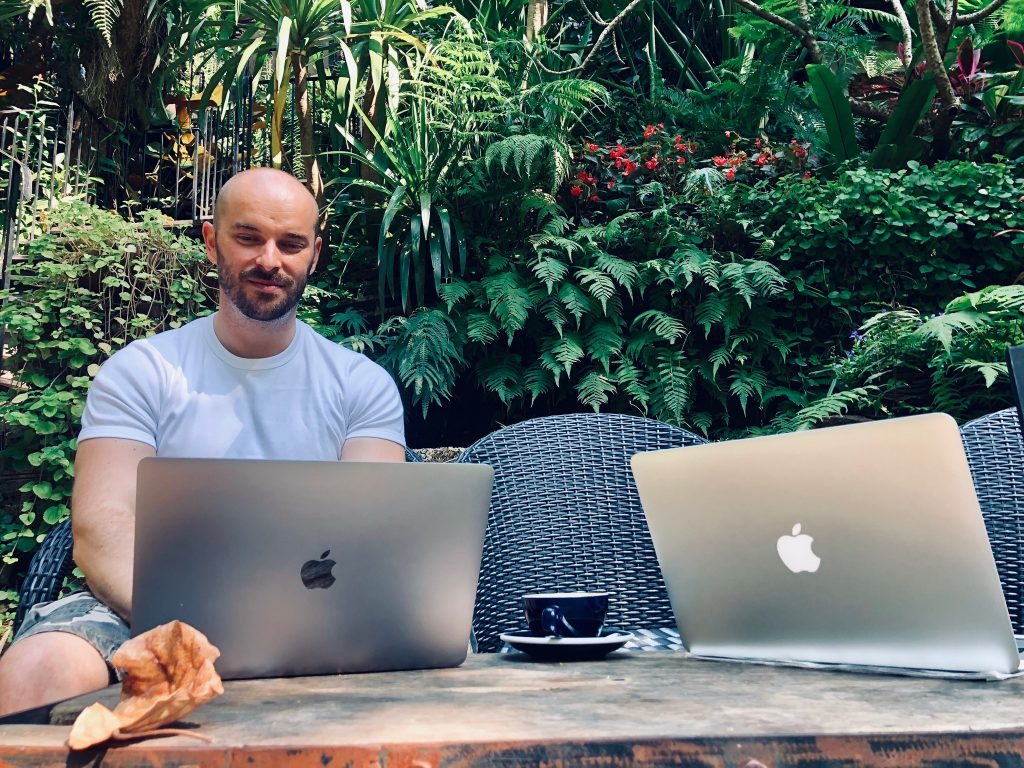 Places To Work
And speaking of cafés, Chiang Mai is the perfect place to work from a café. Most of them have very good Wifi, and I've enjoyed coffee of excellent quality in all the cafés I've visited.
The really outstanding thing about working in cafés at Chiang Mai is that you can find yourself working -literally- surrounded by tropical trees and flowers. There are coffees at the top of a waterfall, like the Wild Coffee & Bistro, or within a secret garden, like the Neo Café. There are cafés in the middle of the forest or small cozy cafés at the very heart of the city center. You can stay for a year without going to the same one twice.
Apart from cafés, there's also a myriad of co-working centers all over the city. From quiet and comfy places like Addicted to Work, to more contemporary, European-like spaces like CAMP AIS at Maya center. All of them offer very good internet connectivity in my experience, so you will be able to work without a problem.
Some of these coworking centers charge a small fee per hour of WiFi use (usually around 20฿, which is 0,5€). Others give you free access for 2-3 hours per drink. Usually, on these last ones, the price of a coffee is sensibly higher than on the streets (78-80฿ as opposed to 40-50฿).
So far, the best place I've found is Addicted to Work, because it's comfy and quiet, and their prices are very good. The place is perfect if you need to avoid distractions and concentrate on your work. Everyone there is working and there's a very focused but relaxing atmosphere. The price per hour (20฿, approx. 0,5€) is super cheap, and for 120฿ (3€) you have internet access for the whole day and a free drink.
Cost Of Living
Here's where Chiang Mai really shines for digital nomads. The cost of living in Chiang Mai is ridiculously low. You can have a perfectly good meal for 40฿ (1€), rent a nice, comfortable apartment for around 450€, and get a Grab car (a Uber-like service) for 50-80฿ (depending on the distance). The average latte is around 50-60฿ (1.5€), so you can get an idea of how affordable life here is.
That, obviously, makes it the perfect spot for digital nomad and location-independent entrepreneurs trying to start a new project. If you are launching your online business, and are on a budget, Chiang Mai is definitely one of the best places for you to be. Life doesn't get much more comfortable and easy than this.
As an example, I bought a local SIM card to have 4G access as we move around. The SIM card, with unlimited 4G, at a speed of 4Mbps (which is absolutely enough for me to work when I'm in a place without WiFi) and local phone number with free local calls, was 150฿, which is just 4€. That's simply jaw-dropping compared to the prices in Europe.
Groceries are also cheap, but not as much as restaurants, cafés, etc. Also, it's very difficult to find a good supermarket like the ones we are used to in Europe, big shopping buildings where one can find almost anything. Here, they are more like small markets, with a limited selection of chicken, fruits, some vegetables, rice, and a lot of knick-knacks. Maybe it's because people don't really cook here in Chiang Mai, given how ubiquitous and cheap street food is.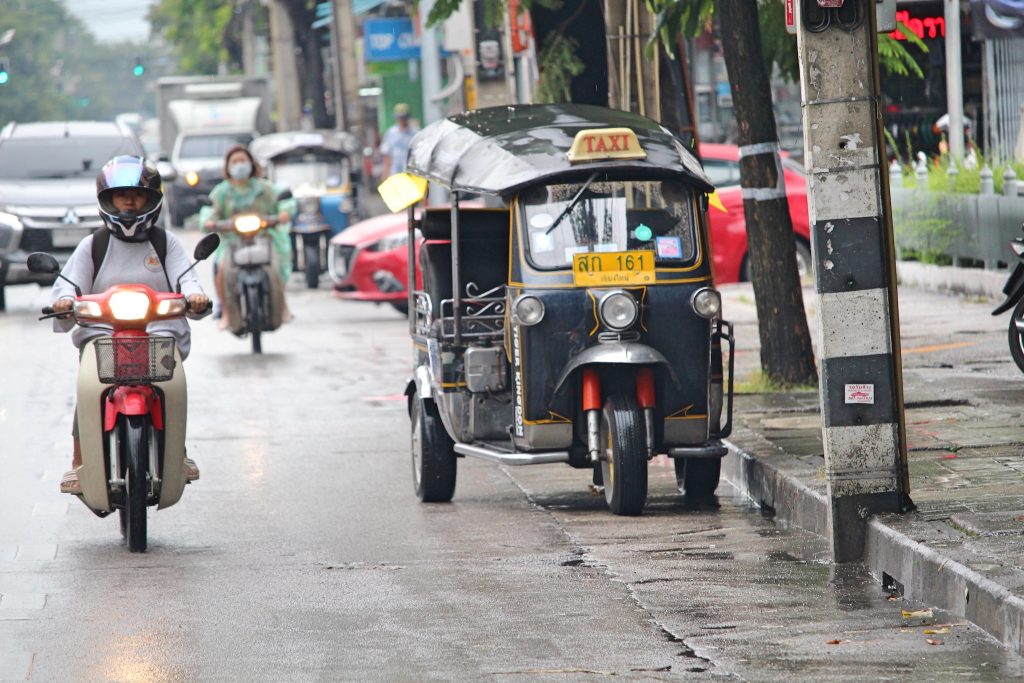 Public Transportation
Public transport is almost absent in the city. There's one bus line that takes you to the airport (crossing the city from side to side). That's all.
Fortunately, there are lots of really affordable alternatives that fill the gap. To begin with, there's Grab, and you can cross the entire city for around 80-120฿ (2-3€) depending on the traffic. The next best alternatives are the songthaews, or red trucks, and the tuk-tuks.
Both alternatives will involve some negotiation about the price, both will imply choking in traffic fumes, and both will also require you to show the driver your destination on the map. So it's a good idea to download the Chiang Mai map area in Google Maps beforehand if you don't have access to 4G.
On one hand, the songthaews are red trucks that can seat up to 8-10 people. They are quite cheap. Ideally, you will be able to negotiate the price to 30฿ per person. Some of them will refuse, but unless you are going too far, you'll eventually find one that takes you for that amount.
I realized that locals pay less for the same distance. On a certain occasion, we took one to the Shangai Hotel for the Nomad Summit conference, and there was already a Thai guy going to that Hotel. We paid 30฿ and this guy paid only 20฿. However, we are talking about 0,20€ here. Negotiating for that amount of money doesn't make sense.
On the other hand, you have tuk-tuks. They are more expensive than songthaews, probably around 40-50฿ per person, but you don't have to share a truck with strangers. I still personally prefer songthaews, because, on a tuk-tuk, you get to breathe a lot more fumes from the tuk-tuk's exhaust pipe.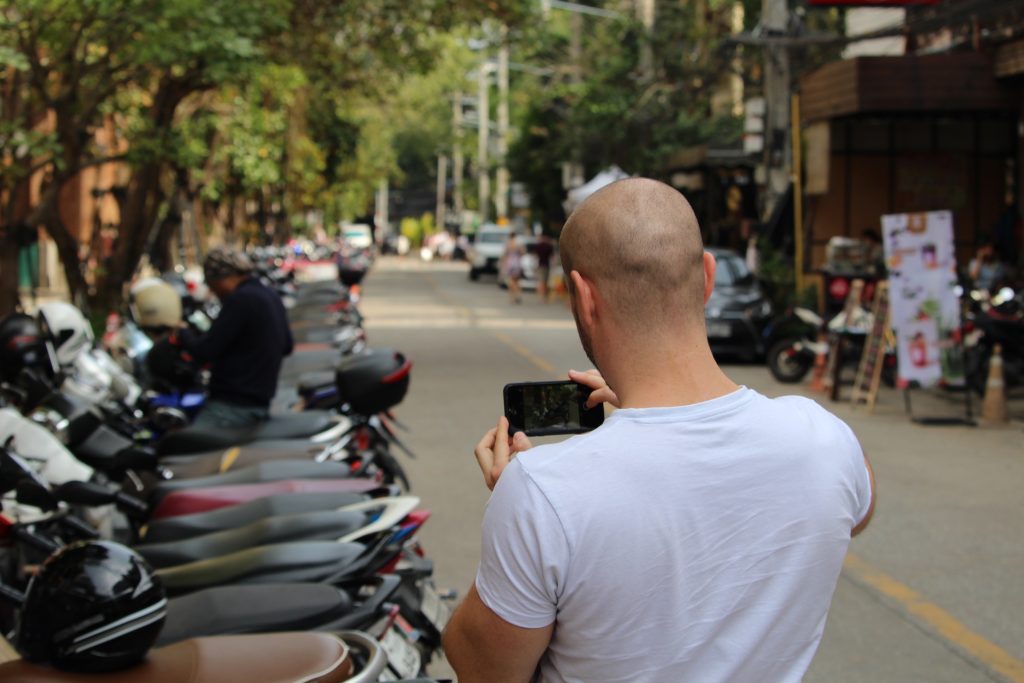 Noise, Traffic, and Safety
Traffic is indeed a huge problem in Chiang Mai for several reasons. First of all, the roads and public infrastructures are not ready for the sheer flow of cars and -especially- motorbikes that flood the city on peak hours.
Next, air pollution is a huge problem in Chiang Mai. In spite of being surrounded by a forest, most vehicles here are past their best days. Some people wear pollution masks here, and it's easy to see why. I check the air pollution levels every day with Air Matters and, while Madrid usually shows higher pollution levels, I've lived there for years and I never had this feeling of chewing smoke as in Chiang Mai's main streets.
Finally, it makes it very dangerous for everybody to drive a motorbike here. The traffic is crazy, and unless you are from the U.K, you'll need to get used to driving on the wrong side of the road.
Chiang Mai is a noisy city. The airport is so close to the city that, especially if you live on the west side, you'll be hearing planes over your head continuously. Also, Thai people like to hang out on the streets at night, eating at food markets or shopping at night bazaars. That said, noise hasn't been a problem for me, because usually, all activity stops at midnight, and you get used soon to the sound of planes passing by, to the point of ignoring it.
Regarding safety, I would say Chiang Mai is a pretty safe city. Most of southeast Asia is. You can feel this while walking on the streets. Also, unlike Latin America, Thai people are generally honest and don't try to take advantage of the fact that you are a foreigner or trick you into paying more at restaurants or shops.
People
While traffic is crazy in Chiang Mai, drivers are usually nice and sensible here. No angry bursts, no horning and yelling at you. Everyone is patient, even with this crazy traffic, why?
Because Thai people are respectful, kind people. They are happy. And I think it has a lot to do with their culture and (Buddhist) religion. When you come from a place like New York, London or Madrid, you are used to the rhythm of the big city: people are usually busy, rushing from point A to point B, and probably not smiley and talkative. At 5 pm, everyone gets in their cars and drive back home from work like maniacs. Like time is slipping away from us.
The rhythm of life is completely different here in Chiang Mai. People don't have this look of distress in their faces. Life flows at a slower pace, and it shows in how they they talk to you. Their culture and traditions also promote being nice and kind to others, and you can really tell from their smiles and words.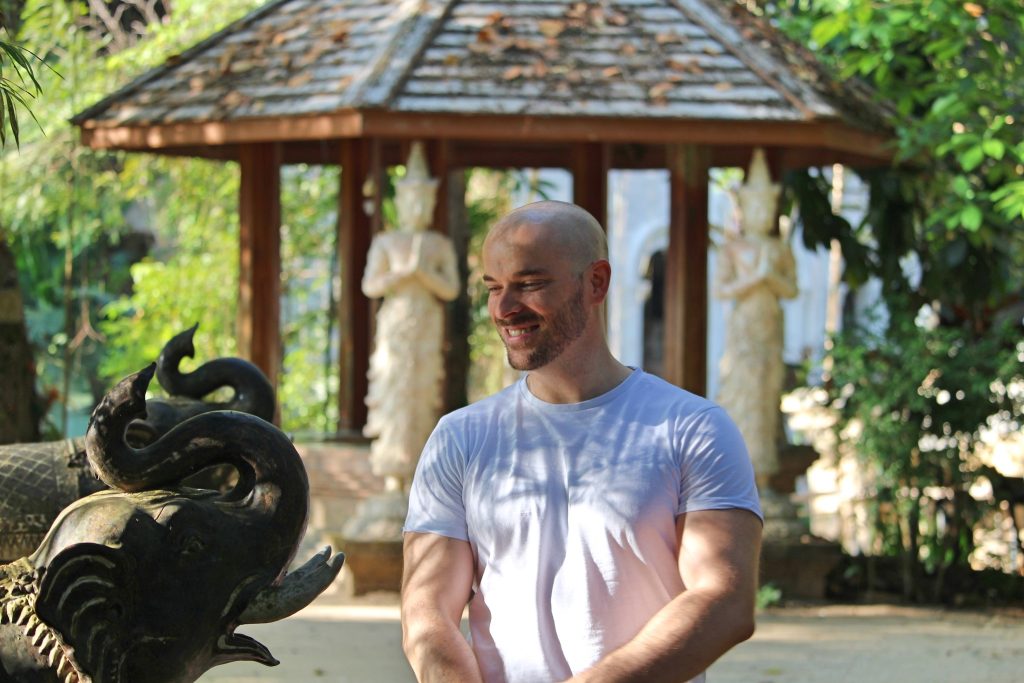 Urban Life: Restaurants, Bars, Things To Do
I mentioned that we are not into the "party lifestyle", so we don't really need that much nightlife fun. We like to go to restaurants and, occasionally, to a bar to enjoy a Chang beer, but that's all. That means that if you are a party animal, Chiang Mai may be a little too tranquil for your tastes. That said, there are many night pubs and even some discos here and there, so you just need to do some research.
But if you are not -just- into the nightlife scene, the city has a lot to offer.
For starters, Chiang Mai is the city of the 300 temples. I know, right? How many temples can you see before you get sick of it? But every temple has its little something that makes it completely different from the rest.
Another obvious highlight of Thailand, and Chiang Mai is no exception, is massages. There are thousands of massage parlors, so if you are into the ultimate relax experience, you'll be in paradise here. As with food, there is a wide range of quality and prices to be found, so you will have to find your right spot.
There are beautiful places to discover all around town and, if you dare to explore past the city borders, you'll be delighted to find amazing places like the café on top of the waterfall that I mentioned earlier. Chiang Mai is full of surprises waiting to be discovered.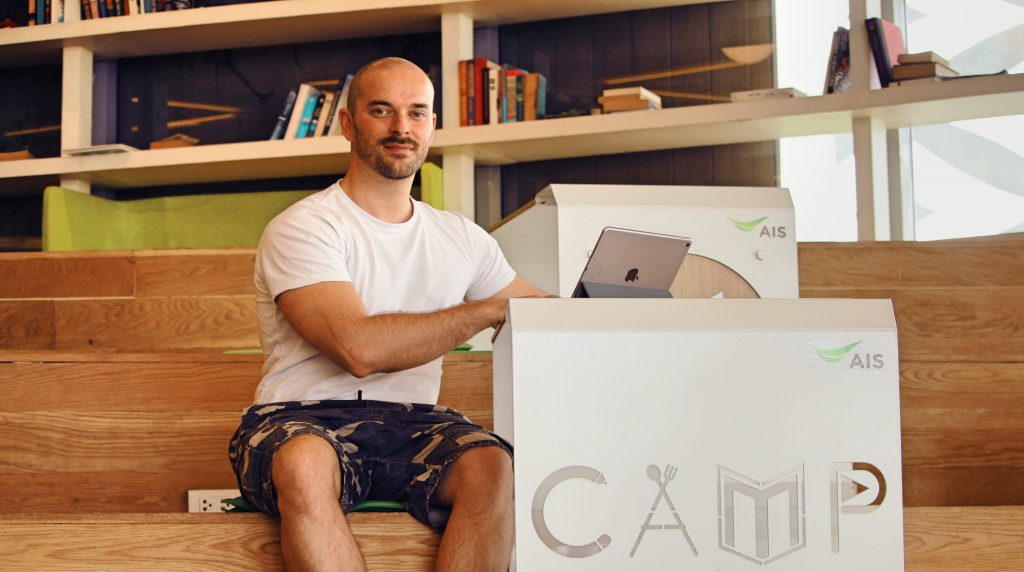 Bonus Tip for digital nomads in Chiang Mai
As soon as you get here, make sure to order a SIM card from the AIS carrier (you can get one at the Maya center). I got mine with unlimited 4G data for 150฿ for a whole month. That's less than 4€, which is just crazy.
Additionally, with this card you get free WiFi at any AIS coworking space (like the CAMP AIS coworking space that I mentioned before), which allows you to save a lot of money on coffees and hours of internet access. ‍
Life In Chiang Mai For Digital Nomads, Final Verdict
I would say that Chiang Mai is one of the best cities in the world for digital nomads. Life here is easy and affordable. The weather is nice, and the people are kind and happy.
There are thousands of co-working spaces and cafés to work from, and lots of things to see and experience. You can also travel to very interesting nearby places like Pai or Chiang Rai. Overall, the perfect place to start your nomad adventure and launch your business.