It's been a busy quarter. We moved to Estonia to reorganize my company, changed offices, and actively started fundraising our series A round. The latter involves attending startup and tech events, looking for investors, networking, and connections. In October we went to Lisbon for the Web Summit and, in November, we visited Helsinki for Slush. Instead of Miguel, I was joined by our CTO this time, Alireza.
If you are considering attending Slush, this post is for you. Is Slush worth your time and money? Should you attend? This is just my experience though, and yours may be completely different.
The Costs
As I mentioned in my article about Web Summit, to evaluate the value of something first you need to know how much it costs. In that regard, the costs for Slush were a lot lower. Tickets were relatively cheaper (395 euros per ticket as opposed to 1495€ for three tickets at the Web Summit), and we were in Tallinn, so we could travel to Helsinki by Ferry (which is cheaper and more convenient). Helsinki is not an affordable location though, so everything there (food, trips) was more expensive.
So our total cost for attending Slush was 1567,15€:
Tickets to the event: 395€ x 2 = 790€
Ferry trips + change in the returning trip (we changed it to the previous one): 111€
Accommodation for us for two nights: 471,99€
Tram tickets: 5,60€ (we were given free tickets at Slush the first day)
Taxis: 0€
Food, extra expenses: 188,56€
By comparison, attending Web Summit costed us 3876,42€, more than double. Still, you need to also take into account the value you get from the conference. So was Slush worth it? Keep on reading to find out 🙂.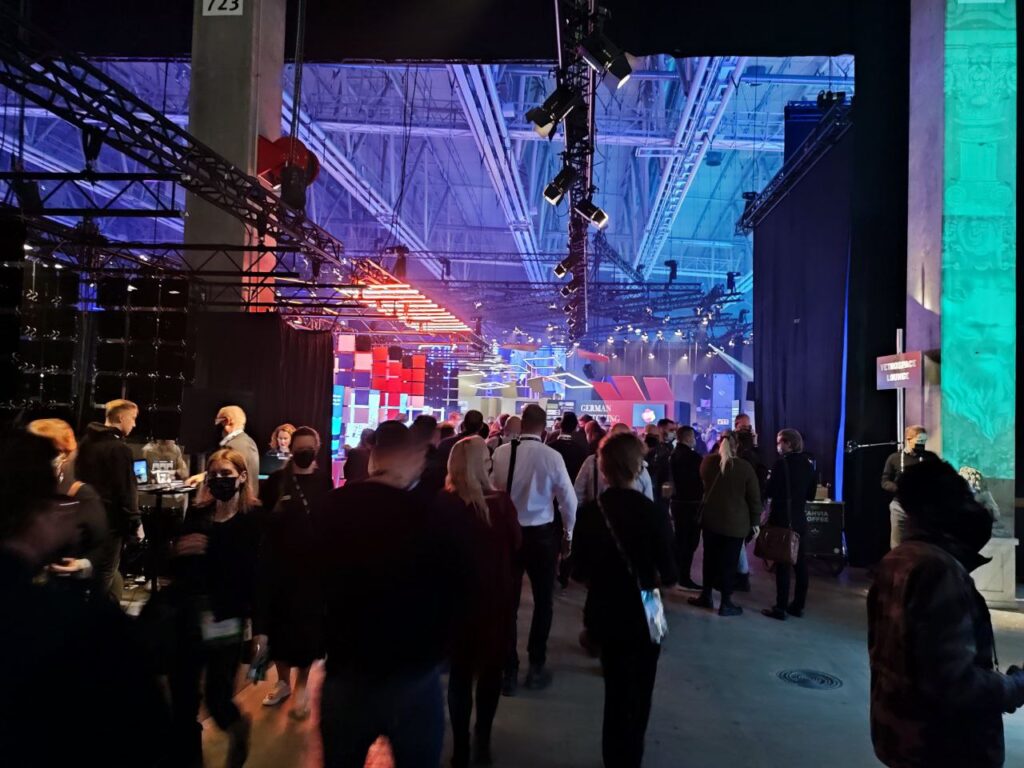 Slush is for founders and investors
Slush describes itself as "The most founder-focused event in the world". I haven't attended every startup/tech event, but it's true that Slush gets rid of the bullshit. Unlike Web Summit, this is no place for general attendees to roam around and hear the latest buzzwords or see the latest fancy gadgets. This is an event for founders and investors.
I found it much more focused than Web Summit. Only two days, meetings between investors and founders, no governmental stuff, no booths from Microsoft, Samsung, and Hyundai, only a couple of talks that were obviously aimed at filling in the gaps between meeting A and meeting B…
So this is an obvious win for Slush.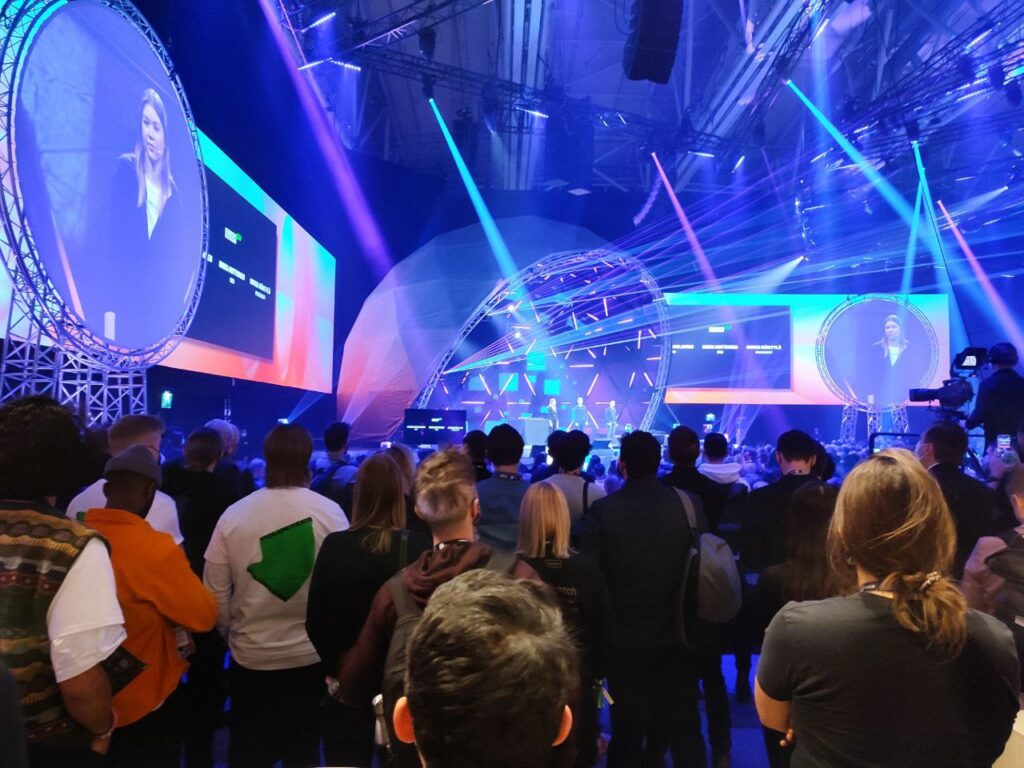 The venue and the atmosphere
Slush takes place at the Helsinki Expo And Convention Center. They have designed it to look more like a Scandinavian techno club than a conference. They use soft lighting, fog, and light effects to convey this club feeling, and the opening ceremony started with a DJ playing loud techno music while projections appeared on different screens. The Scandinavian atmosphere was enhanced by the low temperature at the venue.
Now, while that was very impressive, I personally did not enjoy that atmosphere at all. Call me an old fogey, but as cool as it may look, it was not practical for a number of reasons.
When talking about Web Summit, I recommended printing T-shirts with the logo of your company. If you are going to attend Slush, forget about T-shirts, use hoodies instead. It's cold in there.
The low lights and the foggy environment were also a real issue when meeting investors, as I explain next.
The investor meetings
One of the main advantages of Web Summit was the flawless organization. Everything was very well organized, and the meetings with investors were no exception.
You arrive to the meeting area, which is clearly indicated in the map, and identify yourself. They've got your appointment and they take you to the table that's already been reserved for you and your investor. It doesn't matter who arrives earlier – there is no chance of getting lost. You also receive all the information on what to expect at the meetings, where you are supposed to go and what you are supposed to do.
The process at Slush was, by comparison, a total chaos. There was a meeting point and a meeting area. The meeting point is a square where you are supposed to meet your investor and then go somewhere else to have the meeting. The problem is, with a lot of people around, the low lights, the fog, and the masks, it is a miracle if you manage to find someone you've probably never seen before.
The meeting area was similar to the one at Web Summit, but it simply didn't work. The first time I arrived for a meeting with an investor, I went to the desk and they told me he was not there. I started to look for him at the meeting point and got back repeatedly to the desk to ask for him… Nobody told me anything or care to take me to the right table. I learned later that the investor was waiting for me in a table inside the meeting area, even though they kept on telling me that he was not there.
Landing an interview with an investor is hard enough to lose it due to organizational problems. Something Slush needs to make a better job at.
Judging by the angry comments of an investor to the guys at the desk, and the desperate rants of another founder trying to look for her investor, I was not the only one facing that problem.
So my recommendation is to contact the investors beforehand and get their phone numbers once you land a meeting. The app was terrible, and the investor was not receiving or even looking at my messages, so make sure to have a backup in case you can't find them.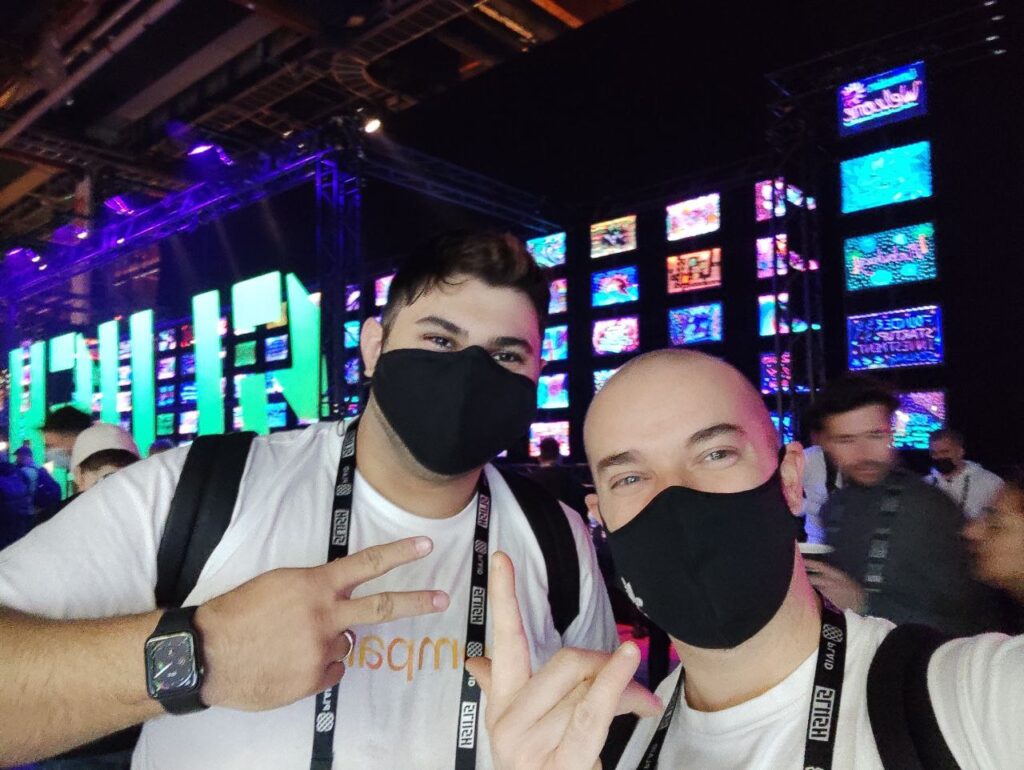 An awkward experience
Also, related to the investor meetings, we faced quite an awkward situation. My CTO did a great job, met a lot of investors, and landed some interesting meetings. However, in one of these meetings, the "investor" tried to recruit him for one of the startups of their portfolio. Given that the investor showed no interest in us, but went directly to ask questions about Ali's CV, it was clear that this was her intention from the beginning.
As bootstrappers without seed money, I obviously cannot compete with a heavily funded, VC-backed startup.
I am lucky that my CTO is such an honest person, but this was definitely a disappointment. We thought Slush was a safe place for me and my team to meet investors during our fundraising round. Next time we go to Slush, I will definitely be more cautious with the people we meet, and that is a shame.
Arriving in Helsinki, racial profiling, and the city
Traveling by Ferry was an amazing experience. The trip from Tallinn to the Finnish capital takes just two hours. The giant ferry is like a huge restaurant with awesome WiFi connection. It is not very crowded, so you can easily sit anywhere, grab a coffee or a snack (which are somewhat expensive) and work for the duration of the travel. It was like staying at a coworking space with beautiful sea views for two hours.
When we got to Helsinki, however, we suffered a ver sad episode of racial profiling by the Finnish police. I went through security without an issue (white guy, blue eyes, European-looking), but my CTO, from Iran, was stopped. I joined him and then they asked for my passport too. Apparently, "there was an issue with our passports", or the machines that were supposed to read them, and they got us there waiting for 45 embarrassing minutes.
Having a look at the people around us who'd been stopped by the police (a black guy, a punk with dreadlocks…) was dishearteningly enlightening. At a certain point I asked if there was something wrong with my European ID or his passport, and if they needed me to have a lawyer help them recognize them, and they finally let us go, with a lame excuse about how crooked the Iranian passport was (???).
Public transport in Helsinki works quite well. The trams are modern, well maintained and always in time. We were able to go everywhere by tram, reach the venue, the hotel, and nearby places.
Hotels are quite expensive, and hotel rooms are ridiculously small, and not so warm either. I had only experienced this in places such as London on New York. Only, Helsinki is not as interesting.
The city itself is quite uninspiring. It is a more or less modern city with grey buildings, malls, and stuff like that. Coming from Tallinn, with such a fascinating, well-preserved old town and beautiful wooden houses, Helsinki looks boring and dull in comparison. Nothing wrong with it, there is some interesting church here and a nice square there… But overall, it has nothing special.
Add the unfortunate racist event at the port, the harsh weather, and the cost of living, and I won't be moving to Finland anytime soon.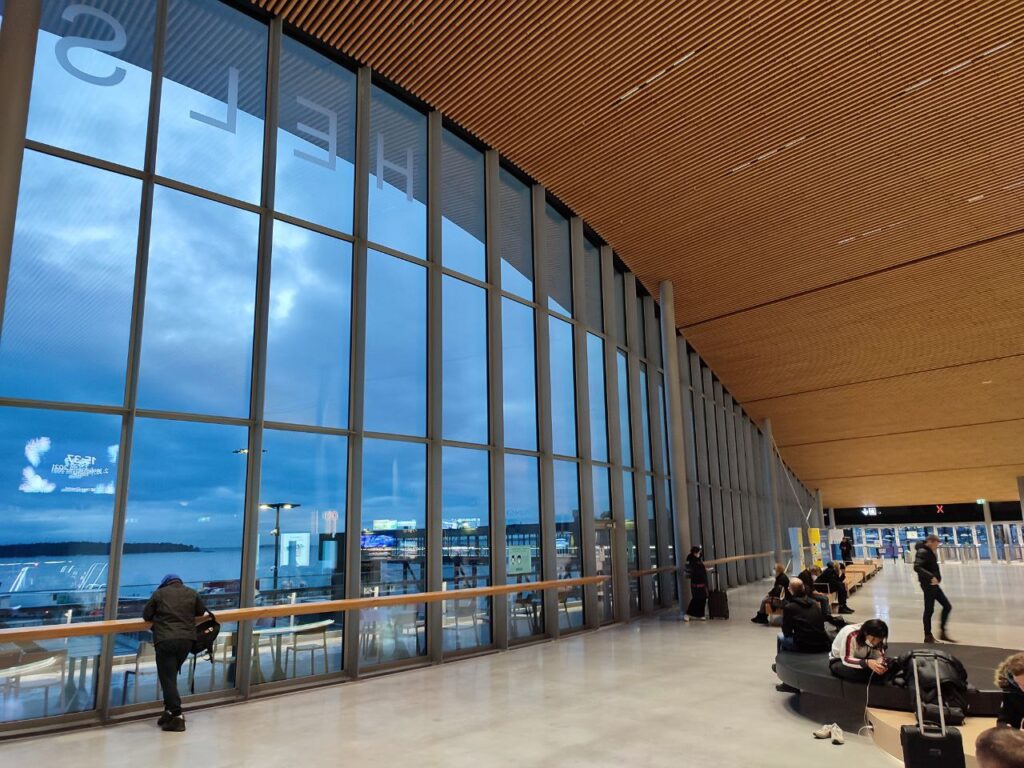 Side events
I usually don't care much about side events. Most of the times, the time you spend is not worth the connections you make. In Slush, however, it was different.
I attended two different side events. First, the Founders Day, a dinner that took place the day before the opening. It was a nice opportunity to meet other founders, and I had quite inspiring conversations with some of them about fundraising and scaling. Definitely worth my time.
The last day I attended the Founders' Breakfast, and there, by chance, I met another LGTBQ+ founder, the first one I've ever meet (apart from my husband, of course). That was a very nice serendipitous meeting that has inspired me to start a community… But I will talk more about it in another post.
Food
Most restaurants you find on Helsinki are Thai, Asian, or Sushi places. I was not able to find any restaurant offering local food. The closest I got was the buffet at the hotel, with some sausages, pork, vegetables, and smashed potatoes. Pretty basic North-Eastern European stuff.
The food at Slush was also mostly Asian dishes, noticeably better than the food trucks at Web Summit, but also noticeably more expensive. It's ok for a couple of days though. Just don't expect anything special.
At the Founders' Breakfast I tried a rice pie they call Karjalanpiirakka. They usually have it for breakfast with some egg butter on top. That was kind of nice, but nothing really outstanding.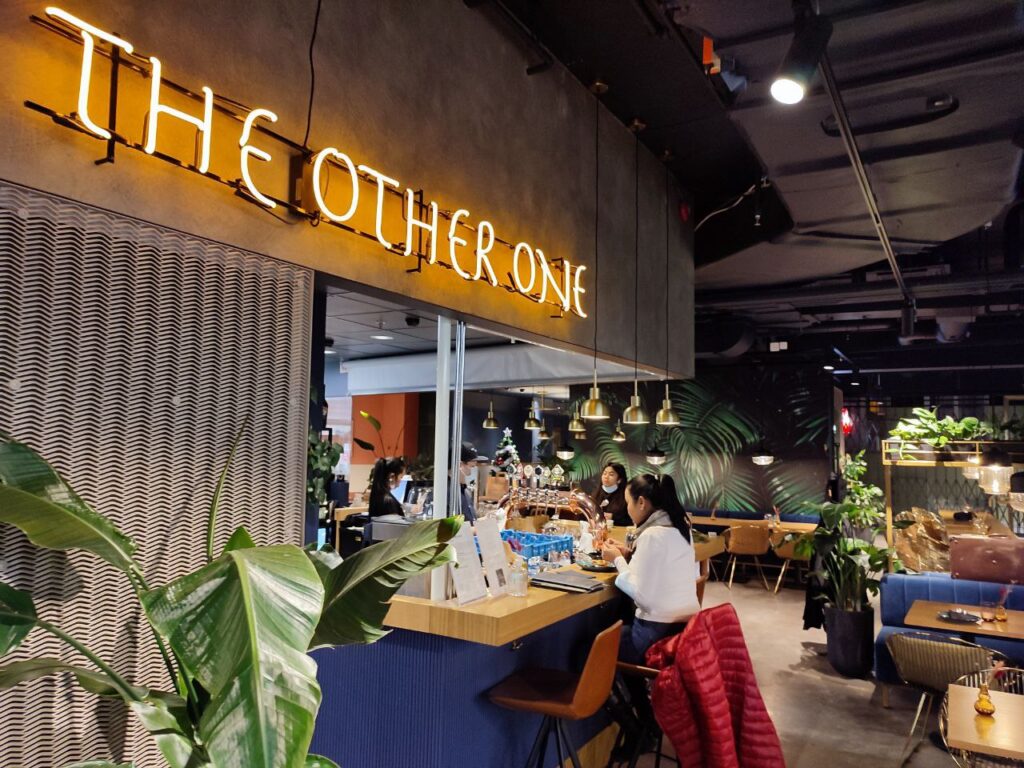 Overall
So overall, I would definitely recommend founders to go to Slush, especially if you are in Scandinavian or Baltic countries. It is a much more focused, founders-oriented, bullshit-free conference with investment and fundraising at its core. That's what you want when you are looking for venture capital.
Make sure to carry some warm clothes with you and a sweater or hoodie for the conference. It's going to be cold. Plan ahead and let investors know alternative ways of contacting you if you don't find them. And if techno is your thing, enjoy! It is a great conference for founders.