Before heading back to Europe, we decided to spend our lasts two months in South-East Asia in the city of Kuching. Aptly named "The next Chiang Mai", this Malaysian hidden gem has been a delightful discovery. This article contains the most complete guide about life in Kuching for digital nomads, based on our experience.
Different people have different metrics when evaluating how good -or not- a place is for staying for some months.
For context, I live and work as a full-time digital nomad with my partner. We are in our late 30's/early 40's, need to work almost daily, and have a medium budget. We hate Starbucks and fast-food chains and prefer local restaurants and cafes instead.
As a result, we value living in a comfortable, hassle-free house, in a somewhat tranquil and culturally interesting neighborhood, with access to co-working spaces or good Wi-fi connections, and a low cost of living.
We are less interested in nightlife, and not being rich teenagers, cannot afford to spend our time going through every single beach of the country, looking for the perfect wave.
Are we on the same page? Good! Let's start.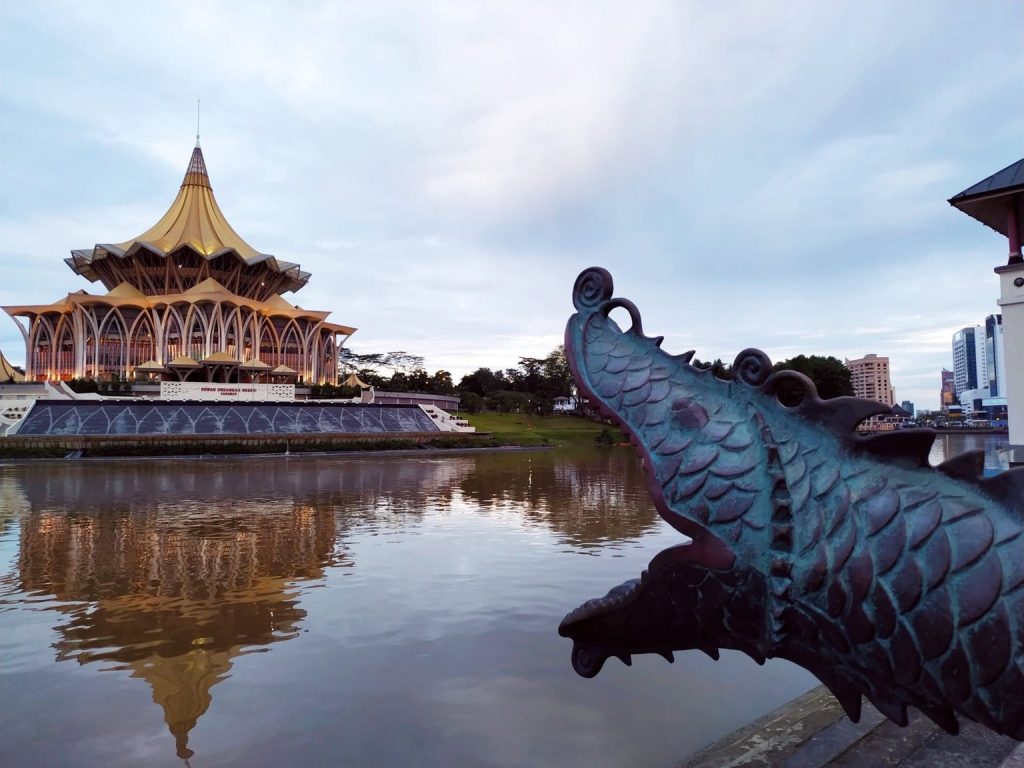 ✈️ How did we end up in Kuching?
Curiously enough, some months ago we knew nothing about Kuching. We were in fact going to spend May and June in Da Nang, Vietnam. However, the fact that you need a VISA if you want to stay longer than two weeks was a real downer for us.
Talking about that with a friend we met at the Hustlers Villa coworking space in Bali, he told us about Kuching, and how nomads can stay in Malaysia for three months without a VISA. That called our attention, and doing some research on internet showed us two things. One, it was a nice, non-touristy and relatively unknown city in a beautiful location. And two, it was a modern city, with good infrastructures, internet connection, malls, and co-working spaces.
After our not-so-delightful experience in Ubud, Bali, living in a green house, without air conditioning and surrounded by bugs, I needed a change. I needed to smell bleach, be able to work at night without having to flick away the mosquitos, and take a walk or get a grab without negotiating the price for 15 minutes.
Yes, Bali helped me understand I am a city person.
We found a beautiful and affordable condo in an apartment complex on top of a mall (?), and it looked like the perfect place to be to stay focused on our work for two months before traveling back to Europe. So without really knowing what to expect, we arrived to Borneo.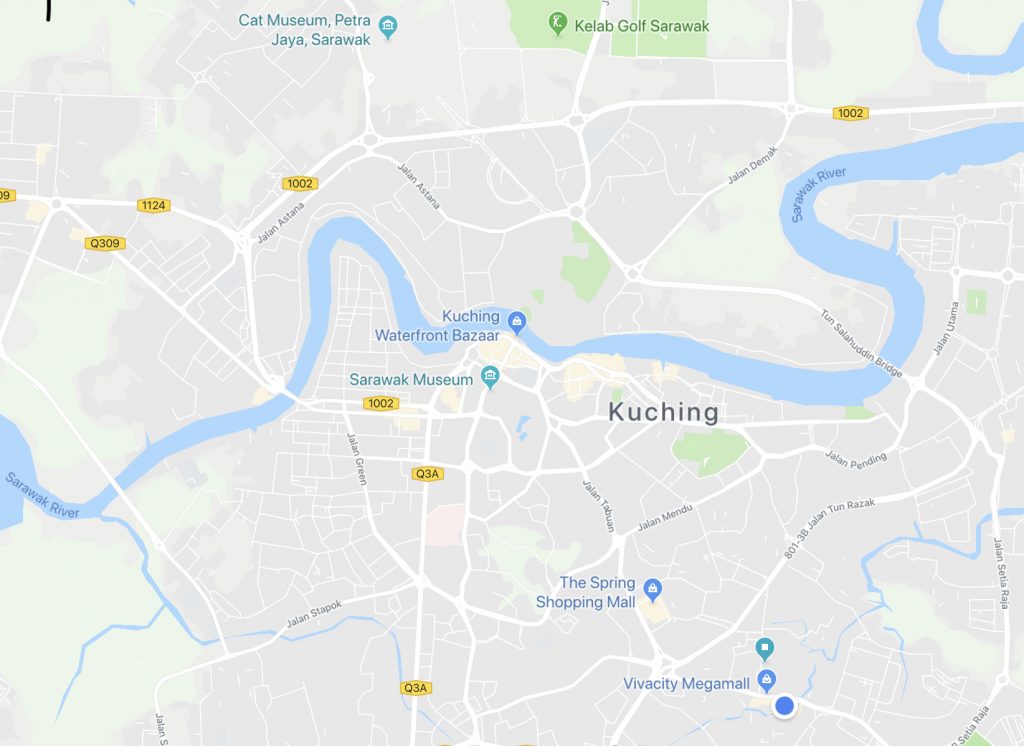 The city and its surroundings
Kuching means literally "city of cats", although I honestly haven't seen more cats than in any other city. It is a small city (by Asian standards anyway), home to almost 600,000 people. It's divided in two by the Sarawak river, but the most interesting part of the city is located at the south of the river.
And talking about the river, the heart of Kuching is the waterfront. Located in the south side of the river, this promenade is the perfect place to go for a walk on weekends. It's where you can find the majority of the small expat community of the city, and almost all digital nomads visiting Kuching live close to it. There are many bars and restaurants in the area, although they are a lot more expensive than in the rest of the city.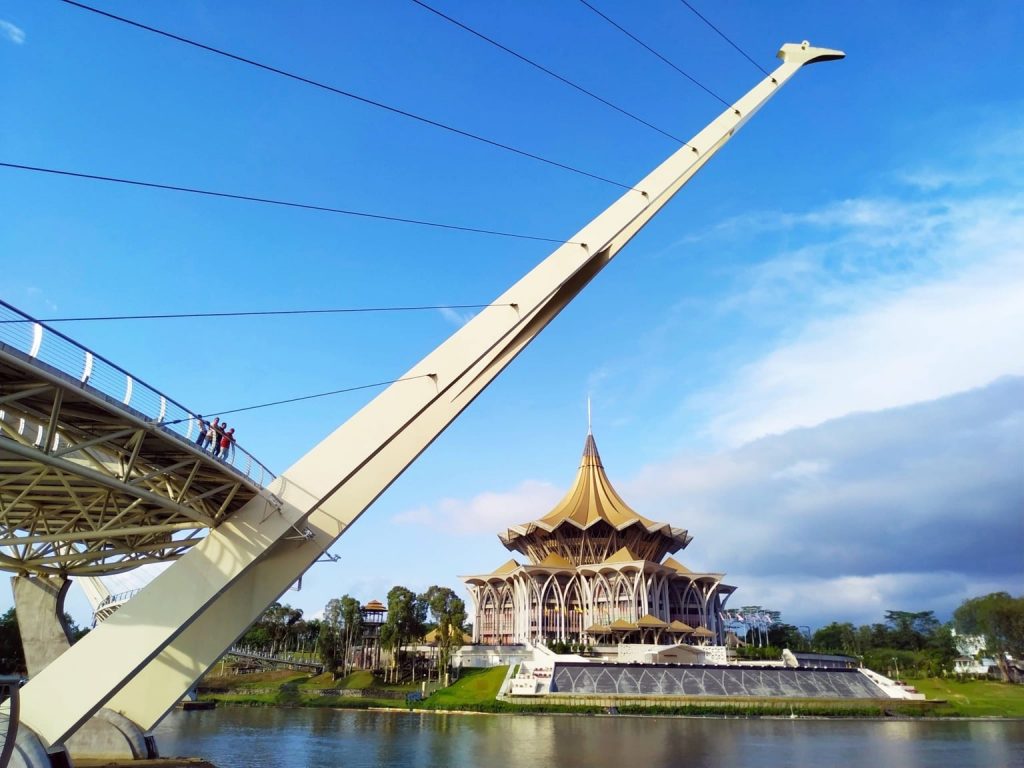 Just in front of the waterfront, you can find the "China Town" of Kuching. It's a very interesting place to visit also, with some fantastic spots like the Indah Cafe.
Contrarily to Chiang Mai, the city is clean and not polluted at all. The airport is relatively close but you won't be hearing any aircraft noise. It's a modern city and, while still maintaining a distinctive Asian feel, it may feel sometimes like you are in Europe.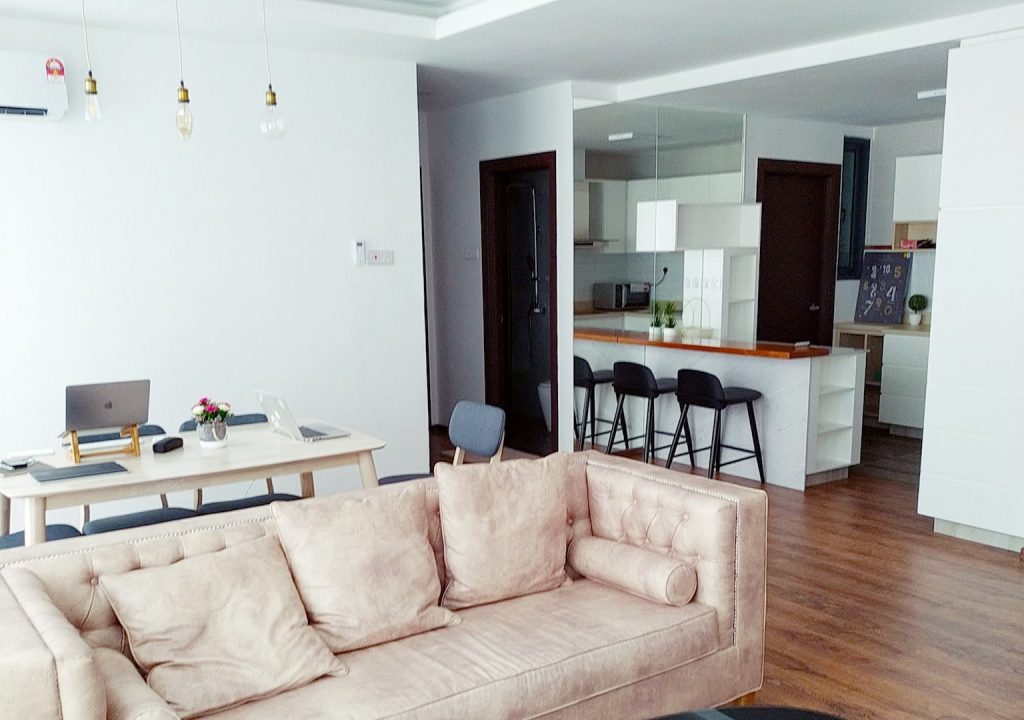 Accommodation
There are plenty of accommodations available in Kuching for all budgets. AirBnB works quite well in the city, and you have a large selection of apartments to choose from.
Most of the expats and digital nomads look for a place near the waterfront. It makes sense because that's where the action is. However, we opted for an apartment in the south area. Not only because it was less touristy, but also because we found an amazing apartment on top of a mall and a supermarket, and very close to a private clinic.
As I mentioned, after Bali, we needed some comfort to focus on our businesses and care as less as possible about moving around, doing the groceries or stuff like that.
As you can see in the picture of our condo above, you can rent a modern apartment, beautifully decorated, with three rooms, pool, gym, 24-hour security, and everything included, for around 700€. Of course, you can get a decent one bedroom apartment for 250€ if you are on a budget or travel alone and don't need the space.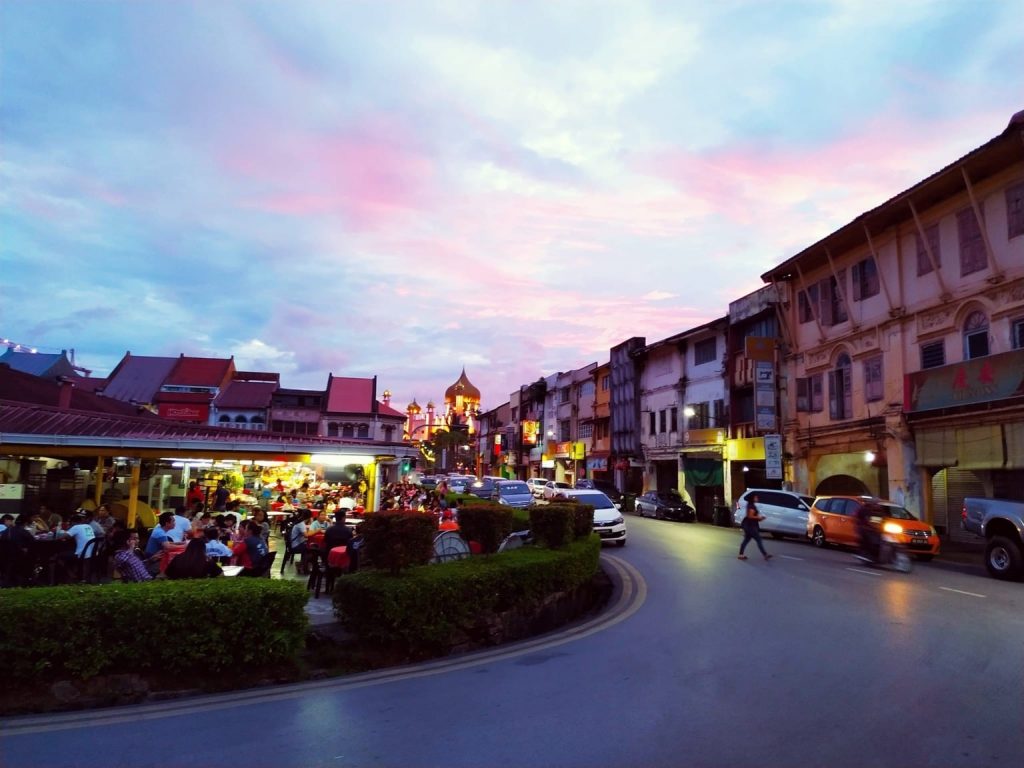 Noise, Traffic And Safety
Being a small city, there's not much traffic in Kuching. That means also not a lot of traffic noise. It's true that most people here move by car, but still, apart from a slight traffic congestion during peak hours, it's quite manageable.
Not having a lot of nightlife also helps making Kuching a quiet city. The perfect place to rest, take care of your business or work, and enjoy the local culture.
People drive quite responsibly in Kuching, and the roads and infrastructures are well maintained. That, together with the fact that –unlike other places in South-East Asia– there is almost no motorbike traffic (most vehicles are cars), makes it a safe place to drive.
And talking about safety, in our opinion, Kuching is a very safe city. A friend told us that one night, after we'd just left the bar, a fight started between two rival gangs. But apart from that, I haven't heard of any incident, and we've felt relaxed and comfortable walking around on the streets. Also, I've never had the feeling that someone was trying to cheat me.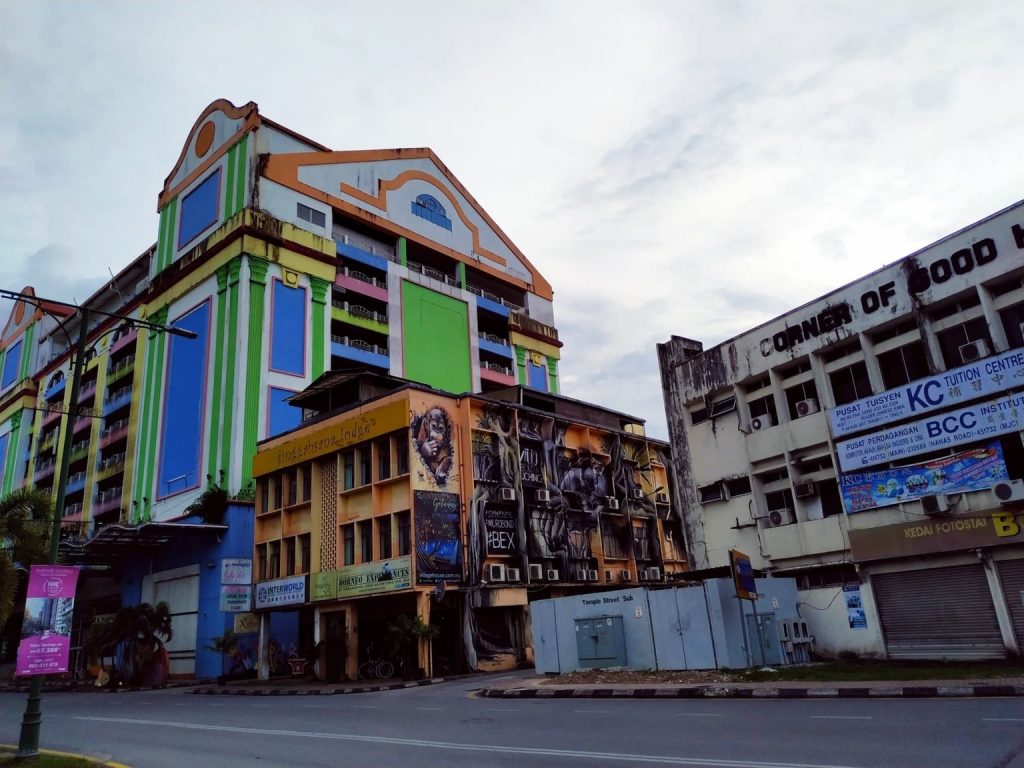 ‍♂️ Public Transportation And Walkability
Now, while Kuching is definitely more walkable than, say, Bali, some areas of the city are better than others to move by foot. The waterfront is obviously the most "walkable" neighborhood. You can explore the riverside, China Town, and the surroundings, easily.
Unfortunately, other areas, like the one where our apartment is located, could benefit from a more pedestrian-conscious urban design, including better sidewalks and more zebra crossings. Overall, Kuching is not as walkable as most European cities, but is years ahead other cities in South-East Asia.
The private car is king in Kuching, so there's not a huge public transport infrastructure either. Some bus lines (but not many) may allow you to move through the city if you happen to find the right ones.
Fortunately, Grab works flawlessly in Kuching. It's super affordable, and there are plenty of drivers, including nights and weekends. It's so cheap in fact that you can cross the entire city for 8-10 RM (around 2€).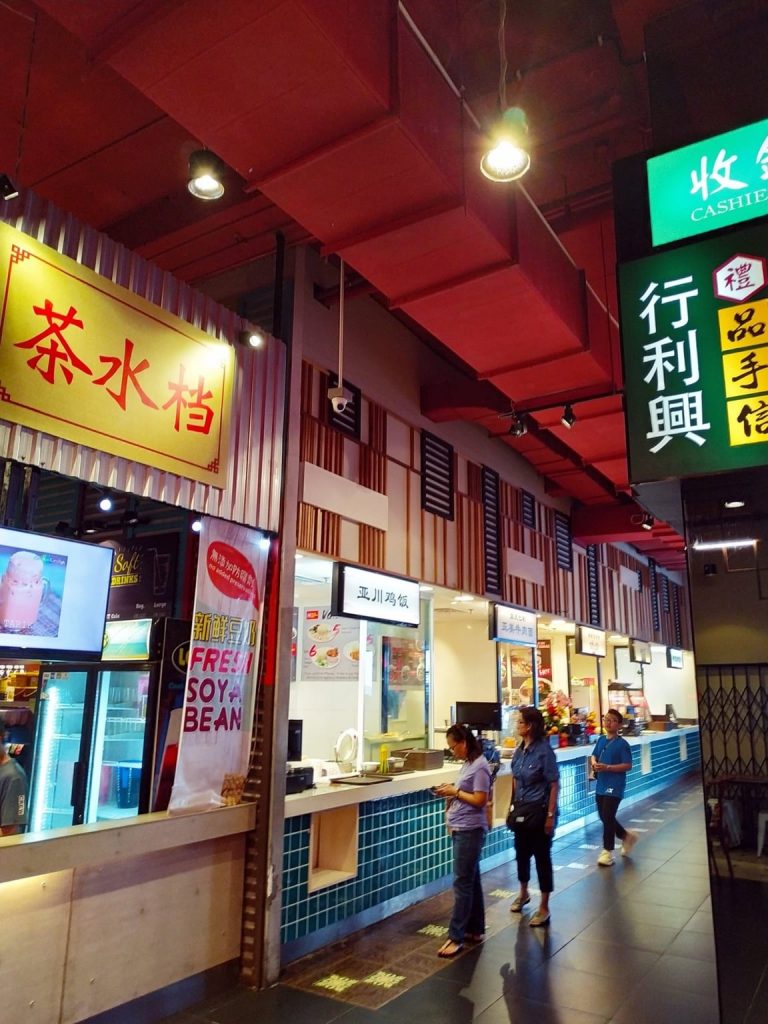 Tourism And Gentrification
Fortunately, Kuching is not touristy at all! And it shows. Yes, this may not be good news for everyone, especially if you are looking for a lot of action or a large expat community. But for us, it was a pleasant discovery.
That means you can still get to know the local culture, enjoy local food and merge with the local people, without the "tourist factor". People don't look at you like you were a walking bag of money. There's no taxi mafia offering you a taxi every 2 minutes, or peasants selling you necklaces.
Tourism destroys a place. You can see that in Phuket, Bali or Ho Chi Mihn. From preventing the country to develop (who needs development when you have easy money) to the environment. From your relationship with foreign people to the ambitions and dreams of the population.
Luckily, Malaysia is different. Not being a touristic destination, it's a much more modern society than other nearby countries.
That's why I honestly hope Kuching will stay as it is now. A comfortable, tranquil and affordable city, not a tourist attraction.
Food
The food in Kuching, in one word: amazing.
Due to its privileged geographical location, Kuching benefits from a collage of gastronomic traditions. Malay food is delicious and surprisingly varied.
My favorite dish, by far, is the laksa. While there are many variants, it's basically a soup with noodles, vegetables, and usually seafood and chicken. Some types of laksa are supposed to be eaten for breakfast only.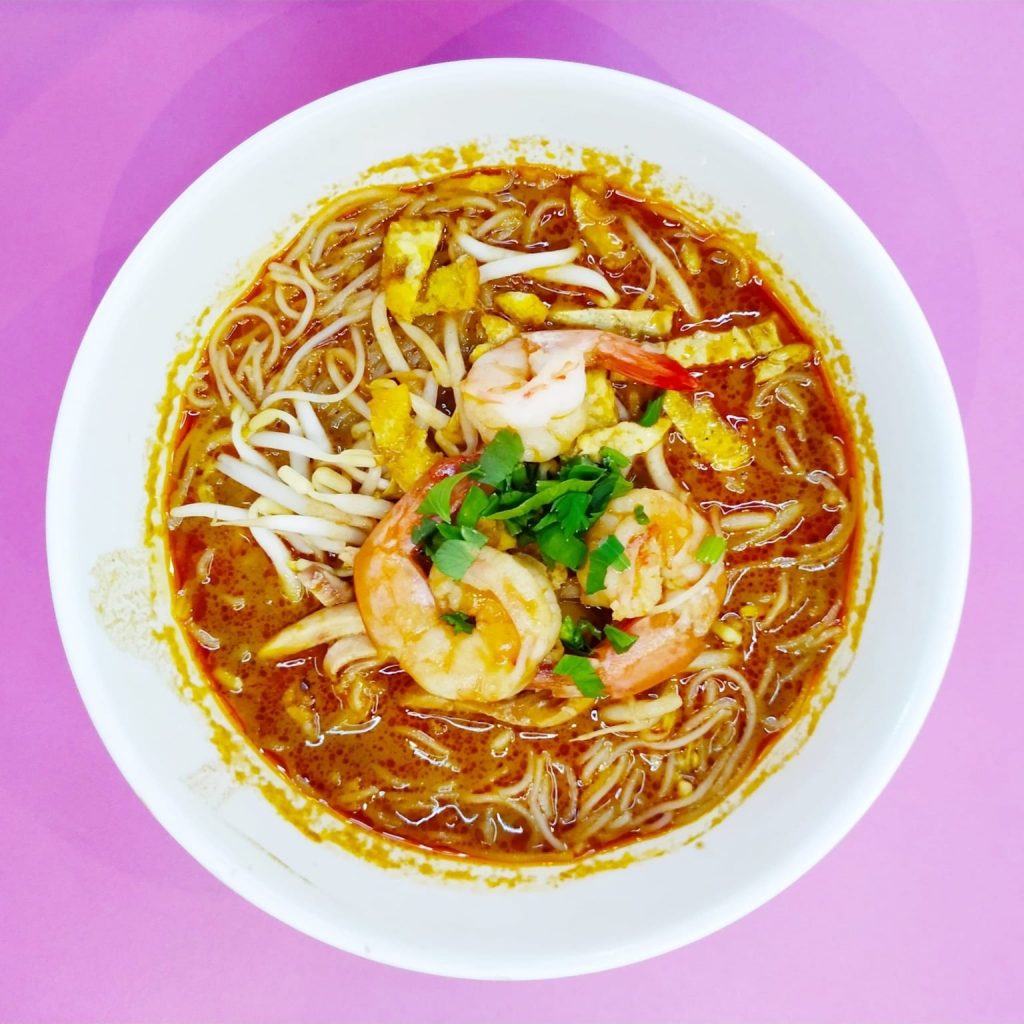 I have a very funny anecdote about that. We were trying to order one of those for lunch for several days in a row, but the owner kept on telling us that the laksa was already finished. So we kept on trying, going a little bit earlier every day, in the hopes of being in time for the laksa.
Then, one day we arrived at 12:01pm, and I asked the cook if there was laksa left. He shook his head and I exploded: "Oh! come on! What time do we have to come here to eat laksa". That's when he explained me that this laksa was just for breakfast. I laughed, embarrassed, cause I realized I was like the English or German tourists who go to the Canary Islands and order paella for dinner .
I find Malaysiam food healthy and tasty. I'm even starting to enjoy hot meals. But be careful, they love sweet drinks too, and there's no shortage of sugary shakes and juices.
Apart from Malaysian food, you can enjoy a large selection of other Asian cuisines, like Chinese, Vietnamese, Japanese, Thai, Indonesian, and more.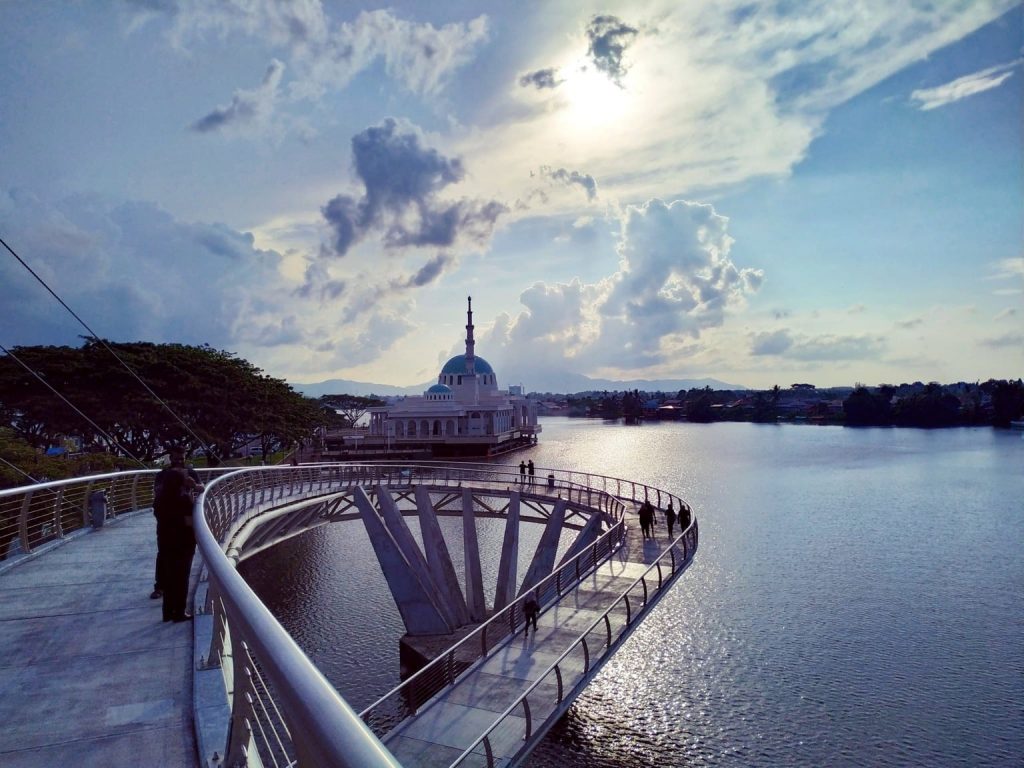 Weather
The weather here is fantastic. A little bit too hot during the central hours of the day, but nicely warm on average. The humidity here is super high, and makes you feel like it was hotter than it really is.
Average temperatures barely change during the whole year. High is usually around 32 ºC, while it never gets below 23 ºC at night. No need to bring your coat.
It's usually sunny most of the time, but there are frequent storms. These storms are really strong. When it rains in Kuching, it does rain. I have to confess I love it when it rains here. It reminds me of the summer storms we had when I was a kid back in Spain.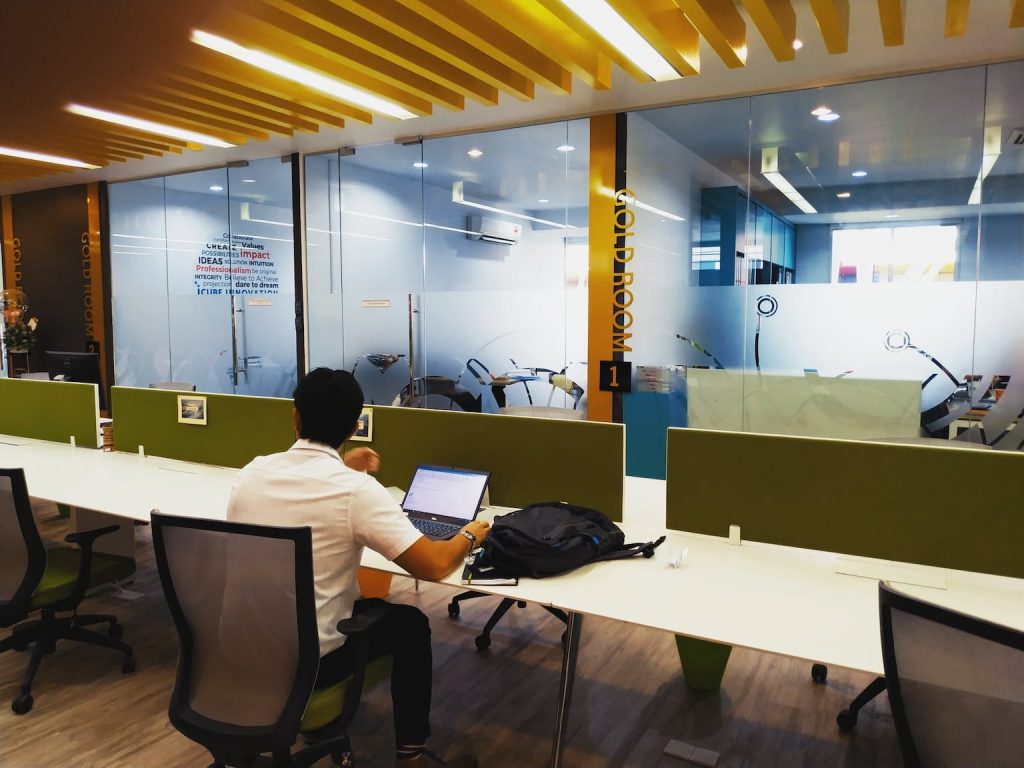 ‍Places To Work
There are several co-working spaces in the city, and also lots of cafes with decent internet connection.
We opted for one of the best-known co-working spaces in town: iCube Innovation. It's a great place to work. A modern space, with dedicated desks and even private offices. They have phone booths –for your Skype meetings– and a conference room you can use for free.
While there are some startups there, it's not a "startupish" space. There's a quite focused ambience, and it's easy to focus on your work. No foosball or ping-pong table in sight.
And the best part, its prices are quite affordable. A "hot desk" costs only RM120 (around 25€). We went for a dedicated desk, which costed us only RM220 for a month (45€). These prices put coworking spaces from Bali or Chiang Mai to shame. You can even get a private office for two people for 120€.
There are also some nice cafes to work from. Some of them have decent internet connections, like Commons at the Food Court.
Hospitals And Clinics
Malaysian people have access to public health care. Private clinics here are very good, with modern equipment and well-trained doctors that speak perfect english.
I can recommend you the Borneo Medical Center, in the south of Kuching. This private clinic has a wide array of general practitioners and specialists. They also have emergencies, and their facilities are clean, modern and well-equiped.
I visited the doctor once, and even though I am covered by Safety Wing, the price was so affordable that I would not have minded paying for it myself.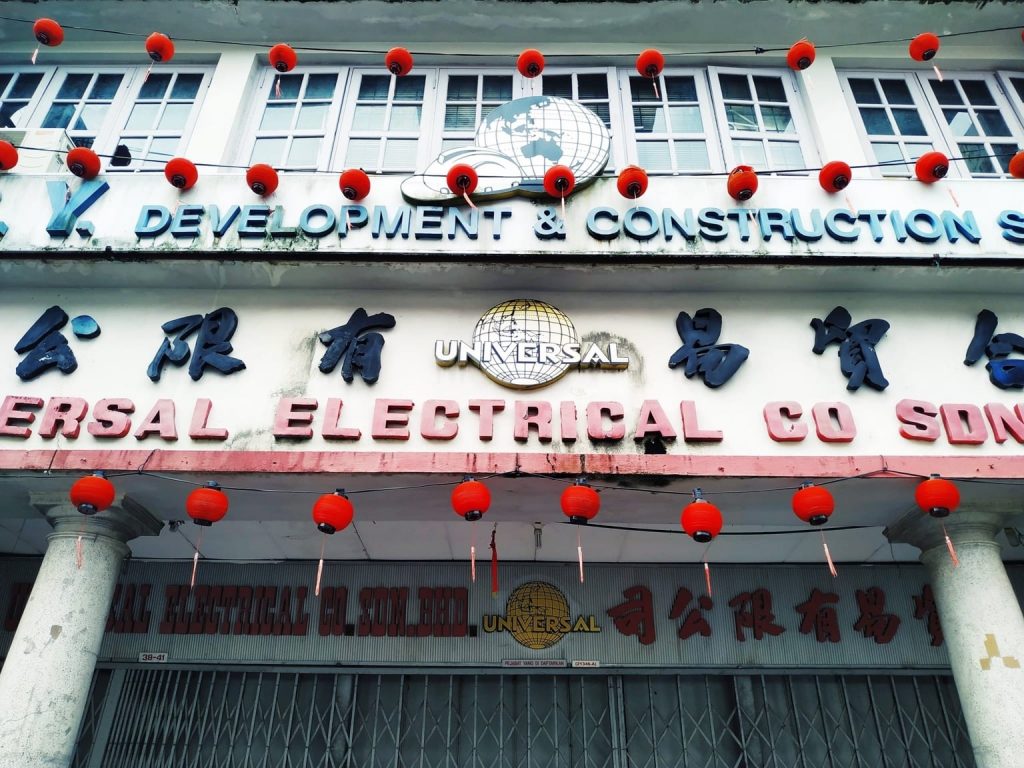 Cost Of Living
The cost of living in Kuching is really low, and it's one of the main appeals of the city for digital nomads and expats alike.
The national currency is the Malaysian Ringgit (RM). For reference, 1€ is around 4.75 RM, so we used a rough 5 to 1 estimation when calculating prices.
I discussed the apartment prices before. You can get a decent apartment for around 200-250€ per month, and a modern luxury condo for 700-800€.
A typical meal, including beverage, costs 10-12 RM (around 2-2.5€). You can have a copious dinner for two at a Sushi restaurant for around 40 RM (8€, 4€ per person), including drinks. In a food corner close to our co-working space, you can have an excellent one course meal (including beverage) for around 1.5€. Obviously, the tourist-oriented bars and restaurants near the waterfront are a lot more expensive.
As mentioned above also, the co-working places are quite affordable, especially after coming from Bali. It was a great surprise to find such a quality co-working space for such an affordable price.
Overall, life here is really affordable. And that's one of the things we like the most about Kuching. Life is so easy here. We are not interested in the cheapest apartment or eating for less than a euro. But you can live comfortably here for a fraction of what you would need to survive in Europe.
You can have lunch or dinner without needing to worry about the prices, or go to the movies with some friends and then have a beer without feeling guilty the following day.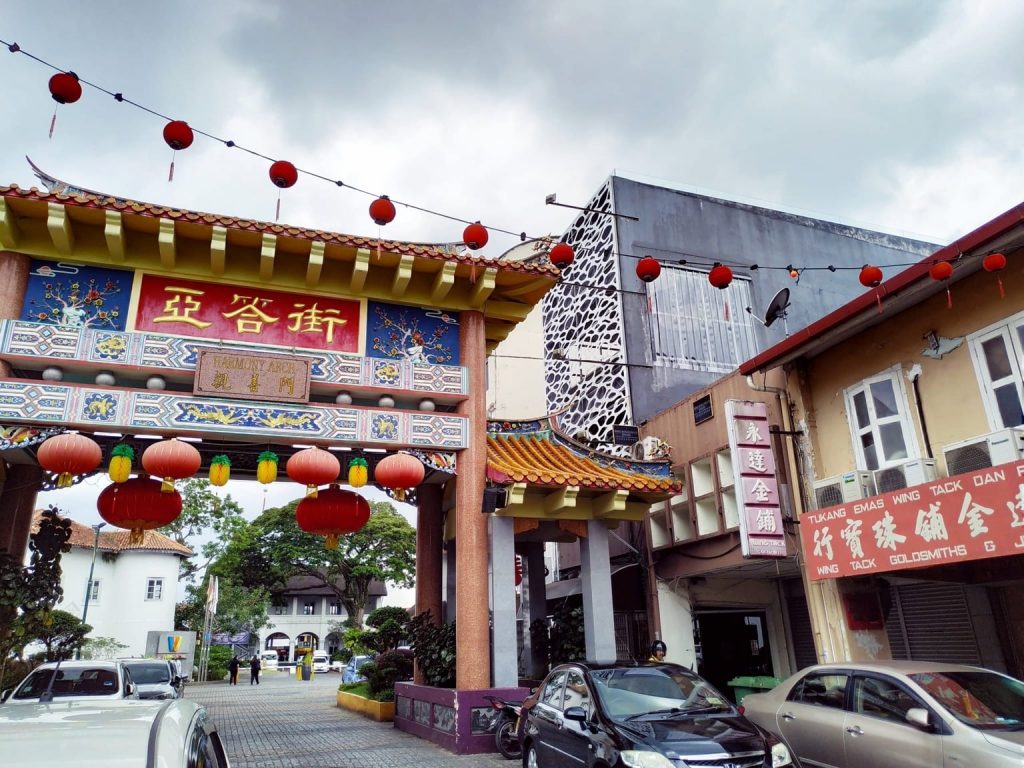 People
Kuching's food variety is not coincidental. It's the logical result of the racial, religious and cultural richness that converges in the isle of Borneo. This richness manifests in every aspect of people's lives here.
There are many different communities in Kuching: Malay, Chinese, Iban, Bidayuh, Indian… Even though the official religion of Malaysia is Islam, there are lots of Buddhists, Christians and Hinduists.
This cultural, racial and religious collage make Kuchingites very tolerant, open-minded people. All these communities live peacefully together. You can see a girl covered with veils shopping with her friend, that happens to wear a miniskirt.
Sometimes I think we could learn a lot from this tolerance in Europe, and more concretely in Spain. Here, it does not matter if you speak a different language, pray to a different god and are from a different race. They consider themselves equals.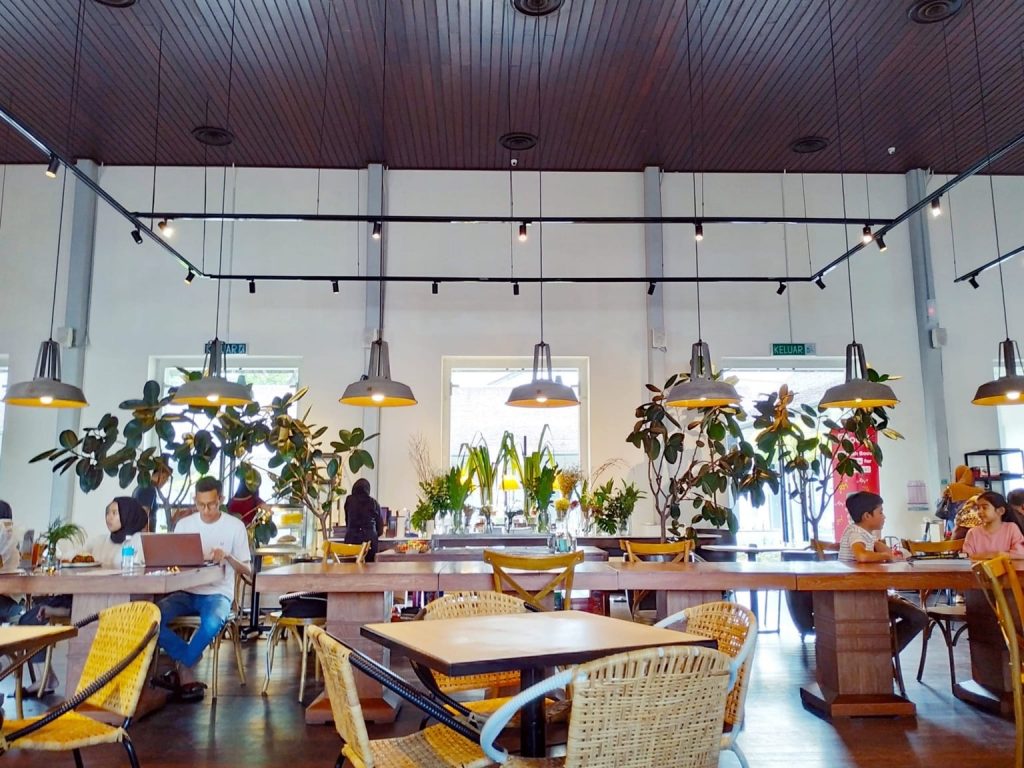 Urban Life: Bars, Restaurants, Things To Do
Let me put it straight. If you are a party animal, Kuching will disappoint you. This small city does not have a vibrant nightlife. On the contrary, soon after it gets dark, the streets become quiet and empty.
That said, there are some bars, and a good selection of amazing restaurants. Not being in our crazy 20's anymore, that's the perfect scenario for us.
… Bars, restaurants
This is a selection of the best restaurants and bars in the city, in my opinion:
Mom's Laksa: a somewhat ugly place, but they serve the best laksa in the universe for just RM10 (around 2€). Perfect for lunch or dinner.
Feast & Furious: a very unique restaurant decorated with real motorbikes and cars. Perfect for lovers of speed. They serve western-style food and beer. Somewhat touristy, prices are definitely high, around 6-8€ per dish average.
Bear garden: a nice bar with a great atmosphere, the perfect place to enjoy some beers. They serve them in buckets containing 5-6 bottles. A bucket is RM50 (around 10€).
Commons: located at the Food Court, just in front of the waterfront, this beautiful cafe offers tasty food (both local and western), superb lattes and delicious cakes. Being a touristy place, it's somewhat expensive.
Chong Choon Cafe: If Mom's Laksa is the place to go for a laksa after noon, Chong Choon Cafe is famous for its amazing breakfasts, including laksa, of course. Recommended for a Saturday or Sunday morning.
Indah Cafe: located at the heart of the Chinese neighbor, this cafe offers a cool selection of coffees, and some local food too.
Le Pau's restaurant: located near the waterfront, offers a large selection of local food. It's quite affordable, and the food is delicious. Recommended too.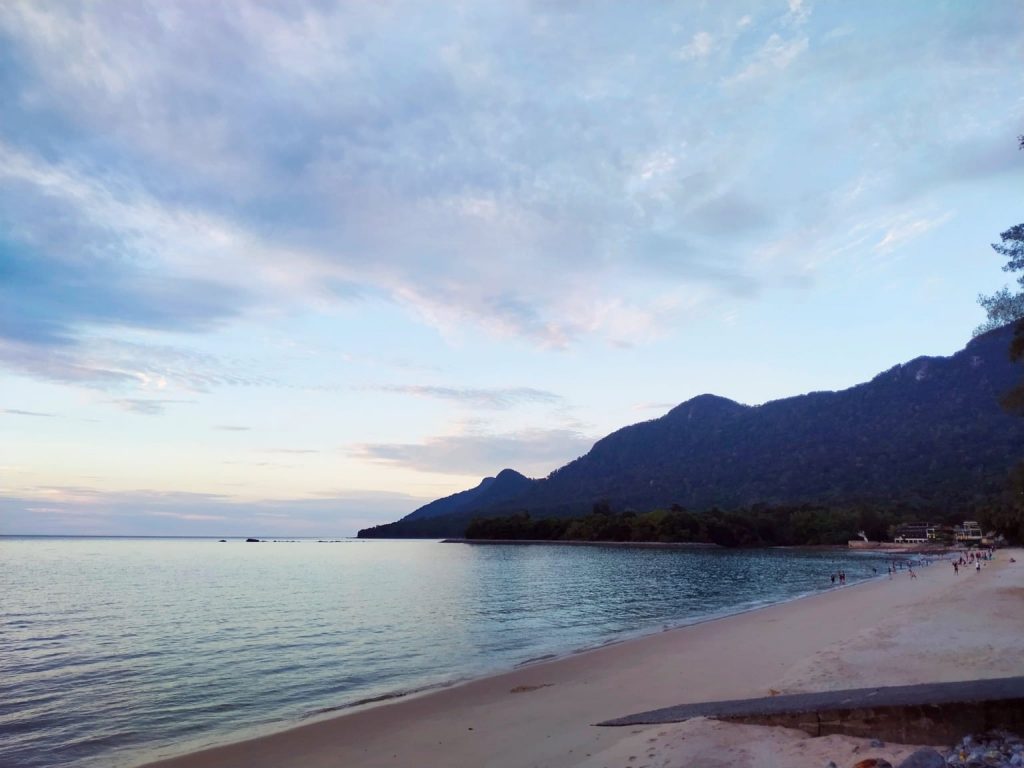 … Things to do
So is there anything else to do, apart from eating and drinking?
Well, yes, indeed. Kuching is in the Borneo island. That means the city is surrounded by amazing spots, such as the rainforests or the Bako national park. Just 45 minutes away from the city by car, you have the incredible Damai Beach and its national park also. And less than an hour from the city, you can also find Mendung Escape, a resort on top of the mountains where you can go hiking and experience waking up in a place above the clouds.
Life In Kuching for Digital Nomads, Final Veredict
I have to admit that I've fallen in love with the city. Every other place we've been in South East Asia had a strong "but". From the pollution and traffic fumes in Chiang Mai, to the suffocating tourism and lack of modern comforts of Bali, or the excess of dirt and plastic of most places in South-East Asia.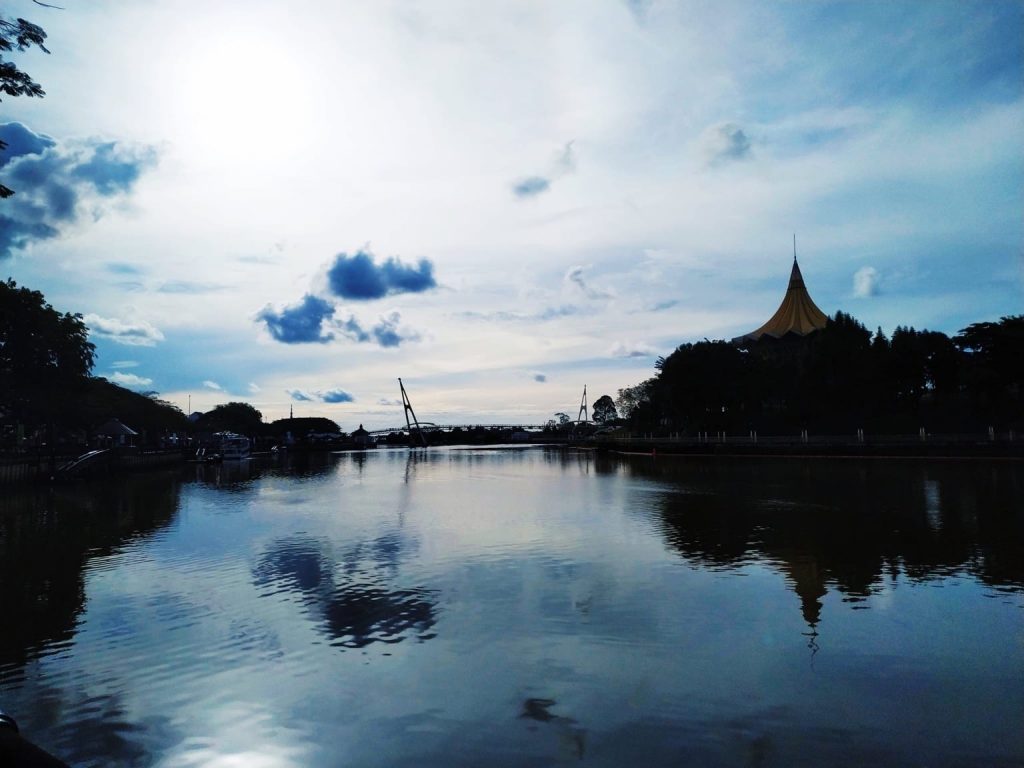 Conversely, Kuching is a clean, affordable and modern city. If you are looking for nightlife or a vibrant entertainment scene, this is probably not your place. But if you are a digital nomad looking for an affordable and tranquil place to spend some months, with good internet connection and a low cost of living, give Kuching a try. You won't regret it.
As for us, we already have plans to come back next January, to escape the European winter. Hope meeting you here!