Thoughts
Life in Bansko for digital nomads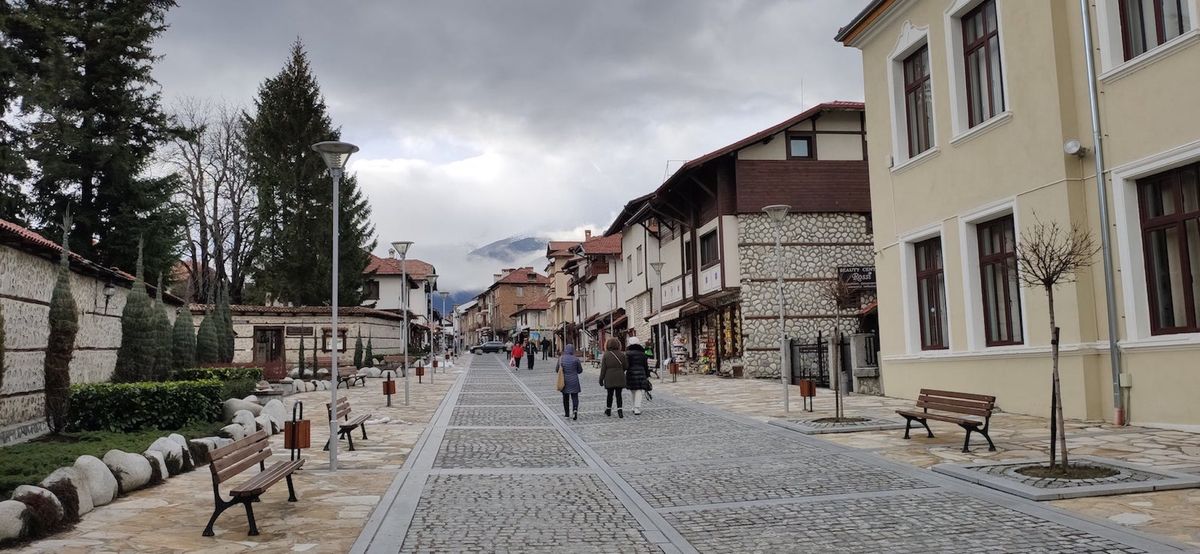 The COVID-19 pandemic forced us to travel (even more) slowly and stay in Bulgaria for longer than we initially planned. The positive side of this standstill is that it allowed us to know Bulgaria better and live in different places.
Apart from Sofia, we have visited Plovdiv, Sozopol, and Burgas, and recently we lived for a while in Bansko.
Note: most people writing about Bansko focus on their experience as part of one of the digital nomad communities around one of the three co-working spaces in Bansko. To be honest, we didn't like the idea of being tied to a co-working space or community. We prefer meeting local people and getting a real vibe of the life in a place. That's why this post may be different. If you want to know about the Bansko expat/digital nomad community, this article may not be relevant to you.
So how is Bansko for digital nomads? Well, let's see… Different people have different metrics when evaluating how good –or bad– a place is.
For context, my partner and I are digital nomads and entrepreneurs. We are in our 40's, so we are not rich teenagers on sabbatical, posting about the best beaches of Thailand on TikTok or Instagram. We need to work every day and have a medium budget.
As a result, we value living in comfortable, hassle-free apartments located in peaceful and culturally interesting neighborhoods, with access to co-working spaces or good Wi-fi connections, and a low-to-average cost of living.
You have more chances of finding us in a local restaurant or café than in Starbucks or McDonalds. We are not really interested in nightlife, but we do enjoy delving into the local culture, wildlife, and gastronomy.
Are we on the same page? Good! Let's start.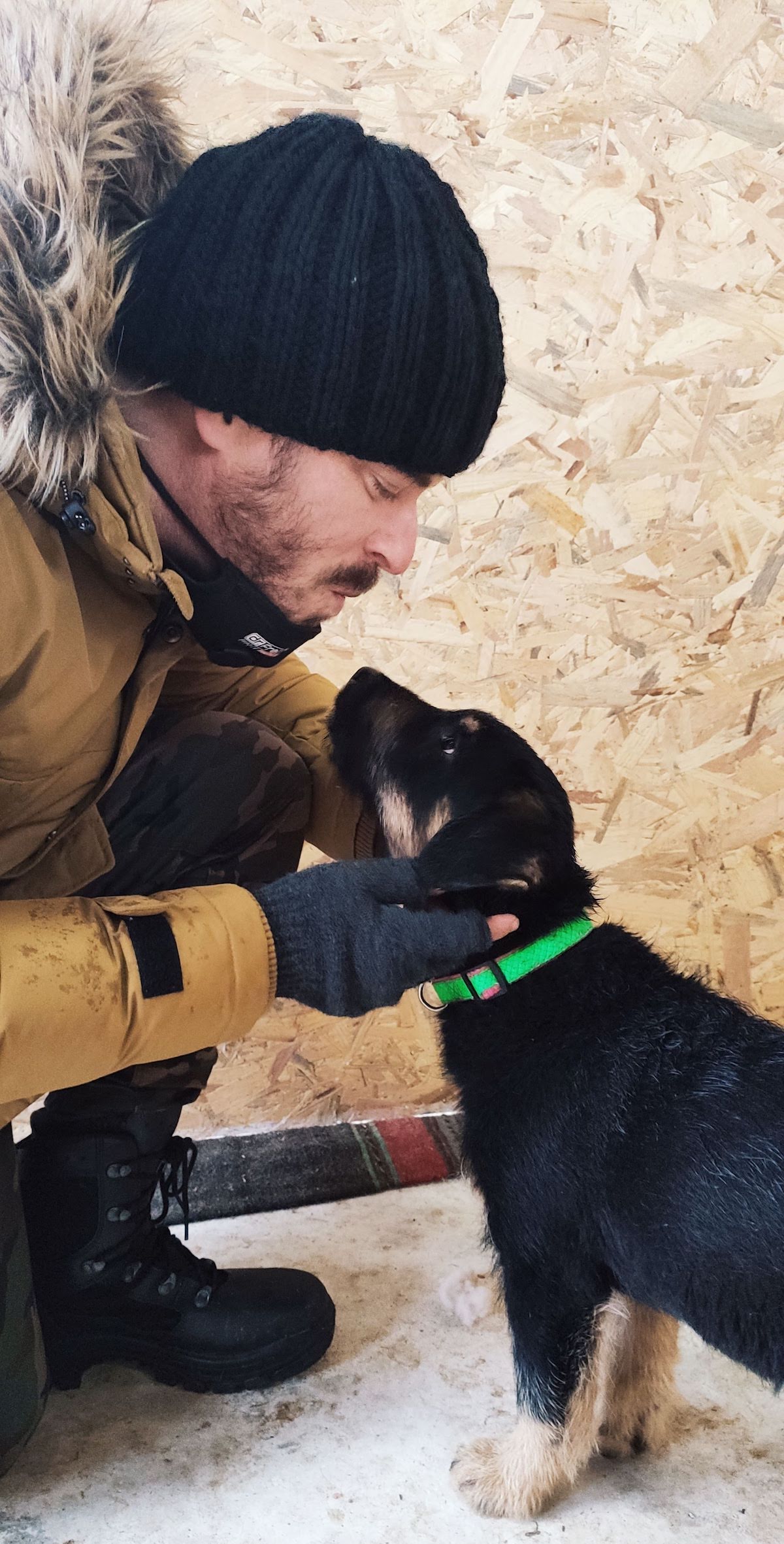 ✈️ Why Bansko, Bulgaria?
My husband is an animal lover and advocate. He got in touch with an NGO there that gets dogs out of the streets of Bansko and gives them shelter and food. They had a sponsorship program where you would pay for the vaccines of the dogs, the chip, etc, to get them ready to be adopted overseas.
We thought it was a great idea and our company officially sponsored a dog. We called her Tere (which means "hello" in Estonian).
That's how we ended up in the city.
Arriving in Bansko
There are two ways of getting to Bansko, but one of them is probably more a romantic proposal than a real travel alternative. I am talking about the train to Bansko. Even though Bansko is just two hours away from Sofia by car, it takes the train around seven hours to get there.
When I asked why, I was told there is a layover in another city, and you have to wait there several hours before getting the second train to Bansko. I've been also told (I don't know if that's true or not) that the second train goes so slow that young gentlemen jump out of the train to pick up some flowers for their lovers waiting for them in Bansko before getting in again. True or not, we ruled out the idea of going there by train.
There's no airport in Bansko, so the other alternative is going by bus or car. The bus is indeed pretty cheap, it leaves from the Serdika bus station in Sofia's old town and gets to Bansko in three hours.
However, with the rampant coronavirus pandemic in Bulgaria and the absolute disregard for safety measures here, we opted for renting a car. It was obviously more expensive, but you can't put a price tag on your health.
Regardless of how you get to the city, it is so small that you don't need to get a taxi or anything like that. You are already there.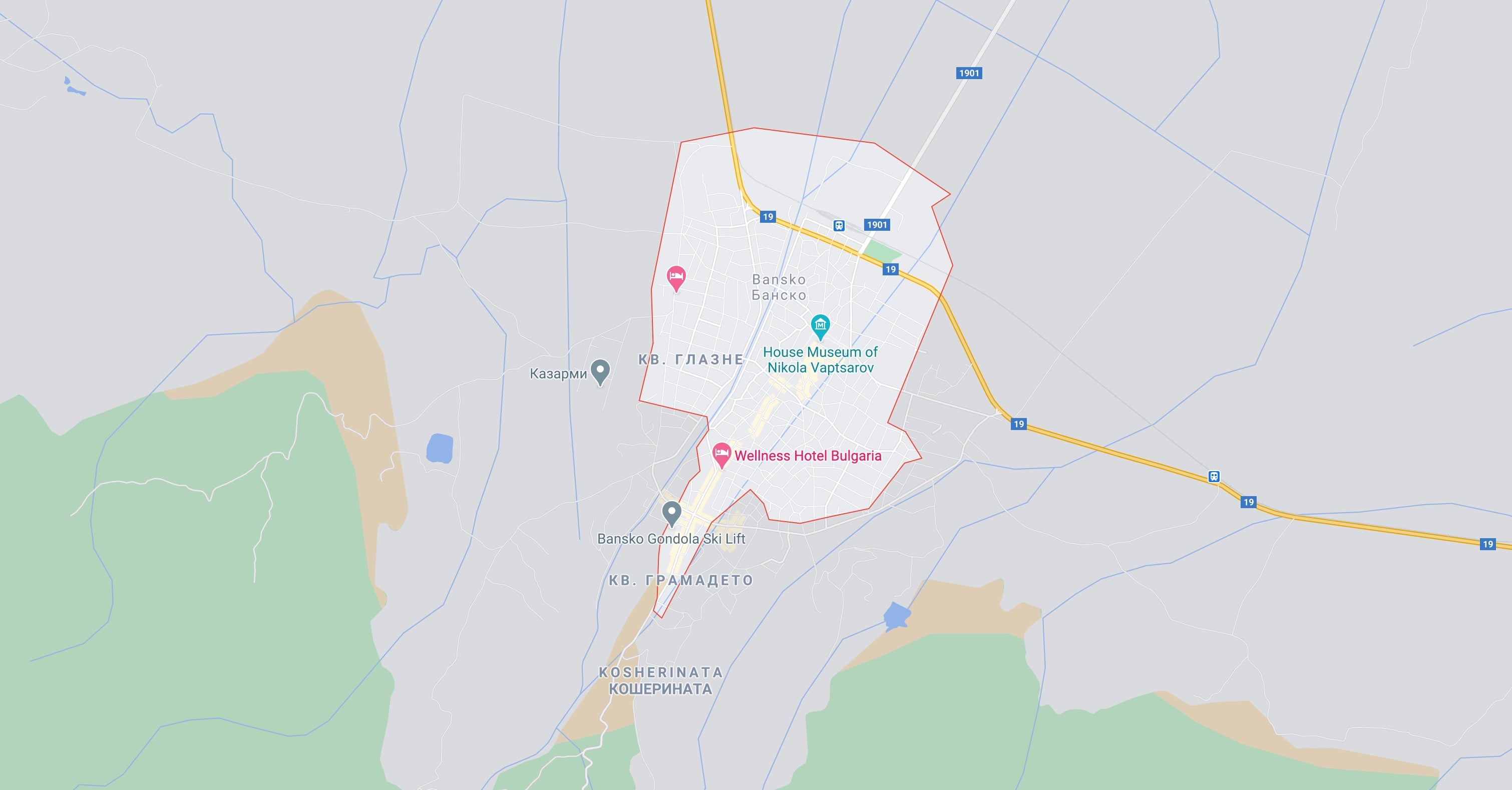 The city and its surroundings
Bansko is a very small village of around 10,000 souls. There is a teeny old-town around the main square, from which the whole village unfolds. Then, as you would expect from a ski resort, there are plenty of hotels and apartment around, in the typical ski resort fashion.
Being so tiny, there are no differentiate neighbors or anything like that. Still, I would say the best parts to live in would be the area close to the Gondola Lift and the one close to the main square, depending on whether you like skiing or not. I don't (I'm such a clumsy duck raised in a warm Spanish coastal village), so for me the best area would be near the main square. That's also where the most interesting landmarks, restaurants and cafes are.
Still, you can't choose a "bad area" to live in when you consider that the main square may be 10 minutes away from your apartment, regardless of where you live.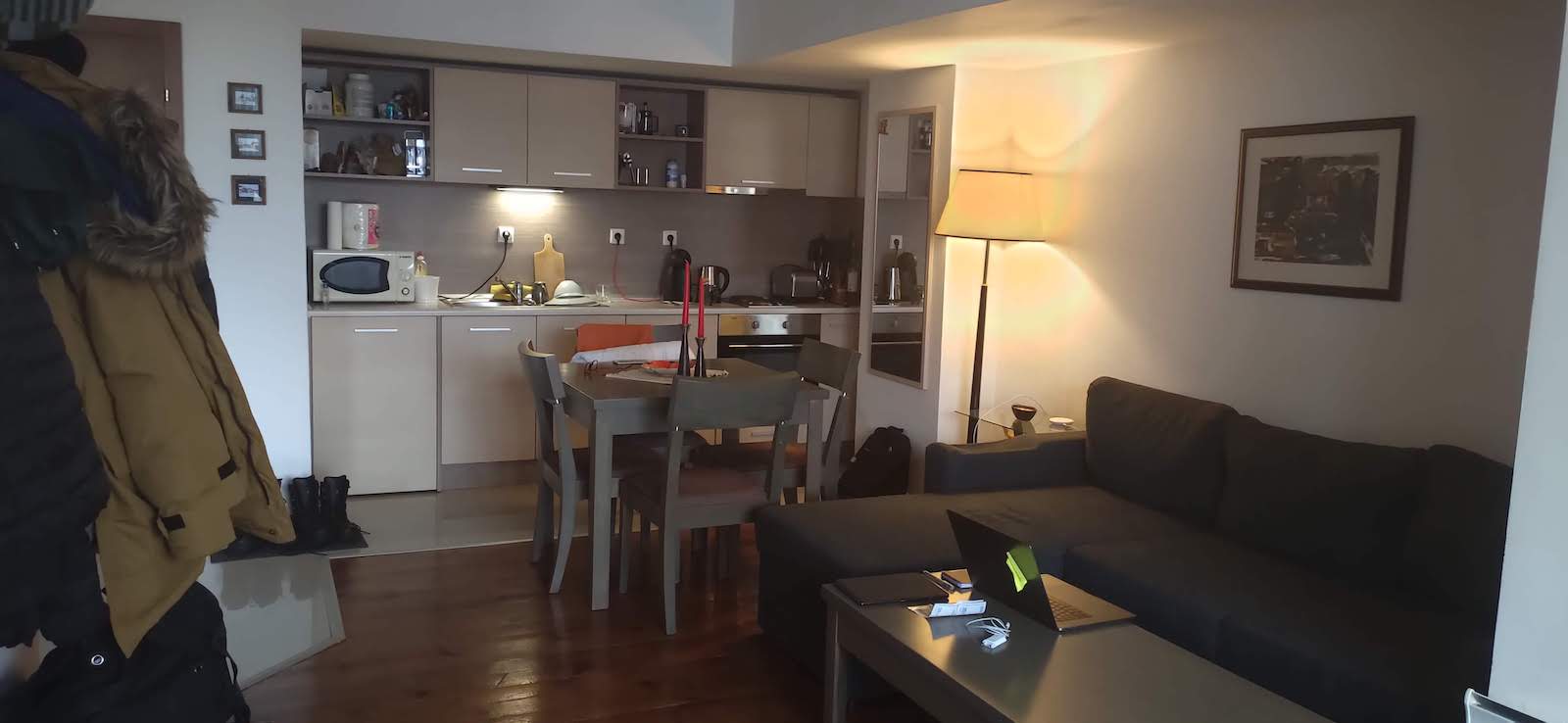 Accommodation
To say that accommodation in Bansko is cheap will be an understatement. You can rent a studio here for around 100-150€ per month if you are on a budget, perhaps even less. As I will mention later, this is one of the reasons why Bansko is becoming so popular among digital nomads.
Our apartment was a bit more expensive, but still super cheap. It had one room, a small space to work, kitchen, a comfortable sofa, superb heating, good WiFi… Not bad for the price we paid for it.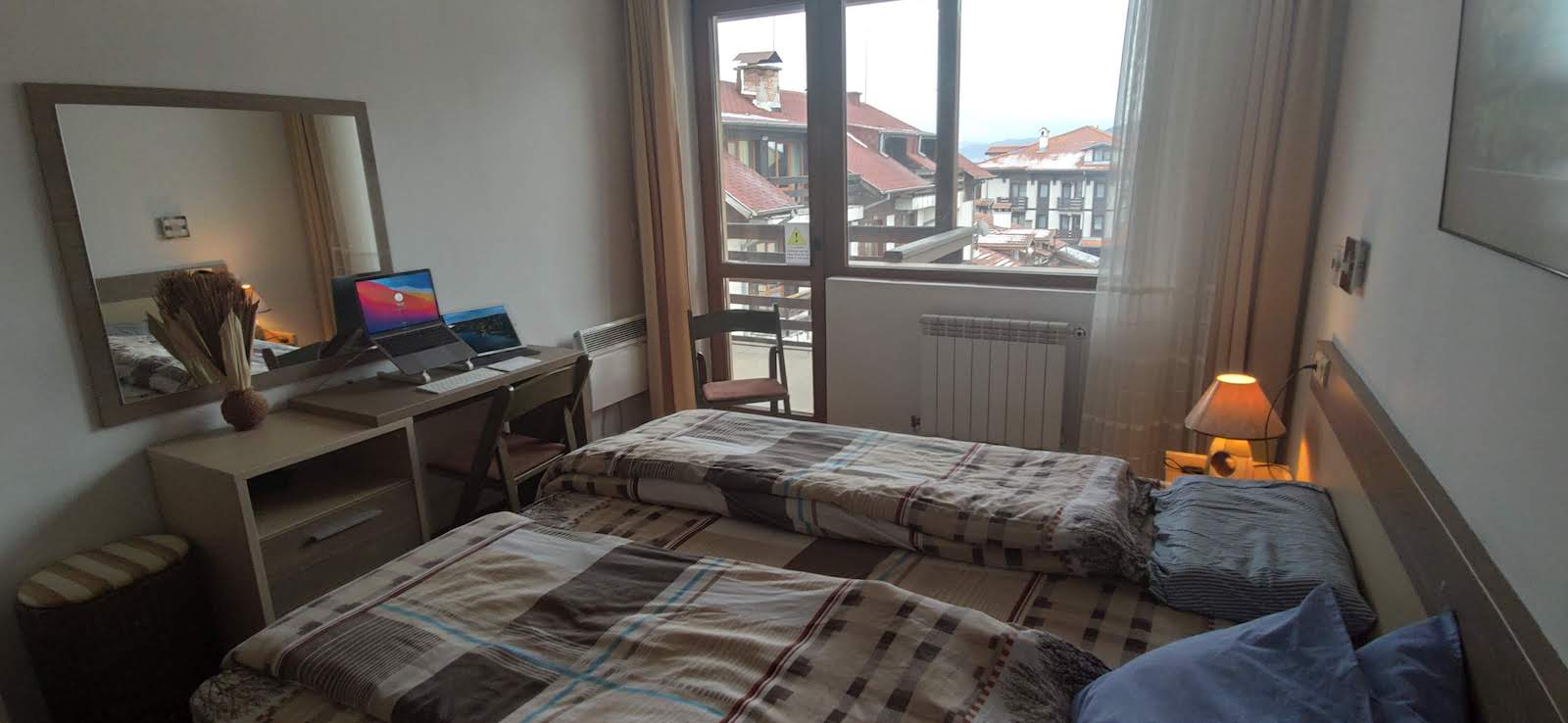 Noise, Traffic, And Safety
There is almost no traffic or noise in Bansko. That's the part I enjoyed most, the silence. No impatient honking, speeding cars, or traffic noise at all. The village is restful, quiet and tranquil. Perhaps too much.
Of course, this is a safe city. There are only two types of inhabitants here: old people from the village, and a small population of digital nomads. You can leave your computer at the cafe, go home, and get back the following day, and I am sure it will still be there.
In that sense, Bansko is ideal if you are looking for a peaceful spot to spend some months without worrying about anything. There's just the mountain, you, a small digital nomad community, and some cafes and bars.
Public Transportation And Walkability
Apart from regular bus lines to other cities and villages, there's no public transport in Bansko simply because there is no need for it. You can cross the entire city by foot in 15 minutes, tops. There are a few taxis, but they are mainly for tourists willing to leave the city or visit the mountains or nearby villages.
As such, it is a very walkable town. Being close to the main square, you will get to most interesting places in 2 minutes.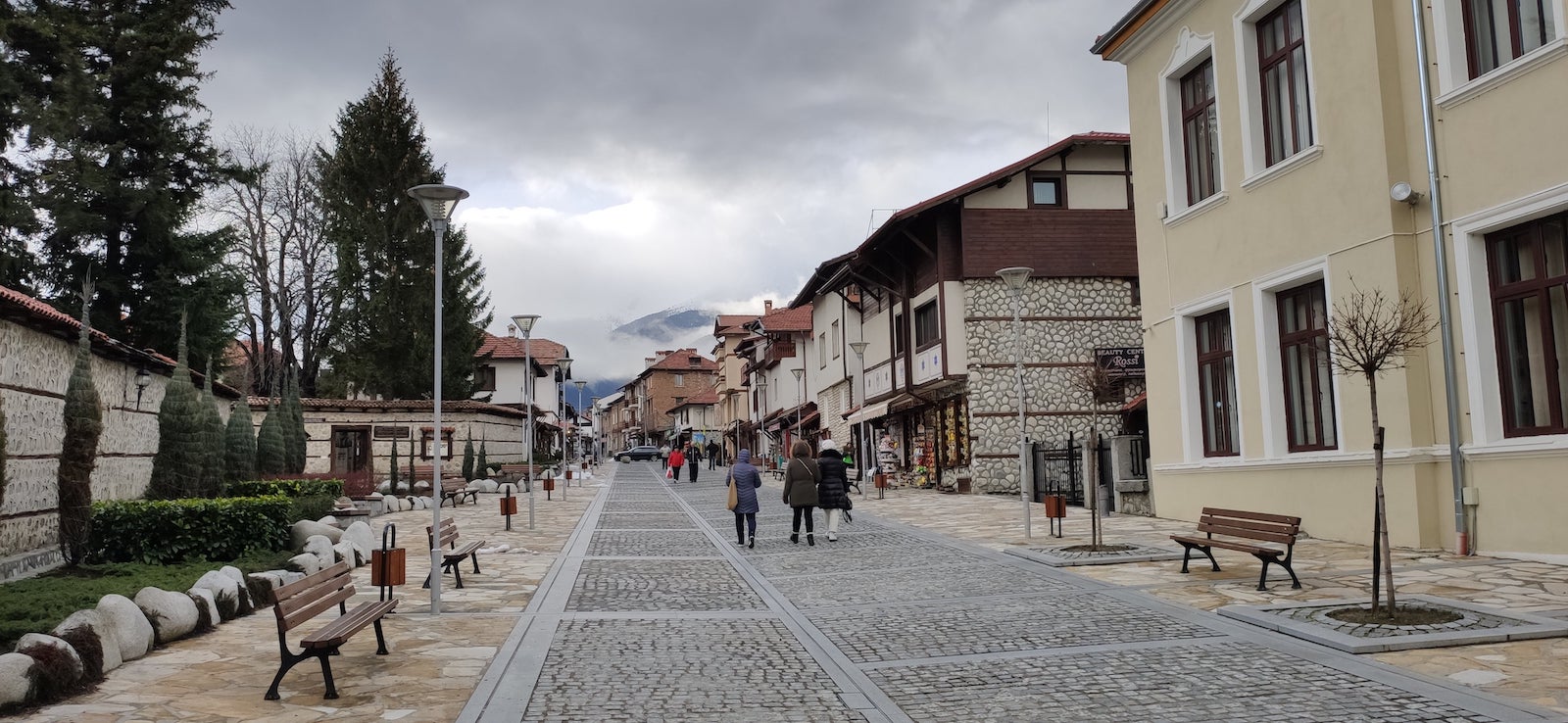 Tourism And Gentrification
Even though Bansko is a ski resort, and can get somewhat busy(-ish) during the winter season, it is by no means Ischgl. There can be a higher flow of people coming to the village to ski, but it is not what I would call overtourism.
There is an emerging digital nomad scene in Bansko, heavily promoted by the co-working spaces of the city. The affluence of digital nomads is, however, limited, so this is not really relevant either.
For the most part, Bansko is a relaxed mountain ski resort, free from mass tourism.
Food
The food of Bansko is pretty standard Bulgarian food. You can refer to this article I wrote about living as a digital nomad in Sofia for more information. Perhaps you can find a lot more "mountain food" here (some stews and plenty of soups), but for the most part it is still your typical (and tasty) Bulgarian food.
You can expect to find the typical skara, banitsas, ayrian, and tarator here, alongside a selection of more international food (for tourists).
Weather
Even though Bansko is a ski town located at the foot of the Pirin Mountains, in the Balkans, the weather here is not so cold. Winters are soft, rarely getting below -10 °C. We were here in winter, but summers are supposedly soft, hardly ever reaching 30°C. It was not so cold during December/January, not at least like in Riga or Tallinn.
Supposedly, the best time to visit the village is during the summer months. That's also when you can find less tourism and more digital nomads around.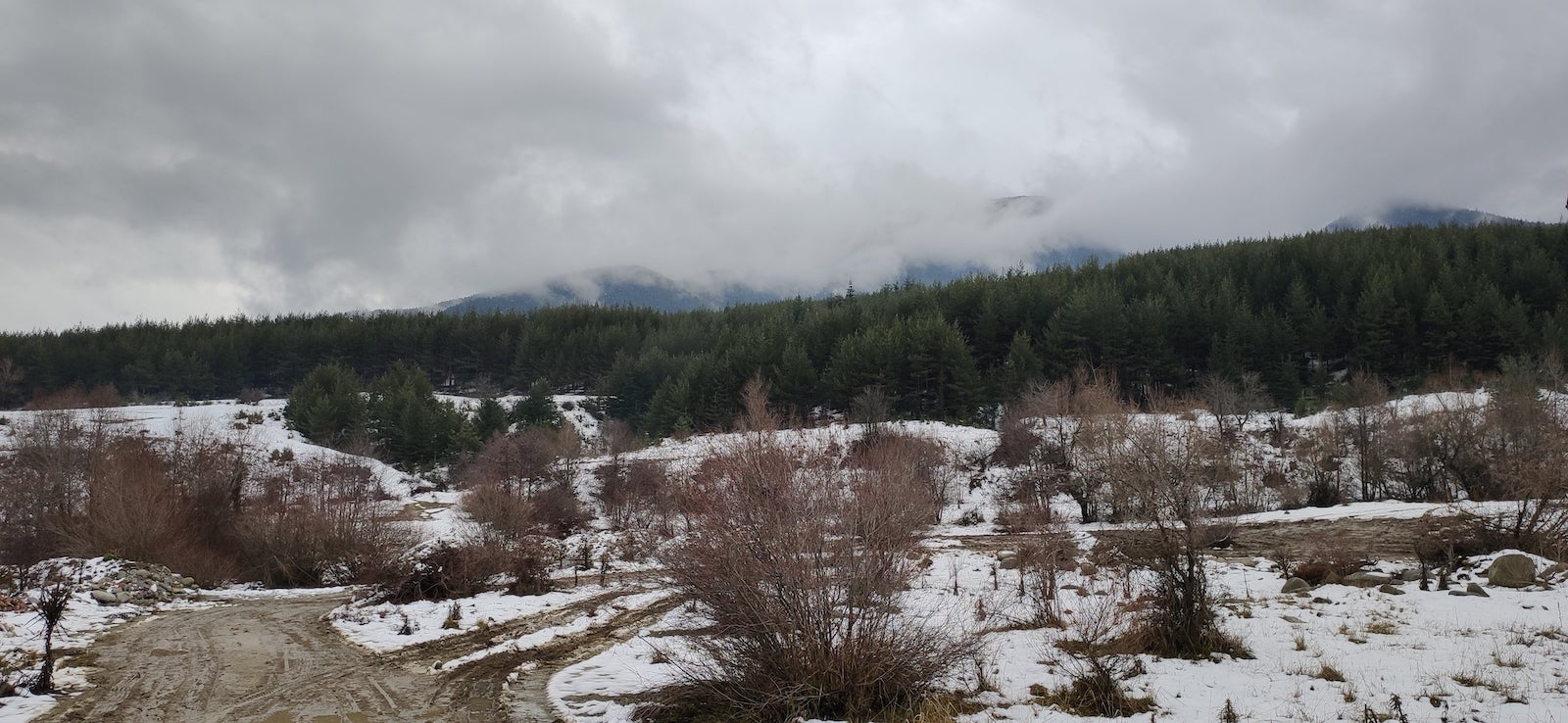 Places To Work
It is surprising that a small town such as Bansko has nothing less than three co-working spaces, so you have plenty of options to work from. Due to the COVID-19 pandemic, we chose to work from home instead.
People in Bulgaria (and sadly most nomads here, especially Anglo-Saxons) don't care at all about coronavirus, so nobody is wearing a mask or keeping the security distance. If you are a negationist, though, you'll be delighted in Bansko (or most of Bulgaria for that matter).
For what we've heard from other nomads, unlike in Sofia, co-workings in Bansko are oriented toward a foreign market (i.e: digital nomads), so they are "proper co-workings", meaning, they work like you would expect from a co-working space. An open, easily accessible place where you can enter and ask for information about pricing, hours, etc.
This also means that the co-working spaces here are expensive. Your co-working fee can be actually higher than the price you pay for your apartment.
There were some cafes here and there, but they didn't seem specially well suited for work. Depends a lot on your tastes I guess.
Hospitals And Clinics
Fortunately, we didn't need to visit the doctor while we were in Bansko. There are a few clinics in town (the Bansko Medical Center, close to the lift, and the Blagoveshtenie Medical Center), but no hospital.
There is also a Emergency Ward near the Park Hotel Gardenia, so you can go there in the case of an emergency (or call 112). For serious injuries or conditions that require hospitalization, you will need to go to the neighbor town, Razlog.
Cost Of Living
So we've come to the reason why Bansko is becoming so popular among digital nomads. The cost of living. Life here is ridiculously cheap, probably cheaper than most Asian nomad hubs such as Bali, Bangkok, or even Chiang Mai. You cannot possibly rent an apartment in any of these places for 100€ a month (unless you want to make friends and share your food with rats and cockroaches).
I already talked about the price of an apartment. But apart from that, life is very cheap. Daily menu prices range from 2 to 6 euros. Yep, that's right, you can have lunch here, including a drink, for just 2-3€.
All things considered, you can easily live here with just 250-300€ a month (including everything), and I am being serious.
And that makes it a perfect spot for budget nomads and backpackers. You get the prices of Asia (and even cheaper apartment rents), only, in Europe. If you are European or come from another European country, your flight tickets will be in the range of hundreds of euros instead of thousands.
If you are starting a project and you need a super cheap place to focus on the business while saving money, this may be a good spot.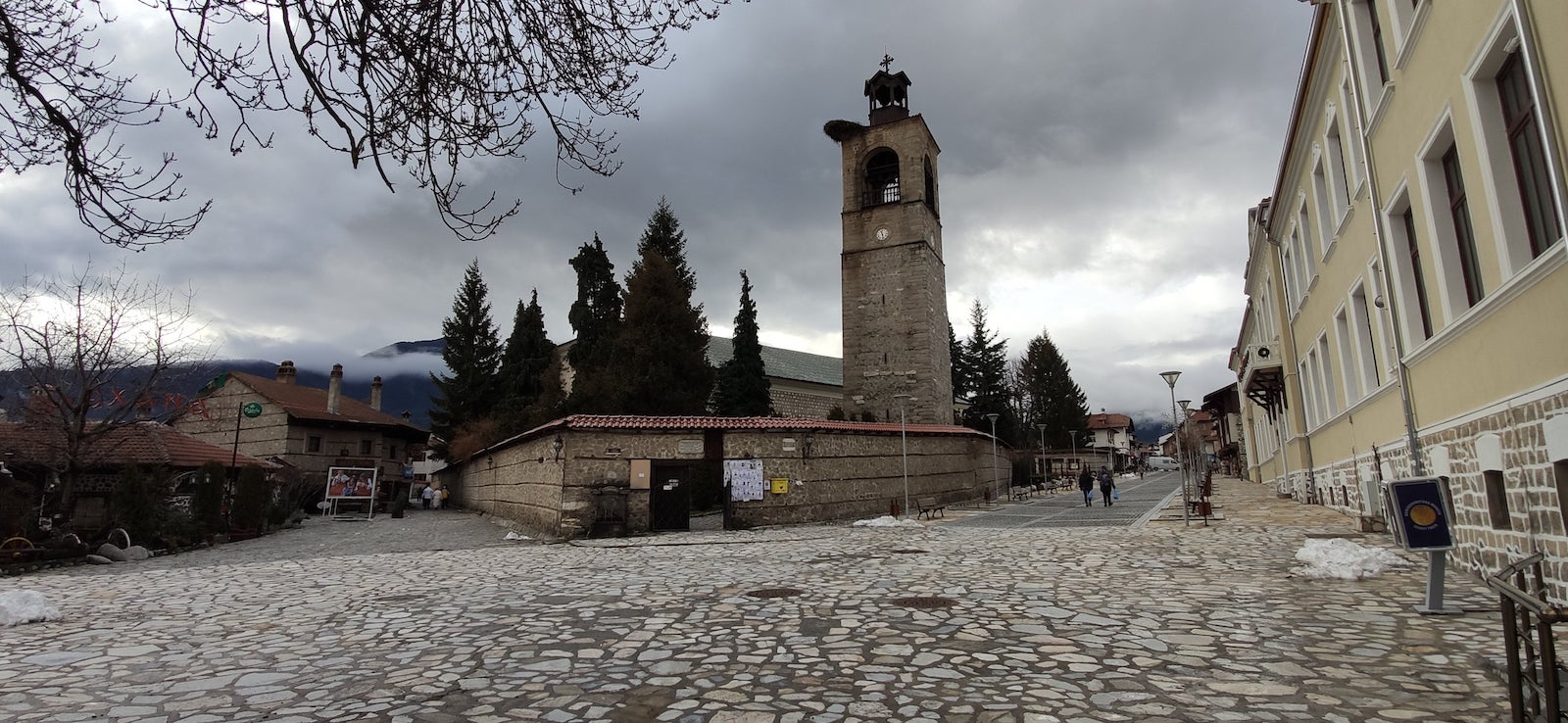 People
People here are, as you would expect, very traditional, even more so than in Sofia. They are also kind and curious people. They are used to tourism, and they are starting to get used to these "weird foreigners that arrive when there's no snow with their computers". It is an aged population, though. Most young people here leave to Sofia or another bigger city.
Our experience in that sense has been quite positive, but I don't see this as a place where I can make many local friends. Most probably, when you are here, you will meet mainly expats, nomads, and other foreigners.
Urban Life: Bars, Restaurants, Things To Do
Let me be candid here: there's not a lot to do in Bansko. I mean, apart from hiking, skiing, and other outdoor activities, there's not much going on in this small town. This is not surprising: it is a small town in the mountains. If you are expecting to go to an alternative theater, ride a electric scooter to the park to do some callisthenics, party in a modern bar or disco, or visit a fascinating contemporary art museum, Bansko will disappoint you.
… Bars, restaurants
There are some good traditional restaurants in Bansko. Due to coronavirus, we didn't visited any, but we ordered food from many of them 😋. Our recommendations would be:
Mamin Kolo (Мамин Кольо): a nice traditional restaurant with daily menu and home delivery. They have a thick schnitzel with fries and sauce for 2,25€ that is just amazing. There's a guy that does not speak English there, so if you want your food to be delivered in time, make sure you speak to the girl who does speak English 😂.
The House Bansko: if you are into something more sophisticated than your skara meat and yogurt soup, but still affordable, this is your restaurant. A generous selection of lush dishes, daily menu, and home delivery too.
There are some bars, especially close to the main square, where you can have a coffee, hang out with other nomads, or work with your laptop. Unfortunately, due to the pandemic, we were not able to enjoy them, but we still hanged around with some friends who live in Bansko now.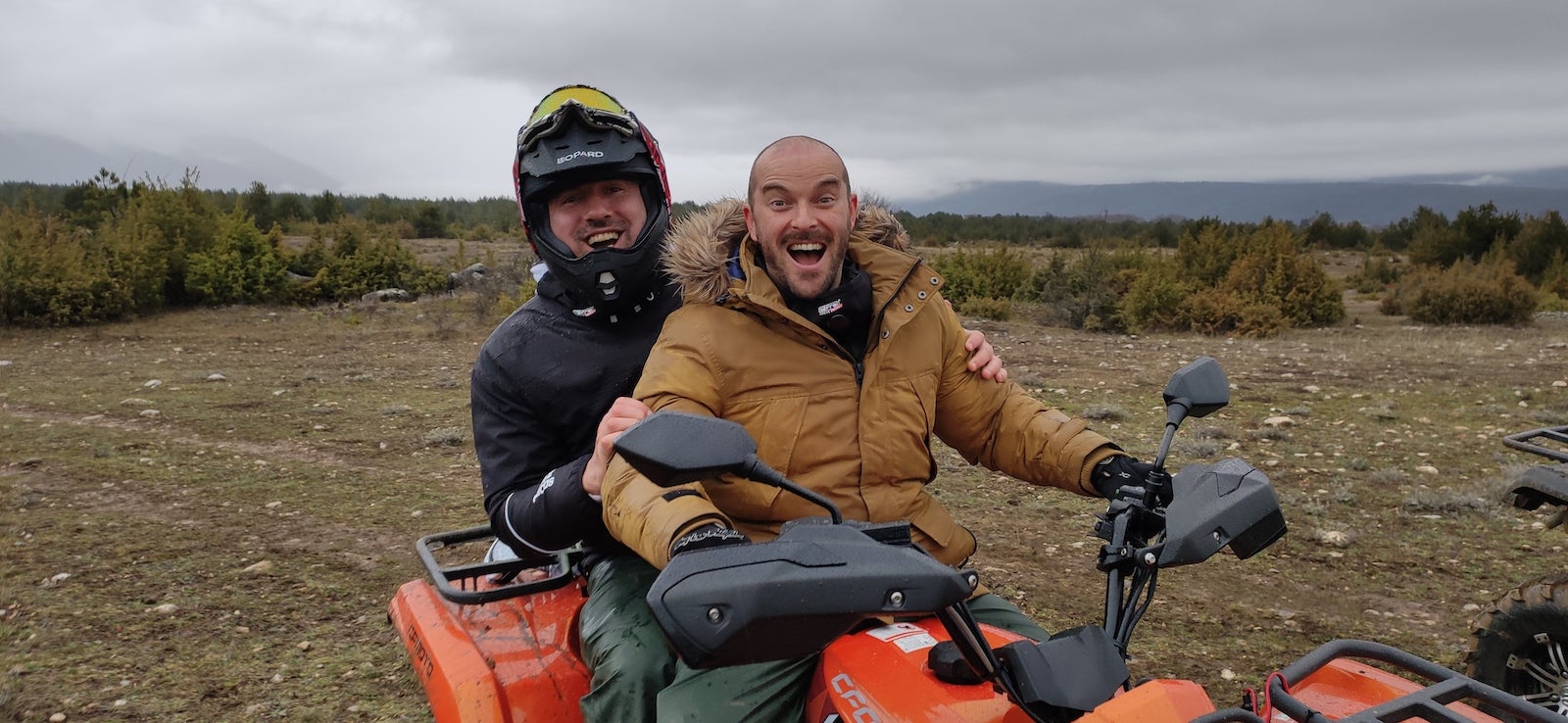 The mountains, Pirin, and the forest
If you love skiing, and you visit Bansko during the ski season, you will be delighted. It is a ski resort after all. If you (like me) don't like skiing, there are still many of things to do. Bansko offers a lot of opportunities for nature lovers.
For starters, you can go hiking. There is a wide selection of routes you can walk, but the most beautiful ones are in the Pirin forest. If you don't have a car, there are plenty of hiking routes that start close to the Gondola lift.
There are other activities you can do outdoors. We tried riding a quad for the first time and we loved it.
… And things to do?
Unfortunately, that's mostly all. There's not much else to do here. That's the main reason I am not crazy about Bansko. Even if there are many things you cannot do right now due to coronavirus in Sofia, there are still plenty of parks, you can rent a bike, have tacos on the street, or order a latte to go while you visit the beautiful old town.
If you join one of the co-workings, I know they organize groupal activities regularly, but still, there's only so much one can do there.
In Bansko, it's you, the co-working community you may choose (if you choose one at all), and the mountain. I know I would be bored as hell if I spent there more than a month.
Life In Bansko for Digital Nomads, Final Verdict
Following my tradition of disliking overly hyped digital nomad spots 😂, I have to say I am not sold on Bansko. I pretty much prefer Sofia. Being a mediterranean guy, I would rather spend time in a coastal village such as Sozopol than in Bansko, but that's just a personal preference.
If you, like me, miss urban elements such as cafes, bars, alternative theaters, museums, parks, or art galleries, Bansko may me a little bit boring for your tastes. It is true that Sofia is just 2-hours away by car, but that distance is enough to prevent you from enjoying those things on a weekly basis.
To be honest, apart from an excellent marketing campaign from the co-working spaces of the town (no doubt they are doing an excellent job gathering a nomad community there) and the fact that it is super cheap, I fail to see what the fuss is all about. The capital of Bulgaria is affordable enough, but you have everything there.
Still, a place for you to consider if you are in a budget, and need a quiet spot to spend some months in Europe.