After a long and dark winter in Estonia, with a lot of work and quite a high level of stress, we moved to Lisbon looking for a warmer place and a change of scenery to help us keep our sanity. We needed sunlight, good food, and a more laid-back place to work. We've been here since March, and plan to stay here for some more time.
So is Lisbon a good spot for digital nomads? Well, let's see… Different people have different metrics when evaluating how good –or bad– a place is.
For context, my partner and I are digital nomads and entrepreneurs. We are in our 40's, need to work every day, and have a medium budget. As a result, we value living in comfortable, hassle-free apartments located in peaceful and culturally interesting neighborhoods, with access to co-working spaces, good Wi-fi connections, and a low-to-average cost of living.
You have more chances of finding us in a local restaurant or café than in Starbucks or McDonalds. We are not really interested in nightlife, but we do enjoy delving into the local culture, nature, and gastronomy.
Are we on the same page? Good! Let's start.
✈️ Why Lisbon?
Last winter in Estonia was the most stressful period of my life (that I can remember at least). Not everything was negative, of course. As the company was growing, we moved to a new office (which was beautifully decorated, startup-style), I was able to work hand in hand with the team, especially with our amazing CTO, and enjoy the occasional dinner or celebration.
However, it's also been very taxing for us. We needed a change of scenery. Somewhere sunnier, warmer, and more relaxed. Enter Lisbon, Portugal.
We initially found an AirBnB in Belem (which is just in the outskirts of Lisbon) and looked for a more permanent place. We soon realized it was going to be difficult to find a place in Lisbon that was affordable for us. We considered less-expensive cities such as Porto or Aveiro. Fortunately, almost at the last minute, we found an apartment we could afford… ish. I'll tell you more about Lisbon's apartments down below. But first things first.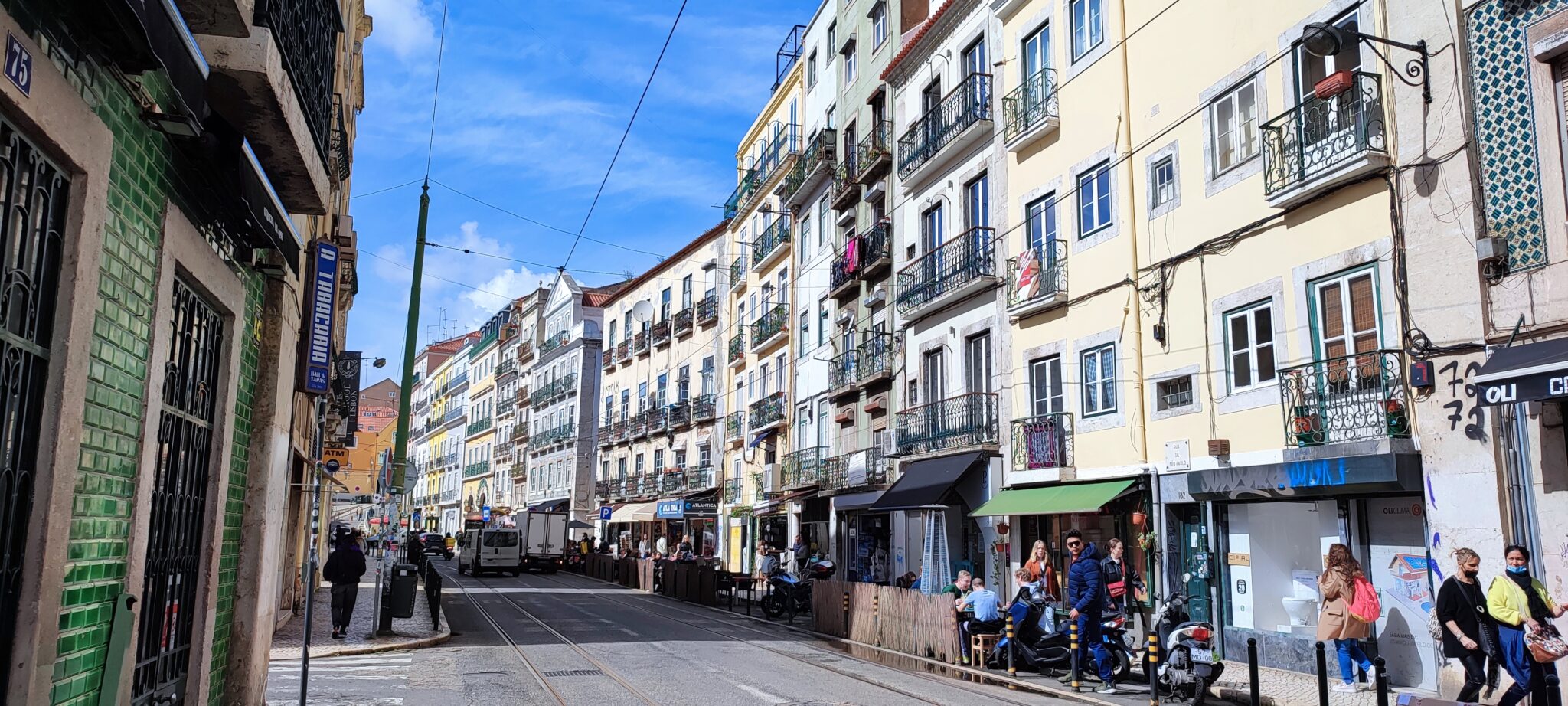 Arriving in Lisbon
Lisbon is very well connected by plane. It has become a hotspot for nomads, expats, and of course tourists lately. Once you arrive, you can get to your apartment via public transport, ridesharing apps like Uber or Bolt, or an old-fashioned taxi (if you have the stomach).
Lisbon airport is small but somewhat confusing, and it is easy to overlook the right spot to wait for your Uber driver. After leaving the gates, turn right. You will go slighly down and you will see the exit doors, but don't go through them. That's departures (saidas).
Instead, turn right just before the doors and you will see the mechanic stairs taking you to arrivals (chegadas). Take them, and then exit to your left, cross the street and you will see an area with a lot of people waiting to be picked up by a car. That's the right spot. Just wait there.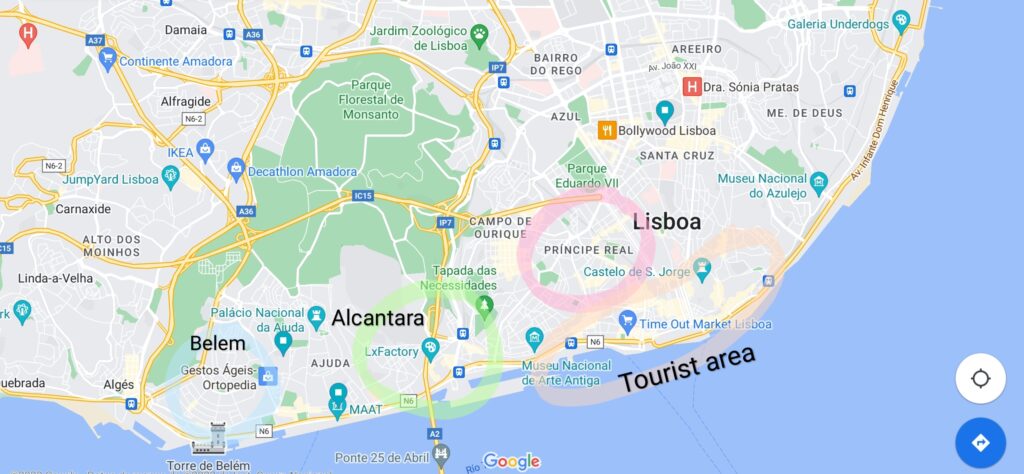 The city and its surrounding
Lisbon is a diverse city with wildly diverse neighbors. The one you choose would greatly influence your experience of the city.
Unless you are in your 20's and all you want to do is party all night (and have a high tolerance to noise), I'd recommend you to avoid the most touristic areas, including Baixa-Chiado, Barrio Alto and Alfama (I know, that's probably where you've been told you should stay). If you want to get to know the real Lisbon, even slightly, I would stay away from Santos too (you'd harly have the chance of hearing Portuguese there). Belem, while quite touristic also, is a bit more laid back, but the apartments are small, old, ugly and overly expensive.
Depending on your budget, if you are going to stay for a decent amount of time (we are talking about at least one month or more) my recommendation would be Alcantara (for small-to-medium-size budgets) or Principe Real (if you are "in the money" :).
Of course, you should visit and experience most Lisbon neighborhoods. The whole city is like a small village that grew to become a big city while still keeping its ancient charm, and each area has its own character.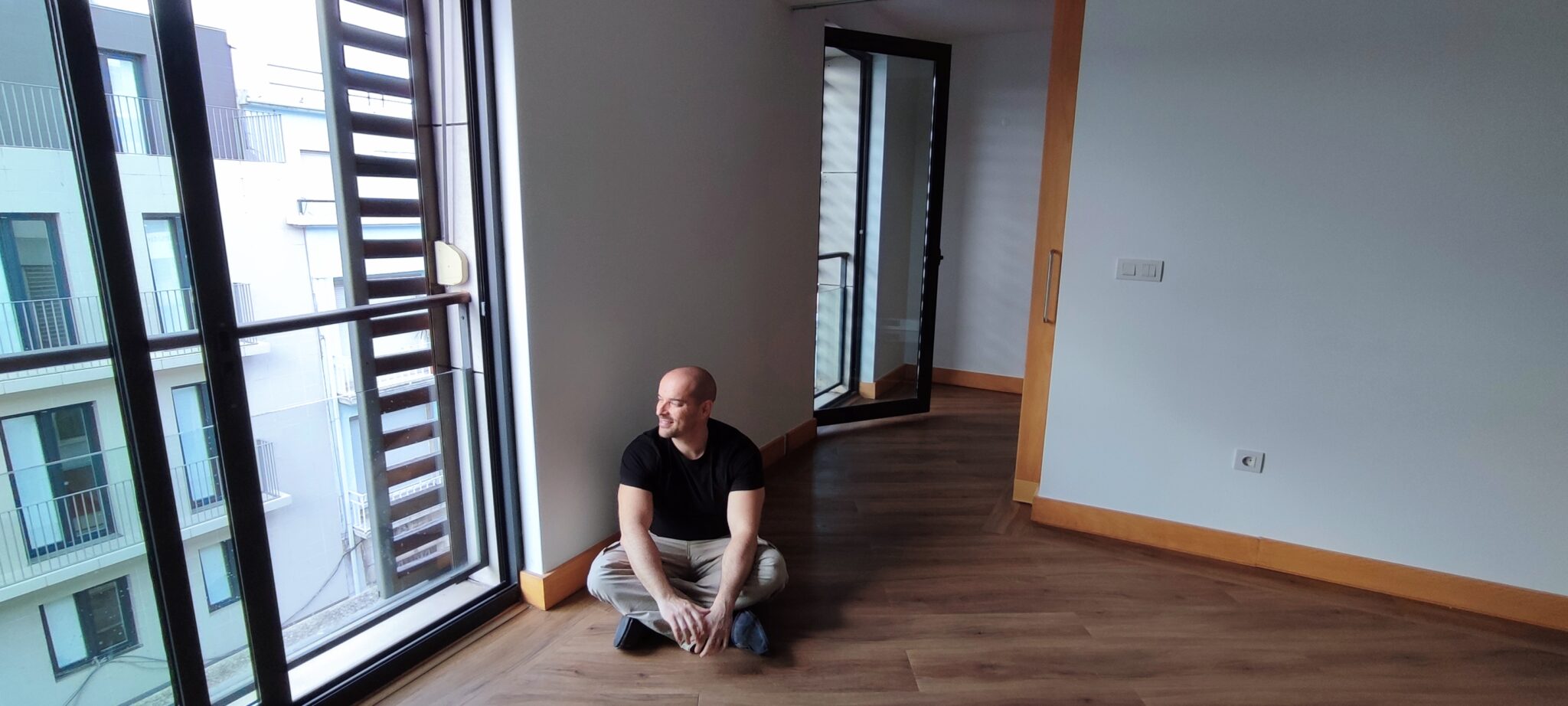 Accommodation
The main problem of Lisbon, accommodation. The apartment prices are ridiculously high. This may have to do with the fact that Lisbon has been declared "one of the best spots to retire" for Americans or that it has become a touristic hotspot. Whatever the reason, real estate here is crazily overpriced. This includes sale prices as well. We've seen pretty mediocre 70 square meter apartments listed for 1.5-1.7M euros. For that price, you can literally get a mansion in the UK or the US.
If you are just coming for a couple of months, stay away from the summer season. You won't get able to get anything decent (meaning, an apartment with windows, running water, and furniture of this century) for less than 2,000/mo. Spring or autumn are much cheaper and the weather will still be good.
We spent one month looking for an apartment we could afford, almost giving up and deciding to move to Porto, Aveiro, or another less expensive area.
The prices on AirBnB and similar platforms (Spot A Home, Uniplaces) are over the roof, and Portuguese people are not usually open to negotiation. If you want to get a good deal, you will have to look in local websites such as Idealista.
The main problem with those platforms is that the lessor expects you to be local, have a stable job (and payrolls to prove it, ideally from the government), and a Portuguese guarantor. If you don't have any of that (like us), get ready for a lot of rejections, hard negotiations, and having to pay 6 to 12 months of rent in advance (plus a 1 or 2 month deposit).
Be aware also of apartment scams. Once, we were contacted by a guy who wanted us to pay for the apartment without seeing it first. The owner alleged that he was out of the country and thus couldn't show us the apartment but he would give us the keys after the payment. This is a well known scam. Another guy was listing the apartment for 900 euros/mo, and when we arrived he told us that he had an offer for 1100 euros, to force us to up the ante. A week later, the flat was still listed on idealista for 900 euros.
We were finally able to find a decent apartment, small but modern, with everything included (except for the internet connection) for just 1000 euros/mo. There was one caveat though, it was not furnished. As slow travellers, we intend to stay here for a relatively long time, so we decided to consider it an extra expense.
We calculated the cost of buying the furniture in Ikea, divided it by the number of months we were going to stay, and the final result was an increase of 200 euro per month, for a total of 1200 euros/mo. We weren't seeing any decent furnished apartments for less than 1800 euros/mo (plus utilities), so that seemed like a fair price by comparison. And we can always sell the furniture on second hand websites later to recover some of the money.
As I mentioned, due to the fact that we didn't have a guarantor, we had to pay six months in advance and leave a two-month deposit.
All things considered, we were quite lucky to find this place. If your budget is low to medium, or you are looking for a stress-free renting experience, there are much better places than Lisbon.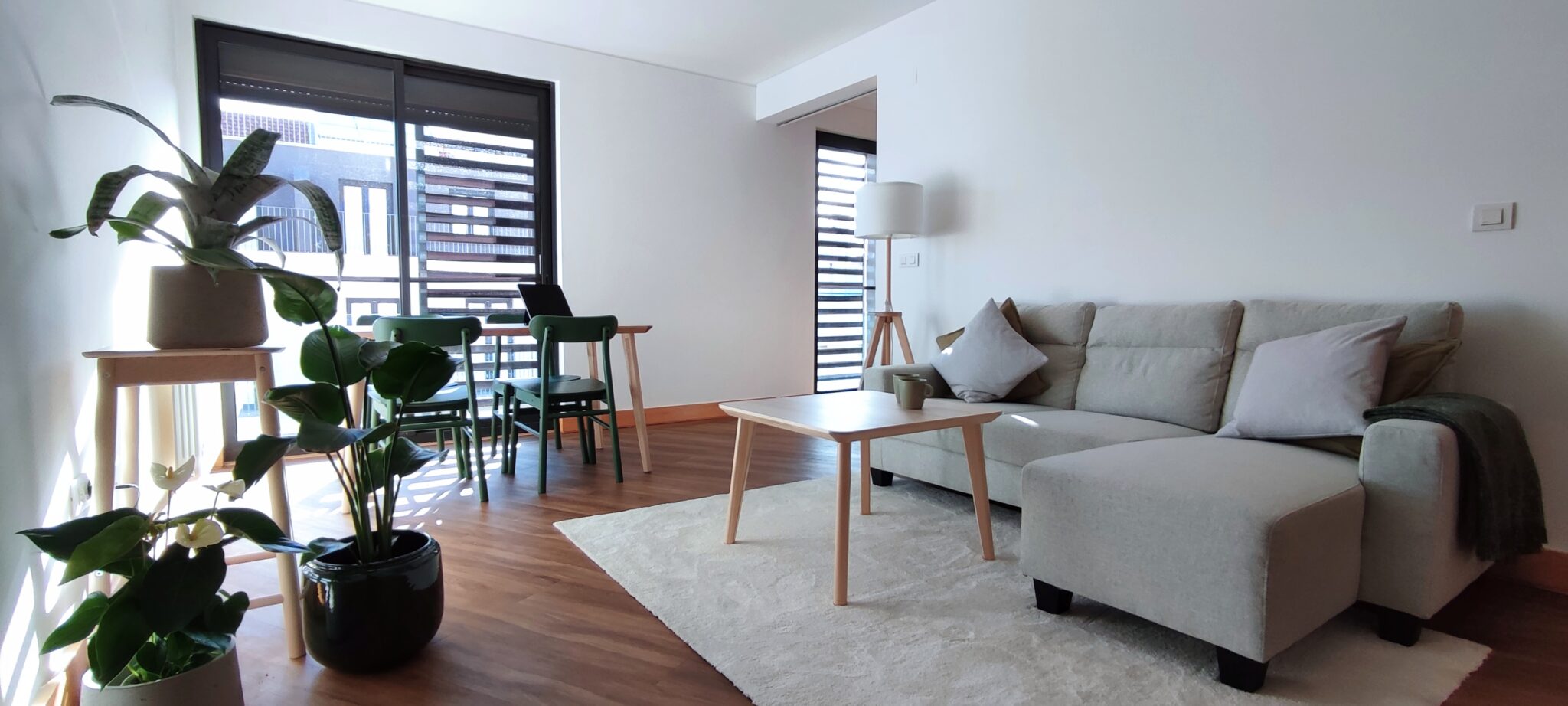 Internet… sure, what's your TIN number, again?
We didn't know it when we rented the apartment, but we were really lucky to get a place that included most of the utility bills. Let me explain why.
Portuguese people have a TIN (Tax Identification Number) much like any other citizen in most countries out there. The difference here is that you'll be asked for this number for everything, and I mean EVERYTHING. When you do the groceries, the supermarket cashier will ask you for your TIN (for tax deduction purposes I guess?). In the supermarket, fortunately, you can say that you don't need a receipt so you can take those eggs and milk back home without a TIN.
However, you can't get an internet connection for your apartment without a TIN. We tried all major (and some minor) service providers, and all required us to have a TIN. Said otherwise: if you don't have a Portuguese Tax Identification Number, you can't get internet in Portugal.
It's hard to believe, in 2022, in Western Europe, but it's true. We've been able to get internet for our apartment in places such as Bulgaria (where we needed to fill in a form in Cyrillic) and Indonesia (which is an underdeveloped country), but not in Portugal.
So we can only thank the Flying Spaguetti Monster for getting an apartment with utility bills included. We can't imagine moving to our newly rented apartment after paying 6 months of rent plus a 2-month deposit only to find out we can't get water or electricity there. Portugal, you have to embrace the fact that the world is global
Fortunately, where there's an outdated system, there's a business solution. In this case, we found this UK company offering 5G routers in Portugal that get delivered to your house or pick-up location of choice, ready to be used. You just get the router out of the box, connect to it, and start browsing. The box contains an envelope to send it back to the company when you no longer need it. Brilliant idea, and we are only paying around 30 euros/mo for it. It may not be super high-speed broadband, but it is ok for work and Netflix.
Internet in most coworking spaces and cafes is totally ok, fortunately, your standard western-world high-speed connection.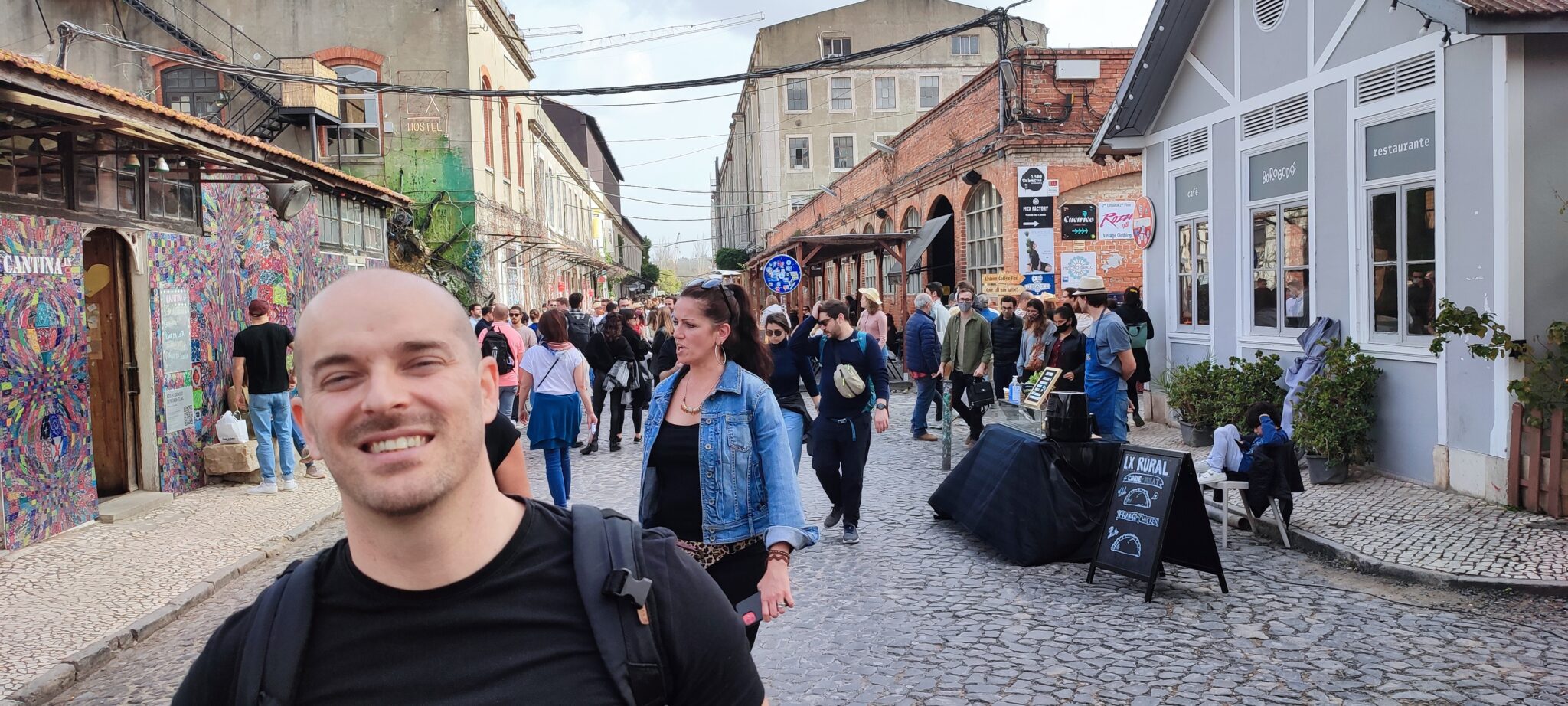 Noise, Traffic, and Safety
Lisbon is probably the noisiest city I've lived in. Reasons include:
Planes fly over the whole city, especially over the line between the 25th of April Bridge to the airport, and they fly very low. It is shocking that a western country allows this air traffic to fly over the city. During summer, there is one plane passing by every 2 minutes or so (literally). We have never experienced something like this, not even in cities such as Chiang Mai.
The traffic is constant and noisy, especially in certain areas.
Parties. As a touristic hotspot, Portugal is not very strict applying acoustic regulations. Noise is supposed to stop at 23:00. However, even in quiet neighborhoods such as Alcantara, we've had to endure some parties until well past 02:00.
Depending on your tolerance to noise, you may want to avoid the city center completely and escape to more laid-back areas such as Belem, Alcantara o Ajuda.
Traffic in Lisbon is quite dangerous too. In the first two months alone, we witnessed four traffic accidents, one of them fatal. We bought second-hand bikes, but we try to avoid roads as much as possible, we only ride on the bike lanes. Portuguese are aggressive, impatient, and careless drivers. I am sorry to say this, but after almost being run over several times riding my bike or crossing the crosswalk, I feel obliged to warn you about this.
While we've heard of an expat that was mugged and beaten, Lisbon feels like a safe city to me. Just remember, this is a touristic hotspot, so you have to be careful with your belongings, especially when you are on a crowded street or using the public transport.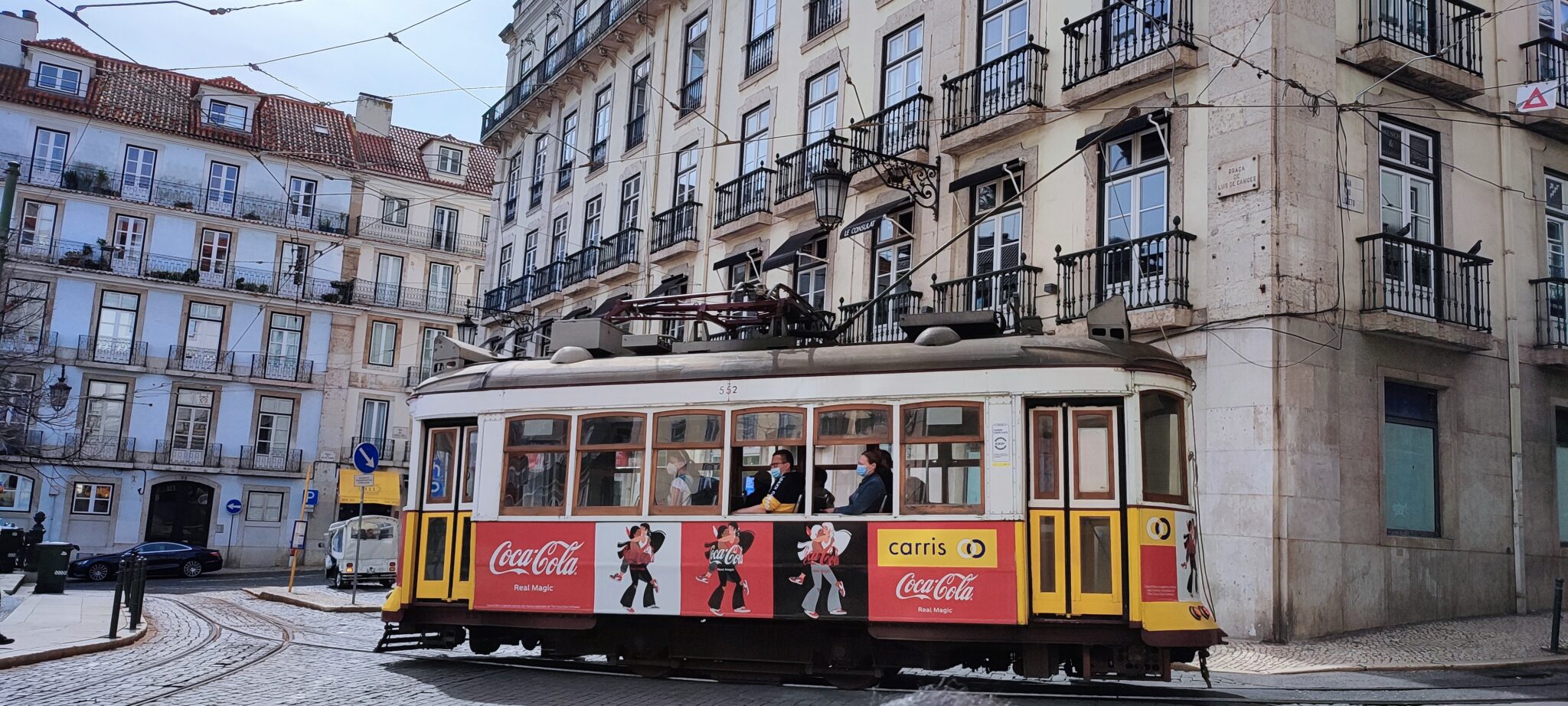 Public Transportation And Walkability
Let me put this bluntly. Public transportation is a national shame for Portugal. Portuguese people should be really embarrased about the situation of their public transport and demand action to their politicians.
Lisbon has many public transport alternatives. You have the train, the metro, the bus, and the trams. The problem is that the system is dated, things don't work, and instead of investing money in it, they just hire a crowd of security guards to check that you have validated your ticket. As the ticket and validation machines are usually broken or out of service at the same time, it is quite a challenge having a ticket in the first place, let alone validating it.
Trams can be quite convenient in some areas (especially the city center) if you are visiting the city for a couple of days or a week, but they are quite unrealiable. Why? Well, the trams are "cute" and "vintage", meaning, they are ANCIENT, and they break down regularly. If you use them often, you can expect one of them to break (or stop because one of the previous ones did, blocking the rails), and you have to get out and find an alternative… or walk. That happens at least once per week if you use public transport on a daily basis. That's why we finally decided to get second-hand bikes.
Buses break down less regularly than trams, but they are super crowded, especially at peak hours. Once, I had to wait for the third bus to get to my destination, as the first two were so full that I could simply not get in. Portugal, get a little bit of that money from tourism, invest it in your people, and increase the frequency and quality of your public transport network.
The metro works better, but it does not reach many areas out of the city center. The infrastructure, still, is quite outdated, including the machines to get the tickets, which never seem to work. I have still not been able to pay for a ticket using a debit card in any bus or train station in Lisbon. The machines are frustratingly slow and don't work most of the time, generating long queues. Again, Lisbon, invest some of the money you get from tourism to improve this.
Fortunately, Lisbon is a very walkable city, if you don't mind going up and down the steep cobblestone streets, and it is a relatively small city, so you can reach most areas within the city center in 40-60 minutes by foot.
Perhaps it would be also a good idea if Lisbon's local government would improve the status of the bike lanes and encourage people to ride a bike. When I was here for Web Summit, I heard the mayor of Lisbon bragging about how green Lisbon was and how good its public transportation system was. Unfortunately, the reality we have experienced is different.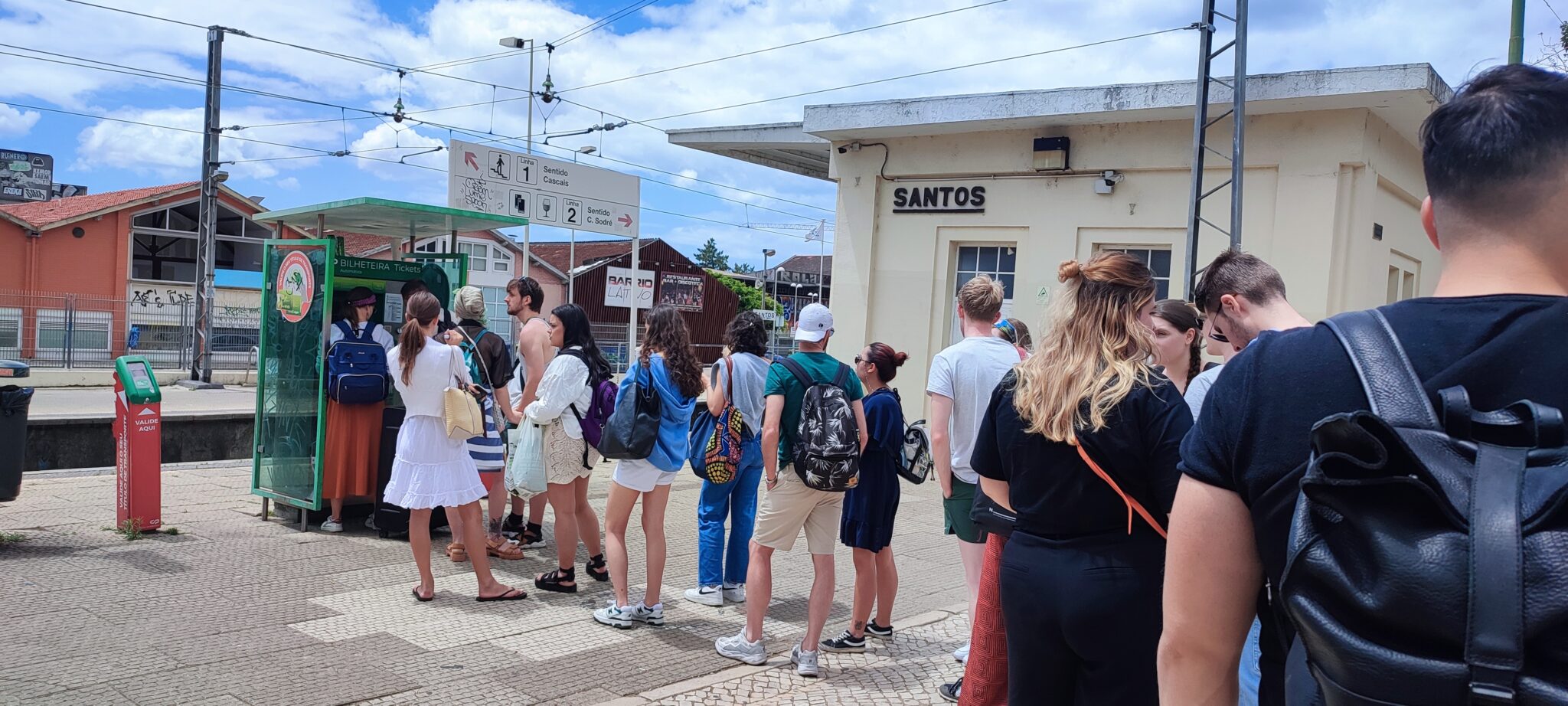 Tourism And Gentrification
Ok, so Lisbon is really gentrified.
Lisbon has a high number of abandoned buildings (44k, more than 10k of them in the city center), more than any other western nation I've seen. It reminds me of some parts of the Balkans or Eastern Europe. There is a number of reasons, including the ridiculously high price of real estate here. Not many Portuguese people live in the city center (in comparison to the size of the city).
Especially during the summer, there are more tourists around than locals. That means you won't hear much Portuguese, but English and French. This is the only country in the world, apart from Thailand, where I've seen tuk-tuks on the streets. Enough said.
That's not a deal breaker for us, but we try to avoid the most crowded areas such as Santos or Baixa-Chiado because … it simply does not feel like Portugal. We prefer to stay in the Alcantara/Belem/Ajuda area (which is nice and beautiful but still feels local).
On the bright side, that means there is a large nomad and expat community in Lisbon (half of California is here), which is nice if you enjoy a more international crowd. It also makes it easier to make friends and connections as a foreigner.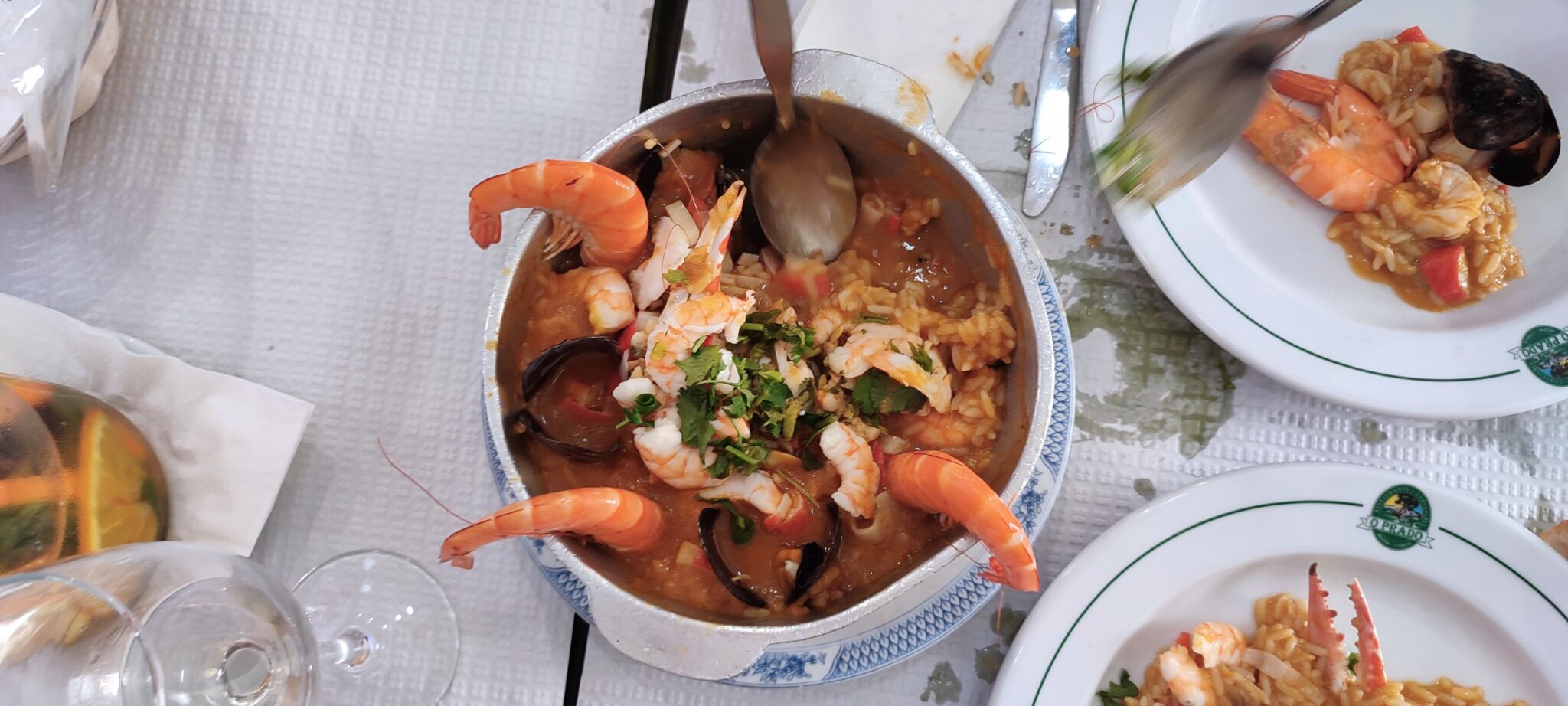 Food
Ok, food in Lisbon (and the rest of Portugal) is amaaaaaaaazing. And I mean it. Portuguese people still love their traditional food and have (mostly) managed to keep their local restaurants away from the claws of fast food chains.
If you go to Baixa Chiado, you'll find mostly McDonalds and touristic restaurants, but in most other places, including Alcantara, Santos, Belem, and the less known neighborhoods of Lisbon, you can enjoy the delicious Portuguese food.
There is such a wide variety of dishes, that it will be difficult to enumerate them all (it would require a whole post), but make sure to try at least the frango (usually served with Piri-piri sauce, fries or salad and rice), the tasteful rice dishes, the seafood, the polvo (octopus), and of course the codfish (Bacalhau). My favorite dishes so far are the rice with seafood or polvo (usually served in a ceramic pot), the Bacalhau a bras, Bacalhau com natas, and grilled frango with Piri-piri sauce.
As I mentioned, that's just a small fraction of what the Portuguese cuisine has to offer, so skip the fast food chains, leave the burgers aside for a while, and explore what Lisbon has to offer.
Portuguese desserts deserve a special mention too. Not only the well-known ones (such as the pasteis de Belem), but traditional recipes such as the pudding and the "Bolo de bolacha" (my personal favorite).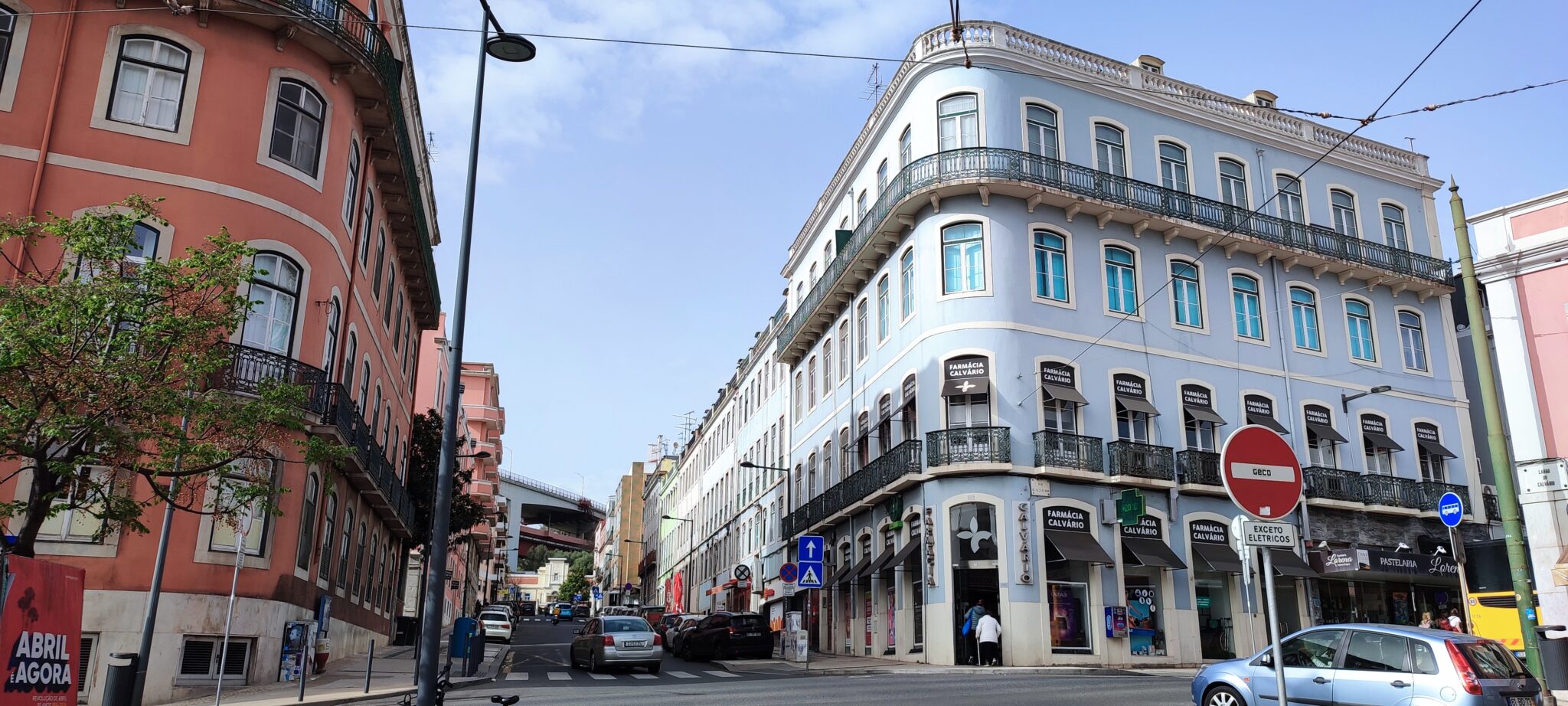 Weather
Another winning point for the city. The weather here is nice and soft, with warm but not overwelmingly hot summers, soft winters, and nice springs and autumns. You can enjoy the four seasons here. Even though it can be hot during summertime, it's nothing compared to Spain (at the time of writing this, in the hottest day of the summer, it is 32 degrees celsius in Lisbon, and 42 in Madrid, not to mention places such as Antalya, or Kuching).
One thing I personally enjoy of Lisbon is the rain. It rains a lot during spring and autumn, but you still have plenty of sun. That means you can enjoy those nostalgic, lazy rainy afternoons knowing that the sun will shine again in a couple of days.
I can't get enough of this soft and kind weather.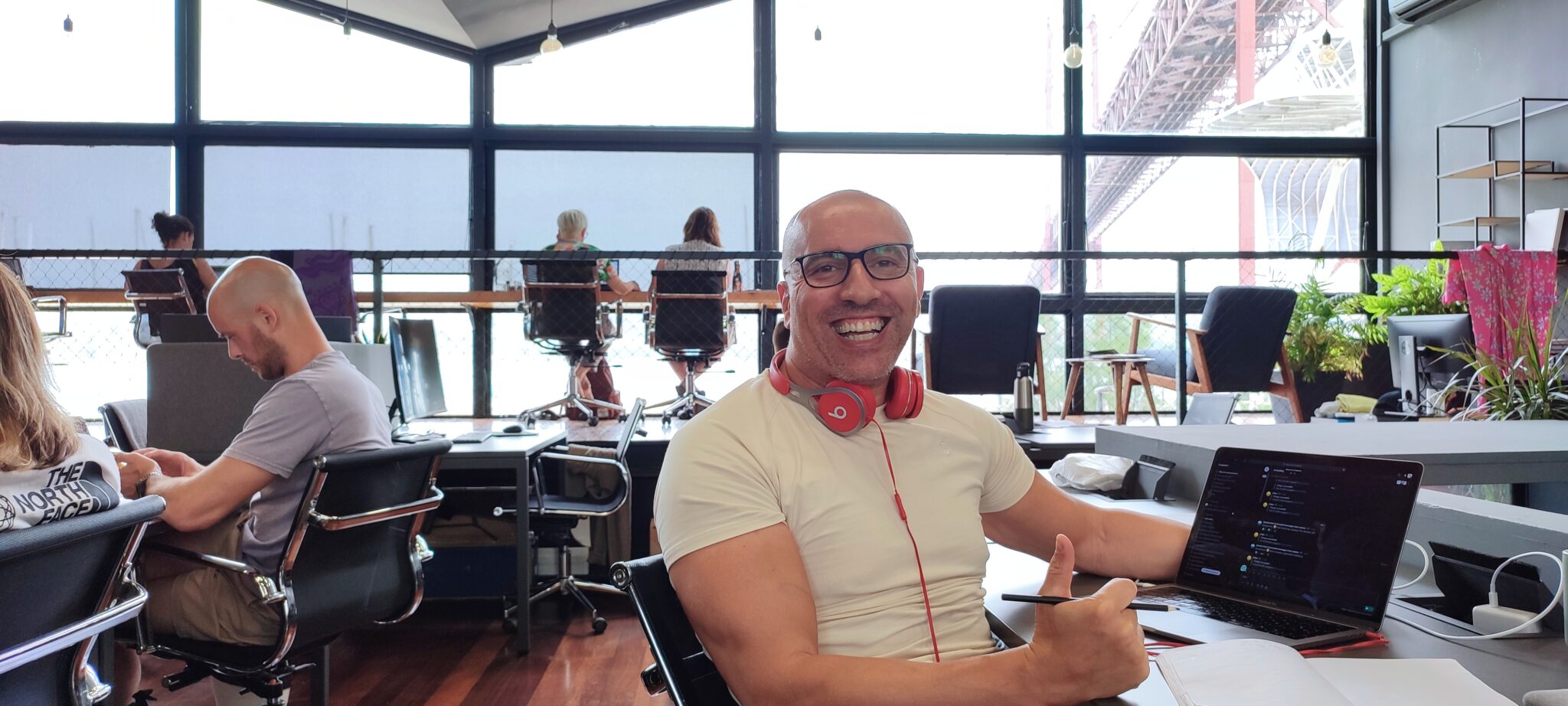 Places to work
Being such a nomad and ex-pat hotspot, there is no shortage of co-working spaces in Lisbon. Most of them are in the city center, and kind of overpriced (understandable, as their target market is Americans and French).
I unfortunately still haven't found a co-working space I like in Lisbon.
We tried a couple of them that are worth mentioning. First, Outsite, in Santos. It is a nice but small place in the city center. It is ok, and I like the fact that they enforce a silent and focused atmosphere, but it was always super crowded.
They only have two meeting rooms, and they are usually reserved, so given that I am lately having three to four meetings a day, it was very stressful for me. I have had to meet investors or important partners on the street, sitting on the sidewalk close to the door to get good signal. Still, I like that they enforce a respectful, silent working environment.
We are right now at Scape, in the Alcantara docks, and it is quite the opposite experience. The place is also small, but not so crowded. The problem is, it is a very noisy environment, everybody speaks loudly, take calls, decide to start an informal conversation in front of your table, and have meetings around you. More than just noise, it's a matter of respect, like asking if it is OK to switch off the lights or connecting the air conditioner when it's 20 degrees outside and you are freezing.
At Scape, they are not doing a good job creating a respectful working environment. It may be ok for some people, but I need to be able to focus on my work. One day, I arrived and there was someone sitting at my non-flex desk because "I didn't leave anything in my table to indicate it was mine". Enough said. I will not renew my membership next month.
I work quite well from home anyways, but happy to hear recommendations of good co-working spaces not far from Alcantara, if you have them.
Hospitals and Clinics
Fortunately, we didn't need to visit the doctor here (just a physiotherapist). However, the public health system in Portugal is supposedly quite good and, like Spain, there is a network of very affordable private health insurance providers offering great coverage at good prices (60-180 euros/mo depending of your needs).
I plan on getting a private health insurance plan here, and go to an optician… I think I am losing visual acuity (too many hours in front of a screen). I will update this post to let you know how it goes.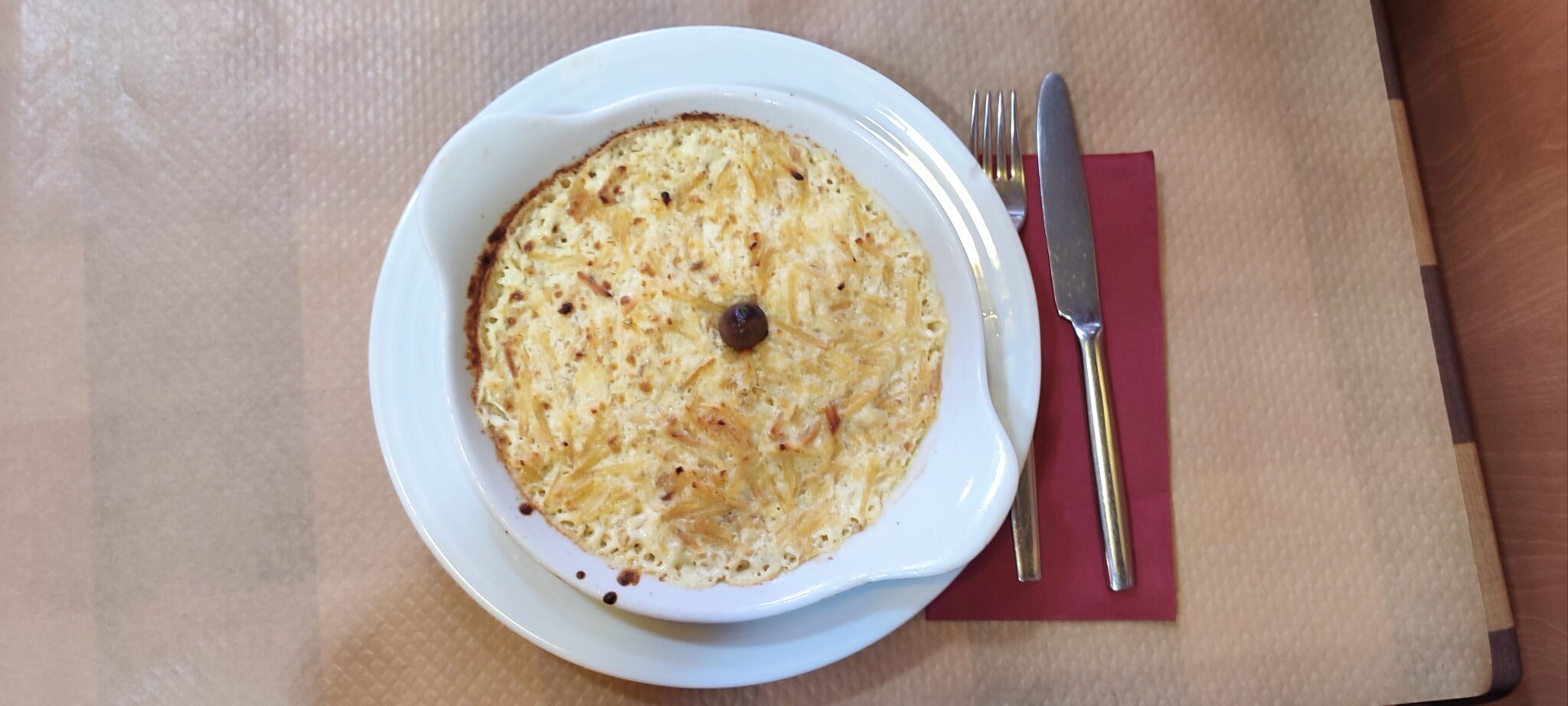 Cost of Living
Leaving accommodation prices aside, and the rampant inflation, Lisbon is still an affordable place to live. Doing the groceries is cheap at Mini Preço and Lidl, and most local restaurants have a daily meal for 6-7 euros. We have found a very nice restaurant close to our apartment (and the coworking space) where we can have a daily menu (including a drink and main dish) for 6.5 euros.
The public transport is quite expensive for what you get, and they have hundreds (if not thousands) of employees checking that you have a valid ticket. The number of people working on that is so high that you can't help but draw comparisons with cities such as Tallinn, in which public transport is free. Probably, if Lisbon offered free public transport and fired all those employees, they will even save some money.
Another important thing to keep in mind (related to this anachronistic stuff that's so authentically Portuguese) is a special local banking system (Multibanco), which is not compatible with international bank cards. Only Portuguese cards work with these "Multibanco" ATMs and POS machines. In many restaurants and commerces, those are the only ones they've got, which means you cannot pay using your card. Again, in 2022, that is quite shocking for someone who's been able to pay with his Revolut card in every corner of the world (from Brazil and Bulgaria to Serbia or Malasya).
So sometimes you have no choice but looking for an ATM, and that's when the second tourist trap comes into play. There are many ATMs charging you 4 euros or more for just a 20 euros withdrawal. That happened to me when I tried to pay for a 20 euros meal, so I ended up paying 20% more just in banking fees.
These ATMs obviously abound in the most touristic neighborhoods, and can even be found inside restaurants or shops (which should fire all your alarms). Before entering Santos or Baixa-Chiado, withdrawn some money from the ATM of a real bank such as "Banco Monte Pio", that charge no extra fees.
People
People in Portugal are generally nice, friendly, and talkative. It seems to me that Portuguese want a stress-free, simple, and relaxed life. They are quite respectful and jealous of their own privacy. At the same time, they are quite friendly and open, easy to meet and make friends with.
Unlike in Spain, most people speak English well, and as there is a large expat community, most Portuguese are quite affable with foreigners. Some Brazilian I've met here affirm some Portuguese can be quite racist, but I haven't experienced this myself.
That said, I had a funny encounter at the elevator with one of my neighbors, and old lady that talked to me in Portuguese. I tried to answer the best I could (I am learning Portuguese and it's quite easy to understand for Spaniards), but she noticed my accent, made a weird face, and asked "Are you Brazilian?", and I said "No, I am Spaniard". Then she looked relieved and said "Oh, that's good".
Anecdotes aside, I can only say good things about people from Lisbon, our experience here has been quite positive. Their character, while still far from the "festive" mediterranean temper, is warm and welcoming.
Be aware, though, that Lisbon is a touristic hotspot. That means foreigners are seen as walking backs of money (much like in Bali), and your experience with some commerces, restaurants and cafes will be not so nice.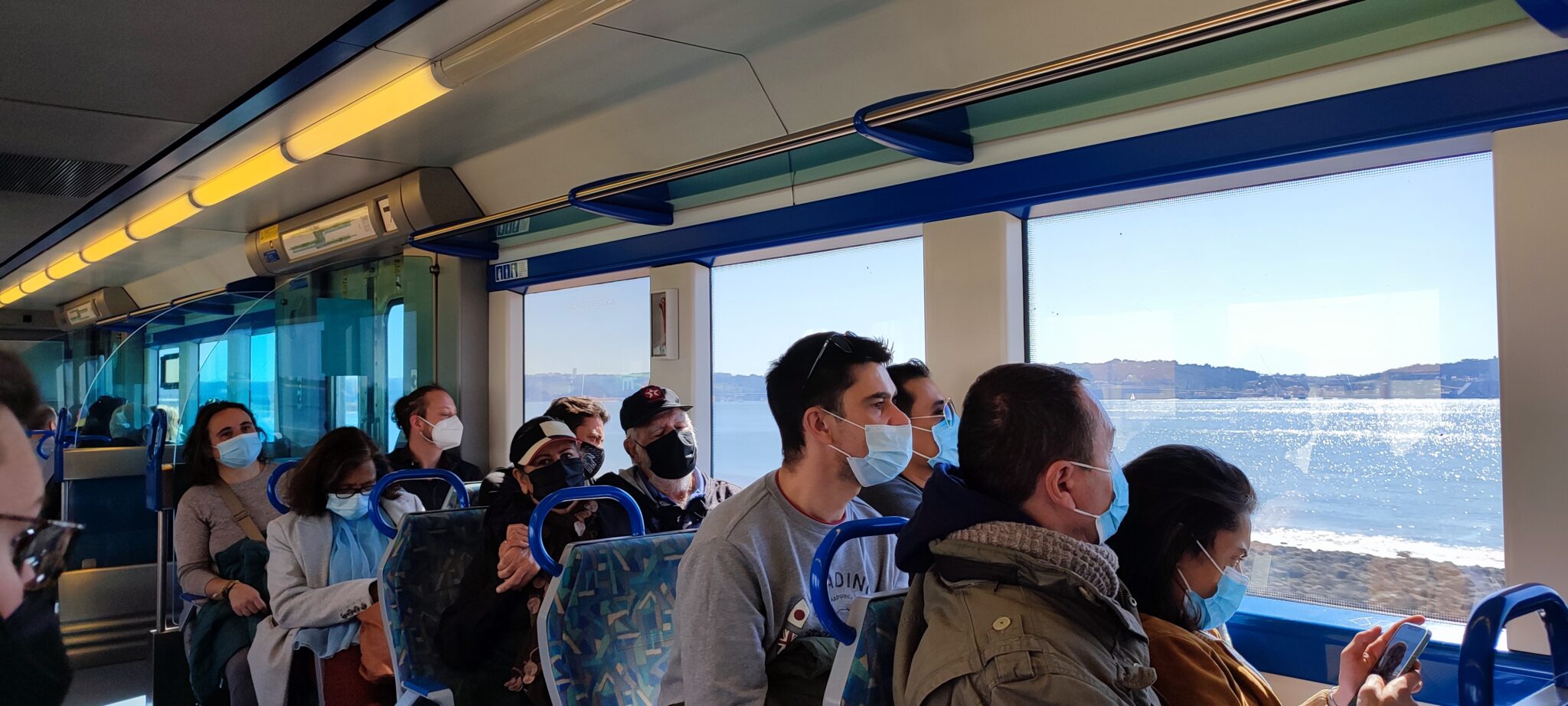 Urban Life: Bars, Restaurants, Things To Do
Well, being such a touristic place, there are plenty of things to do in Lisbon.
… Bars, restaurants
The city is full of bars and restaurants. As I mentioned, there are many traditional restaurants serving local food, which is great. Contrary to other places I've been, I have no specific favorites, as you can enjoy a good Portuguese meal everywhere.
Still, I'd like to mention an organic local food chain that's halfway between a restaurant, cafe, and bakery, it's called "A Padaria Portuguesa" (the Portuguese Bakery), and it's great for a late lunch/early dinner (closes at 8 pm) or to stop for a quick snack.
There's no shortage also of fancy bars and hipster areas such as LX Factory that will satisfy everybody, from the most indie crowd to the party animals.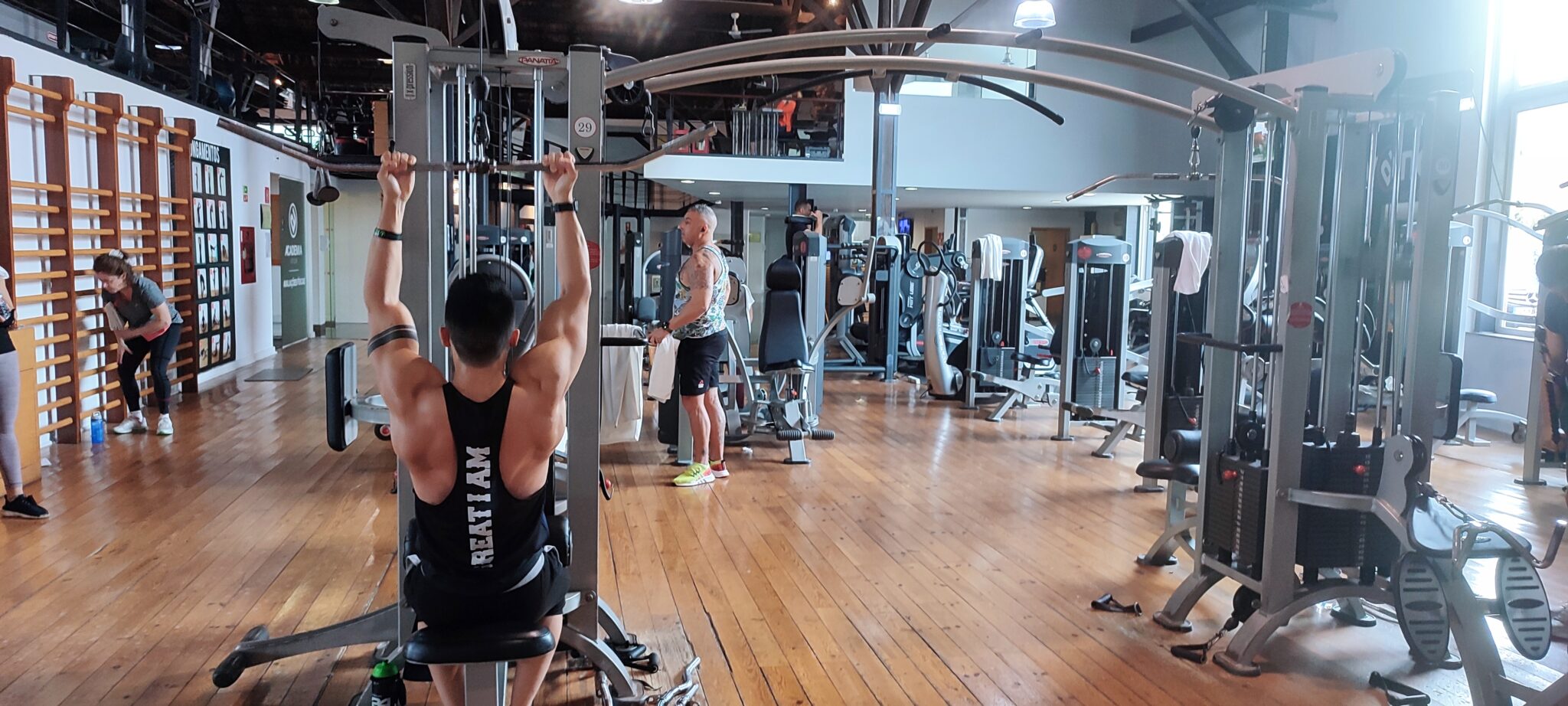 Gyms
Gyms abound around the city center, but most of them are crowded and have old equipment. We tried two.
First, Fitness Hut, a gym chain with several spots in the city. It was cheap (around 15 euros/mo) but, as you would expect, it was extremely overcrowded, to the point that we literally could not do anything some days due to the amount of people waiting to use practically all machines and weights at the gym. The equipment was also very old, with many broken benches, etc. Avoid them.
Second, we tried Academia Life Club in Santos. This is better if only because it is less crowded, due to the fact that the monthly fee is 69 euros/mo. The place is nice, but the equipment is still very old and not well maintained, and you don't have air conditioning (it can get hot on a July afternoon). What I like about this gym (apart from the fact that you can actually use the equipment) is that they give you the towels, and the showers are equipped with soap and everything, so you can just arrive in your sport clothes, train, have a shower and leave without needing to carry a bag.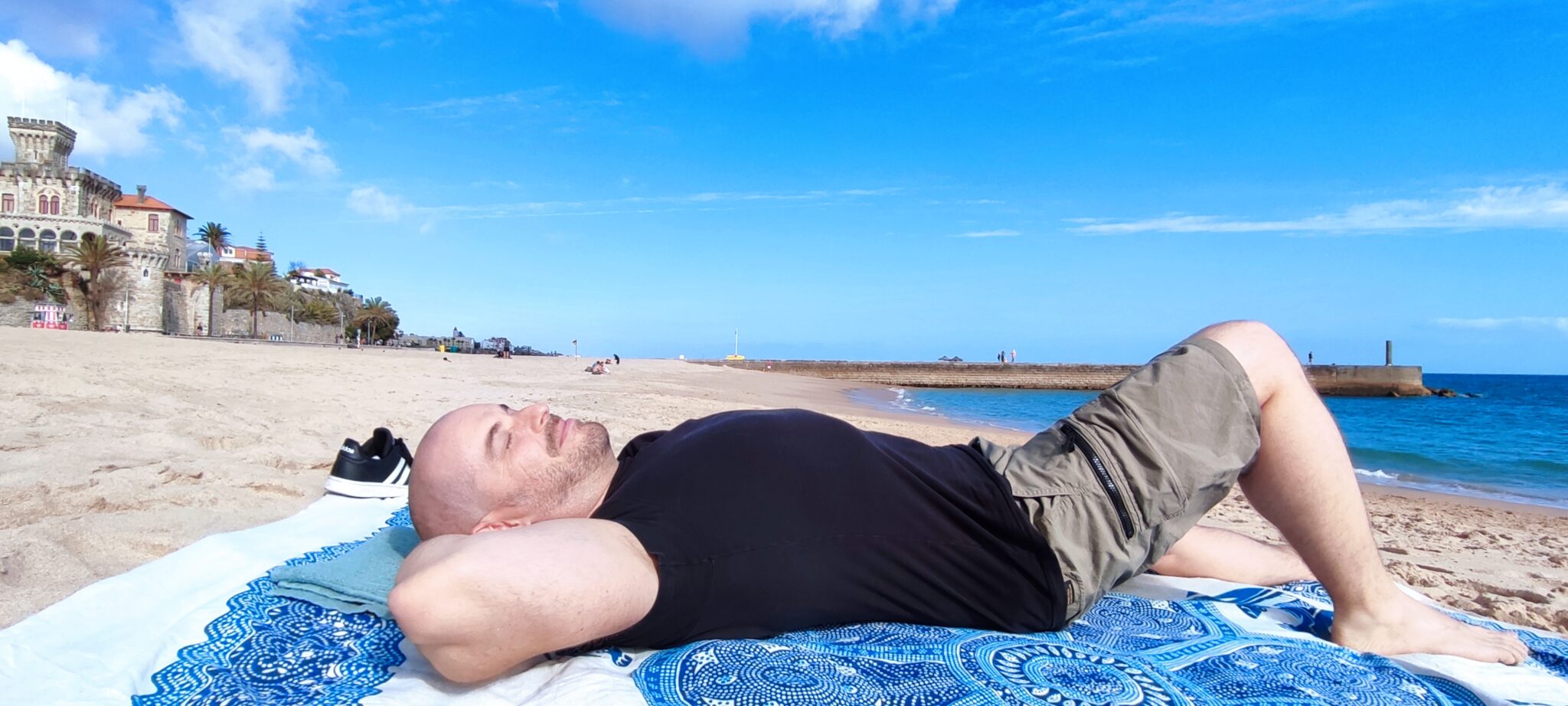 Parks, Forests, Beaches
Ok, so Lisbon is not a great city in terms of parks or nearby forests (compared to much greener cities such as Sofia or cities surrounded by nature such as Chiang Mai), but you have plenty of beaches around.
There are two main coastal areas near Lisbon in two different directions, offering two different experiences.
One is the coast line at the east of the city, ending up in Cascais. You can reach those beaches by train. It costs only a couple of euros, and departs from Cais do Sodre, but you can hop on at Santos, Alcantara and Belem. The most famous beaches you can reach there are Estoril and Cascais, but we personally prefer some of the less-known, previous ones, such as Caxias.
These beaches are smaller, more laid-back, and mostly visited by locals on weekends. You won't find so many tourists there. Estoril and Cascais can be somewhat expensive, but there are also plenty of affordable local restaurants where you can enjoy an amazing frango (like Somos Um Regalo in Cascais) or fish specialties (like Mercearia do Peixe in Caxias).
The other route takes you to the Caparica coast. There is a bus to get there, but it takes a long time. However, there is a better route (pro tip) by taking the ferry at Belem to Trafaria and from there you can easily walk to São João, which is an amazing beach right before getting to Caparica. This feels more like a "tourist season" beach experience. Long beach with white sand and waves, packed with tourists and locals, and expensive restaurants.
The riverfront promenade from Alcantara to Belem deserves also a special mention. It is a very beautiful area, with the impressive sight of the 25 de Abril bridge, and has some nice green areas to rest, read a book, medidate, or relax (especially during weekdays).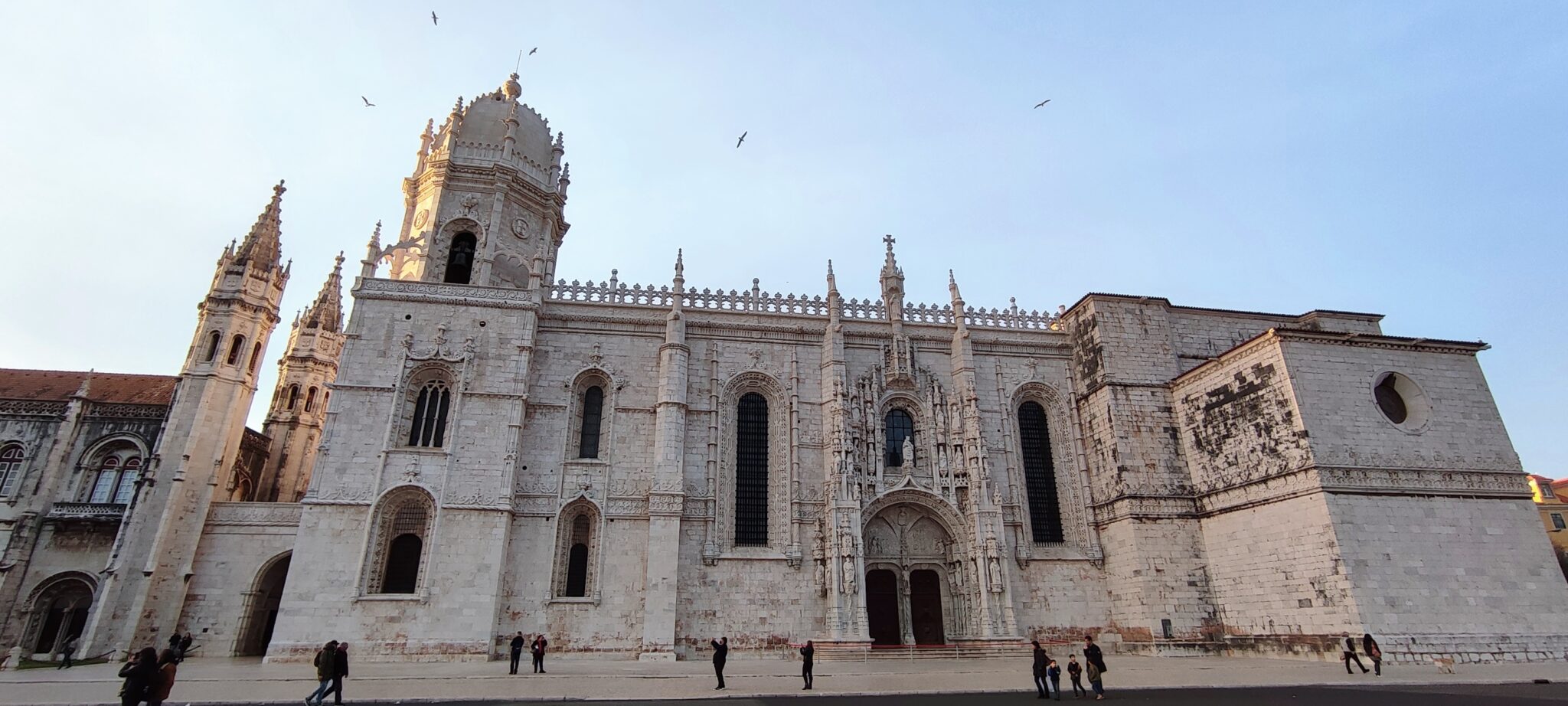 … and Things to See and Do
Well, Lisbon is also a very interesting city from the cultural point of view. You have plenty of museums, both old and new, cultural events, music festivals, etc. The Belem area is specially beautiful, and includes the Monasterio dos Jeronimos, the Tower of Belem, the Monumento aos Navegantes, etc. Any "7 things to do in Lisbon" or "7 things to see in Lisbon" listicle will give you more details.
I would personally recommend you to visit the MAAT contemporary art museum. It is a great place with a jaw-dropping architecture and spectacular exhibitions.
Final Verdict. Is Lisbon a good spot for digital nomads?
I have to admit that I have mixed feelings about Lisbon. It is a classic "head VS heart" dilemma.
My head says "This is an extremely bureaucratic country with a lot of red tape, deficient public transport infrastructures, anachronistic administration and services, overpriced real estate scene, noisy environment, and a gentrified city center packed with tourists".
My heart says: "This is a warm, sunny, and beautiful place with absolutely amazing food, nice and friendly people, cool beaches, and a nice cost of living if you don't consider rental prices".
So overall, I think my heart right now wins the competition, if only because winter in Estonia was so hard for me, and the head can't help but agree on the heart's arguments… for now at least.